Spicy Citrus DIY Liquid Hand Soap
Why buy hand soap from the store when you can make your own natural, safe, effective soap with essential oils? You can customize this recipe to your liking and use your favorite EOs, but give this a try first! You might be surprised at how well these oils go together. This DIY liquid hand soap is seriously so easy to make, smells amazing, and keeps your hands clean and moisturized.⁠ ⁠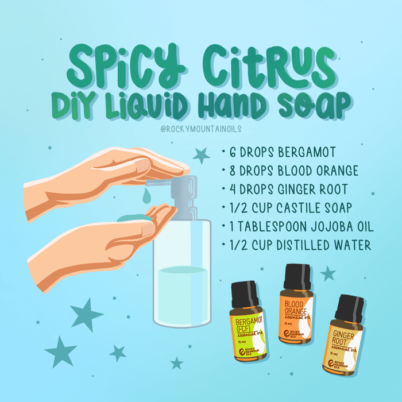 Spicy Citrus DIY Liquid Hand Soap ⁠

✨ 6 drops Bergamot⁠
✨ 8 drops Blood Orange⁠
✨ 4 drops Ginger Root⁠
✨ 1/2 cup Castile Soap⁠
✨ 1 tablespoon Jojoba Oil⁠
✨ 1/2 cup Distilled Water⁠
⁠
Combine ingredients in a glass soap dispenser and mix thoroughly. Enjoy!⁠