Diffuse Oils On The Go!
Hi, everyone! 
My husband, Michael, and I are the founders of Rocky Mountain Oils, and we are so incredibly excited to announce the arrival of one of our absolute favorite products! Just like you, we have a lot going on in our lives. With five kids and both of us working full time, life can be very busy, to say the least. But that doesn't mean our lives are ruled by stress! 
I love taking time in the mornings to meditate and feel grateful for what I have. This morning ritual helps me have the calmness and energy I need to face the day. Of course, that doesn't mean each day is without its challenges! When something comes up, or when my kids or I could use some help calming down, I love to use this product to help us find our centers and regain control of our emotions. Needless to say, I don't go a day without this! 
So, without further ado, I am so excited and honored to introduce our brand new Personal Handheld Diffuser! 
The New Personal Handheld Diffuser
Diffusion is one of my favorite ways to experience the health-giving powers of essential oils. Unfortunately, you can't really carry around a typical diffuser everywhere you go. That's why I love the Personal Handheld Diffuser! This little diffuser is so convenient. I can take it with me wherever I go and diffuse essential oils any time! 
In fact, I actually have several Personal Diffusers that I keep in different places so that I always have one with me. Check out some of my favorite places to use the Personal Handheld Diffuser! 
Where Can I Use My Handheld Diffuser? 
Anywhere! I seriously cannot get enough of this diffuser. Its small size makes it so easy to take anywhere and everywhere I go. These are just some of my favorite places to use the Handheld Diffuser: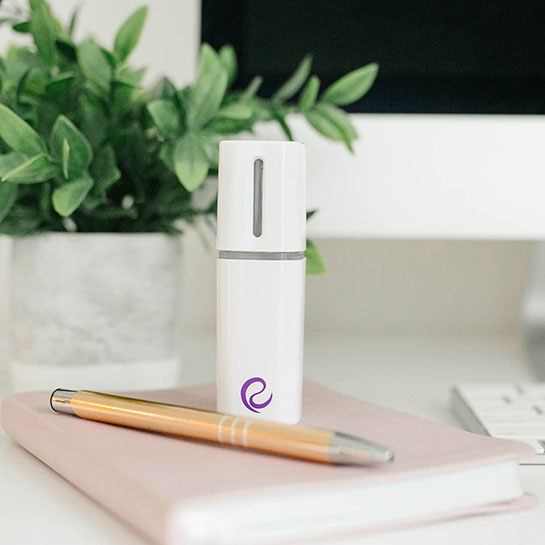 At The Office
Running a business is a lot of work, and things can get really stressful really fast. When I'm facing deadlines or have a pile of work to get through, I like to take out my Personal Diffuser and breathe in some calming oils. Doing this helps me stay in control and not let stress overwhelm me. I get so much peace when I pull out this little diffuser at work!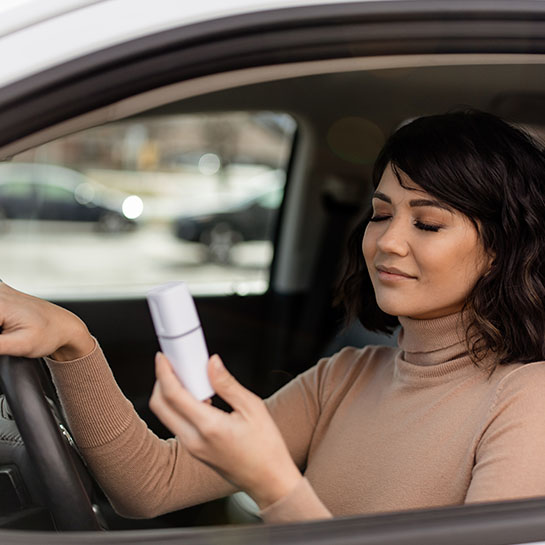 In The Car
With five kids, being in the car can get a little hectic, and there can be some lingering smells. I like to keep a Personal Diffuser in the car to help everyone stay relaxed and happy as we drive around town and take trips. Plus, it's great for keeping the air fresh and clean.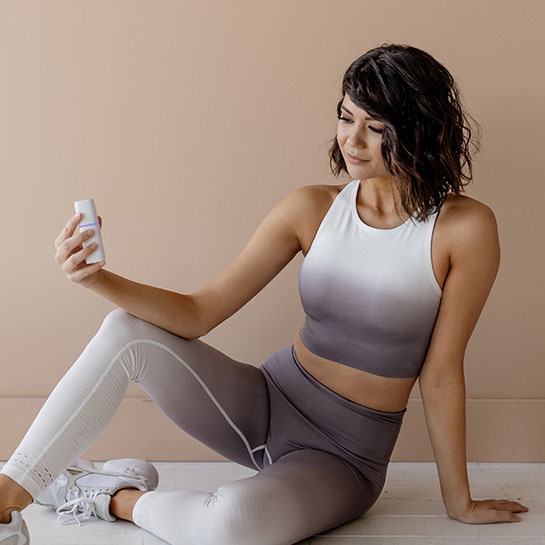 At The Dance Studio
I love to exercise and move my body, and this little diffuser is great for those times when I need a burst of energy. It's easy to keep next to me while I exercise at home, or to slip into my bag when I go to the dance studio or gym.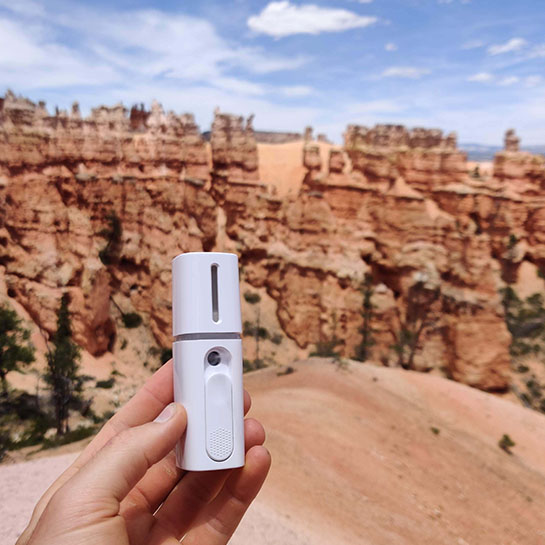 On Vacation
What I love about this diffuser is its small, compact size! I can easily pack it in my purse or suitcase when I travel, and it doesn't take up room like a bulky home diffuser. Plus, I can take it with me literally anywhere: the airplane, morning walks, afternoon hikes, all-day conference meetings, and more. When I travel, I no longer have to go without my favorite way to use essential oils! 
How To Use The Handheld Diffuser
It's super easy to use the Personal Handheld Diffuser. If you want to diffuse your favorite oils on the go, just follow these simple steps: 
Plug in the USB cable at the bottom of your diffuser to charge it. The red light will turn off when the diffuser is fully charged. 
Once it is charged, unplug your diffuser. Twist the top cover to the right to remove. 
Fill the diffuser with tap water up to the max fill line. 
Add 1-2 drops of your favorite essential oil or blend. Be sure to avoid any oils that contain carrier oils, like FCO. Using carrier oils will clog the diffuser. 
Replace the top cover, and twist it to the left. Make sure the cover is tight and secure. 
Slide the front panel down to turn on the diffuser. You will see a blue light when the diffuser is on. 
Turn off the diffuser by sliding the front panel up. Or, you can let the diffuser run, and it will automatically shut off after 60 seconds of continuous diffusion. 
I can't get enough of this Personal Handheld Diffuser, and I think you will love it, too! We are so excited to have this product and make it possible for everyone to experience the benefits of aromatherapy anywhere, any time. We would love to see where you take your diffuser! Share your pictures with us on Facebook or Instagram with the hashtag #RMOOnTheGo. I can't wait to see how you use your Personal Diffuser! 
-Phoenix Vincent