Holiday Shopping Made Easy, Part 2
It feels like it was just Halloween season, now Thanksgiving is next week! The holidays are creeping up and before you know it, Christmas morning will be here. With the holiday season here and in full swing, it is time to start planning what you are getting all the special people in your life.
Finding the perfect gift can be difficult. You want it to require thought while also expressing sincerity and meaning. Instead of stressing out on what to get for everyone this year, head over to our Holiday Gift Guide to find a variety of gift ideas. From your grandparents to your kids, you can find a gift for everyone without breaking the bank. We even have exclusive, ready-made gift baskets and collections that make holiday shopping that much easier!
This holiday season, don't let holiday shopping take up all of your time. Our Gift Guide and Exclusive Gifts make it so that you can actually enjoy the holidays! Keep checking throughout the holiday season to see new holiday gifts added each week.
Sparkling White Bundle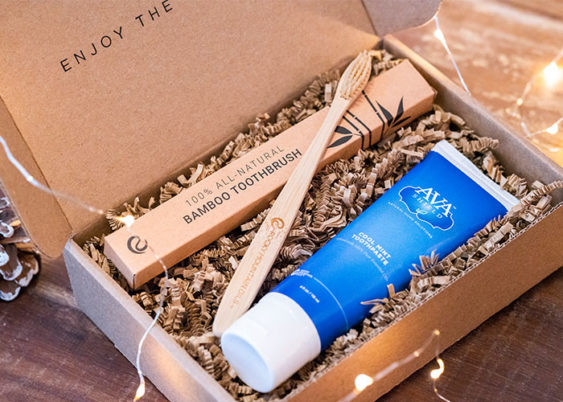 A smile can be someone's greatest asset, and a smile can speak all languages. Give the gift of a naturally beautiful smile with our Sparkling White Bundle! This bundle is the perfect stocking stuffer, or is great for under the tree for people of all ages!
The Sparkling White Bundle combines the powerful benefits of essential oils with natural products, giving you both the:
Ava Shield Cool Mint Toothpaste
100% Bamboo Toothbrush
The Cool Mint Toothpaste is infused with 100% pure essential oils to whiten teeth, restore tooth enamel, and prevent tooth decay. The Natural Bamboo Toothbrush is 100% plant-based, made from bamboo wood and fibers. This toothbrush not only cleans your teeth and promotes overall dental health, but it is also 100% biodegradable and environmentally friendly.
How to Use:
Apply a pea-sized amount of the Cool Mint Toothpaste to the bamboo toothbrush. For best results, brush thoroughly at least twice a day, morning and night, and after meals.
Natural Home Care Kit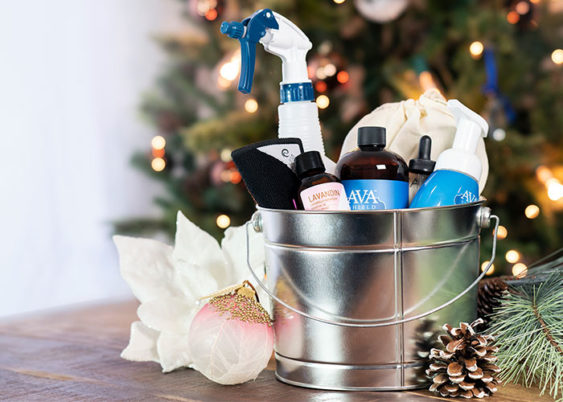 Did you know that many conventional household products (even the "natural" ones) contain toxins and harsh chemicals that can be potentially harmful? As a result, these products can cause a variety of skin and respiratory irritations and sensitivities. Household cleaners are products that almost everyone uses each day. While household products aren't the typical holiday gift, this kit makes the perfect gift for someone who likes to use all-natural products in their home-- or you can get it for yourself!
The Natural Home Care Kit provides natural yet effective products that will have anyone feeling comfortable using it in the home and around their family. The kit includes:
Ava Shield Hard Surface Cleaner
Ava Shield Foaming Handsoap
100% Organic Wool Dryer Balls
4oz Lavandin Essential Oil
16oz Spray Bottle
Microfiber Cleaning Cloth
Metal Pail
The wool dryer balls are made from 100% organic wool, and they are a great economical and an environmentally friendly way to do laundry. You can use the dryer balls over and over again, for over 1,000 loads! Free of chemicals, the dryer balls are hypoallergenic and perfect for sensitive skin. Use the dryer balls in conjunction with Lavandin to naturally scent your laundry. The foaming hand soap and hard-surface cleaner are infused with our signature Immune Strength Essential Oil Blend to protect you from unwanted germs and keep the house sparkling clean.
How to Use:
Wool Dryer Balls — To add fragrance to your dryer balls, add 2-3 drops of Lavandin (included in this kit) or your favorite essential oil to each dryer ball. Let the dryer ball dry before adding to the dryer. Re-scent your dryer balls every 4-5 loads or as desired.
Hard Surface Cleaner — Multi-Purpose Cleaner: Mix 2 tbsp of concentrate per 24 oz of water into a spray bottle. Bathroom Surfaces: Mix 3 tbsp of concentrate per 24 oz of water into a spray bottle. Handwashing Dish Soap:  Mix 3 tbsp of concentrate per gallon of water.
No matter who you are shopping for, you will find the perfect gift at Rocky Mountain Oils!