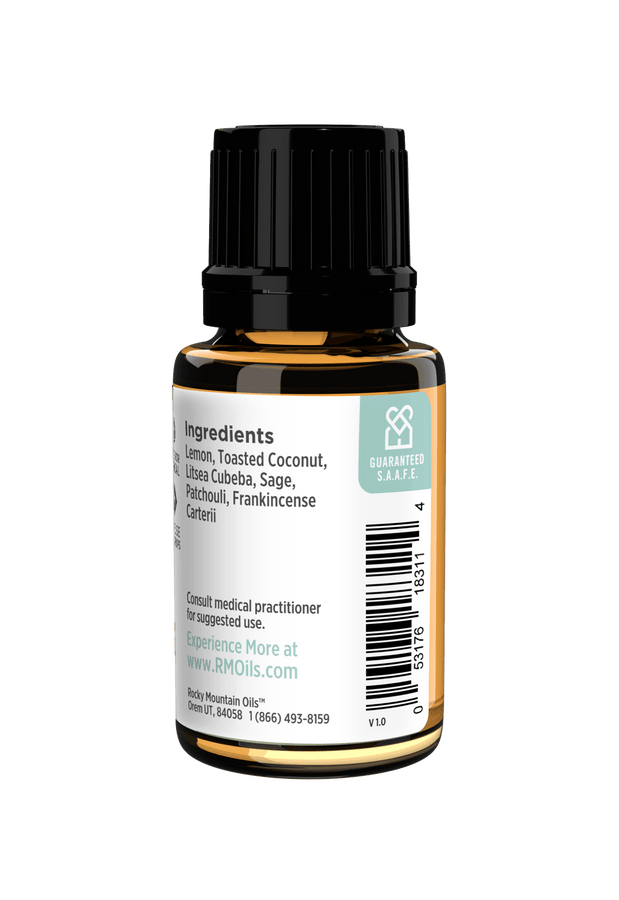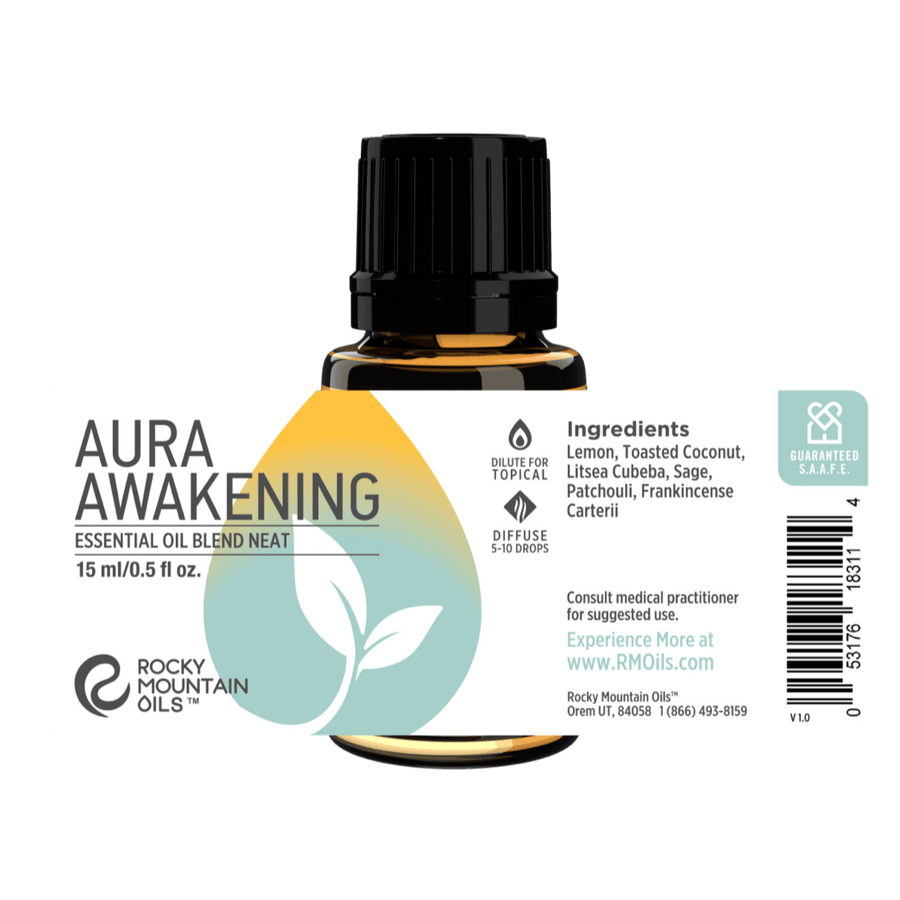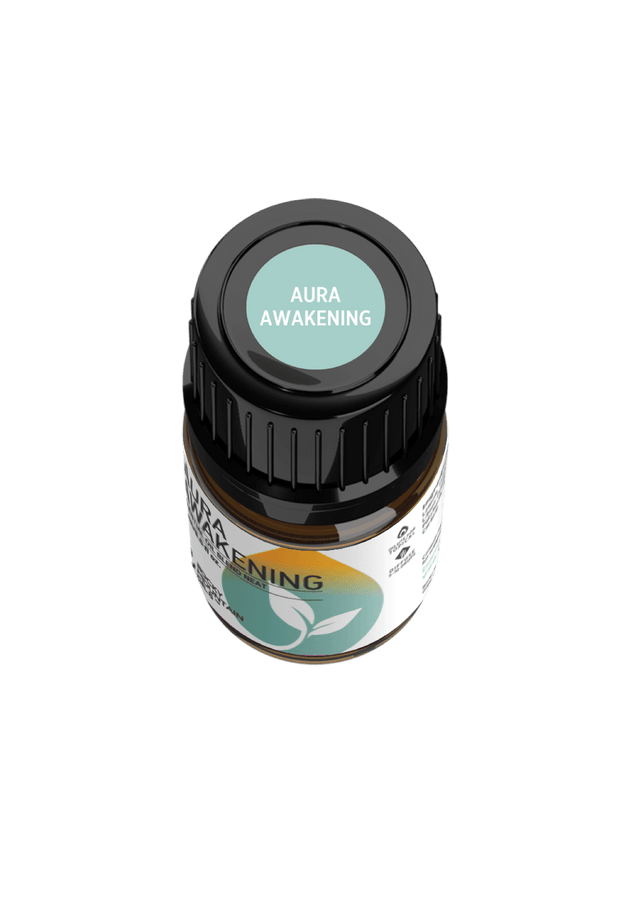 Aura Awakening Essential Oil Blend
GC/MS
TESTING
90 DAY
RETURNS
100% RECYCLED
PACKAGING
S.A.A.F.E
PROMISE
Balance your energy and radiate positive vibes with our Aura Awakening Blend. This blend includes some of the best essential oils for meditation and emotional stability, allowing you to clear negative energy and shine brightly as your highest self.
Many people believe that our bodies are surrounded by energy fields known as auras. When your aura is strong and vibrant, you'll feel more confident, relaxed, and magnetic. Rocky Mountain Oils' Aura Awakening Blend is designed to help you release stress, distractions, and negative thoughts that may be tarnishing your aura. It also invites fresh, positive healing energy into your personal space.
Aura Awakening is an essential oil blend for meditation and other deep spiritual work, combining Lemon, Coconut CO2, Litsea Cubeba, Sage, Dark Patchouli, and Frankincense Carterii essential oils. The well-balanced aroma is rich, earthy, citrusy, camphorous, and slightly sweet. It promotes a pleasant feeling of inner peace while uplifting and clarifying. Try it for massage oils, aromatherapy, DIY perfumes, diffusing, and more.
Use the Aura Awakening Blend to deepen your meditation practice and achieve moments of stillness whenever life gets busy. By helping you connect to your senses, Aura Awakening Blend can also allow you to strengthen your intuition, live with greater presence, and feel more empathic towards the world around you.
Aura Awakening Blend Uses
Apply a drop of Aura Awakening Blend to the forehead, throat, heart center, or the bottoms of the feet to experience deeper levels of meditation.
Use as a massage oil while performing energy healing such as reiki to awaken energy meridians and promote the flow of new, positive energies.
Add 2-3 drops to a warm bath for a soothing soak to relax sore muscles and release stress.
Apply to wooden rosaries, mala beads, or aromatherapy jewelry to carry the aura-enhancing aroma with you all day long.
Use in a room spray or diffuse to clear negative energy, deodorize, and purify the air. Perfect for waterless diffusers and personal diffusing on-the-go.
Best diffuser blend for meditation, simply diffuse 5-10 drops to deepen your meditation to promote energy healing.
Aura Awakening Blend recipes
Aura Awakening Yoga Mat Spray
Enhance your yoga or meditation practice with the deep aroma of our Aura Awakening Blend.
75 drops Aura Awakening Blend
1 tbsp. White Vinegar
4 ounces Distilled Water
Instructions: Add oil, vinegar, and water to a 4-ounce spray bottle. Shake to combine. Spritz onto your yoga mat or meditation seat to freshen the vibes and deepen your practice.
Aura Awakening Blend safety
Skin sensitivity may occur. Please dilute in a carrier oil before topical use. Click here for dilution rates. Avoid direct sunlight and UV rays for at least 12 hours after applying product to the skin.
Do not use if pregnant or breastfeeding.
Kids Safety: Safe to use around children ages 2 years and older. Dilute to a .5-2% dilution rate before applying topically on children.
Keep out of reach of children and pets.
Practice safe diffusing:
Diffuse in an open, well-ventilated area.
Keep children and pets out of the direct line of mist.
Diffuse in 30-60 minute intervals with ample break periods for safe and effective use.
Aura Awakening Blend Test Results
As part of our S.A.A.F.E. Promise™, we provide GC/MS (Gas Chromatography/Mass Spectrometry) test results from a verified third party, independent lab for each one of our essential oil products.
GC/MS tests verify the purity and quality of the oils we sell, so you can trust that you're using the very best essential oil blends on the market today.
Click
here
for the GC/MS test results for your bottle of Aura Awakening Blend.
Aura Awakening Essential Oil Blend FAQ
How do I use essential oils for meditation?

There are many ways to use essential oils for meditation. You can dilute them with a carrier oil and apply directly to the skin, use in a diffuser blend, or simply inhale the aroma to stimulate your energy. Always remember to take deep breaths and let the essential oil relax you. You can also use essential oils like our Aura Awakening Blend for mantra, affirmations, gratitude meditations, and more.

What are the best essential oils for clearing negative energy?

Do essential oils help with energy healing?

Yes. Try our Aura Awakening Blend to enhance your energy-healing experience. Use while practicing reiki, EFT tapping, qigong, tai chi, balancing your chakras, or any personal spiritual practice.

Which essential oils should I use to enhance my aura?

Everyone's aura is unique. To strengthen and enhance your aura, let your intuition guide you and choose essential oils that speak to you on a deeper level. However, if you're not sure where to start, our Aura Awakening Blend is a combination of many essential oils that are universally known to enhance personal energy.