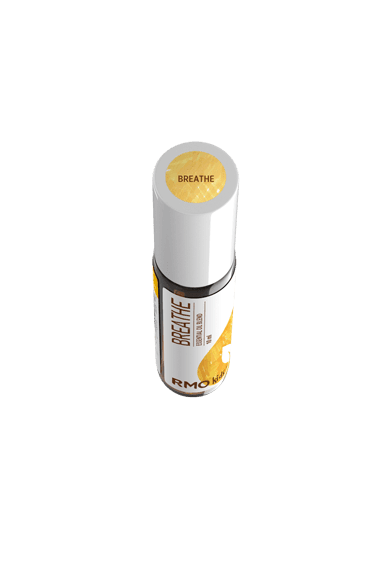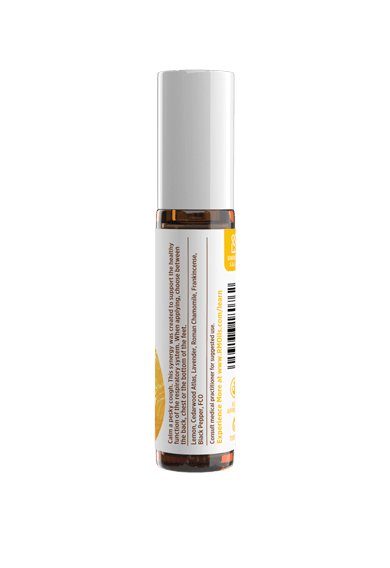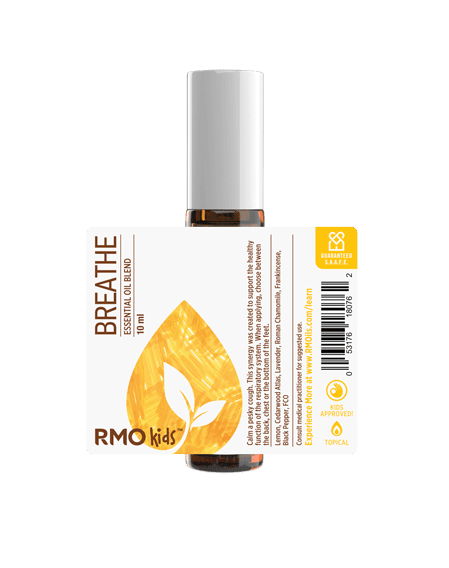 Breathe Roll-on
GC/MS
TESTING
90 DAY
RETURNS
100% RECYCLED
PACKAGING
S.A.A.F.E
PROMISE
Open your airways and calming coughing fits with this Breathe Essential Oil Roll-on. When you need a little help to breathe again, roll on this blend of relaxing medicinal oils. 
Breathe combines pure Lemon, Cedarwood Atlas, Frankincense Serrata, Black Pepper, Lavender Bulgaria, and Roman Chamomile essential oils, prediluted in a base of Jojoba carrier oil. It's safe for immediate topical use on adults and children ages 2 and up.
The oils in this roll-on blend offer a gentle, warm aroma that's woody, citrusy, and herbaceous, with a subtle menthol sensation that cools and soothes. They help ease muscle tension, improve blood flow, and act as a natural expectorant to loosen mucus and phlegm. Studies indicate that the Cedarwood Atlas oil in this blend may also boost overall respiratory system health and improve lung function.
To use this roll-on, apply to the neck, upper chest, and ribcage to ease coughing, open the airways, and clear stuffy noses. It's a perfect natural remedy for colds, flus, bronchitis, sinus congestion, or seasonal allergies. You can also apply it to the soles of the feet to absorb its anti-inflammatory healing benefits and support your immune system.
---
The statements contained herein have not been evaluated by the Food and Drug Adminstration. Neither Rocky Mountain Oils® nor its products are intended for the purpose of diagnosing, treating, curing, or preventing any disease. If you are pregnant, nursing, taking medication, or have a medical condition, consult your physician before using these products.
Roll onto the upper chest and neck to open your airways and breathe easy.
When you feel congested from allergies or sinus intfections and need to breathe again, roll on this oil blend to relax your diaphragm muscles and loosen any mucus or phlegm causing blockages.
Use to calm coughing fits and sleep more easily when experiencing a cold, flu, bronchitis, or other upper respiratory infections.
Apply to the soles of the feet to absorb the medicinal properties of these essential oils and support overall respiratory health.
For topical use only. Do not use near eyes, mouth, nose, or mucus membranes. Always patch test prior to continuous use on the skin. Discontinue use if irritation occurs.
Kids Safety: Prediluted to a kid-safe 2% dilution. Safe to use topically with children ages 2 and older. Patch test before continuous use by applying a small amount to one area of the skin, then waiting 15 minutes to see if irritation or allergic reaction occurs.
As part of our S.A.A.F.E. Promise™ to you, Rocky Mountain Oils provides verified third-party GC/MS (Gas Chromatography/Mass Spectrometry) test results from an independent lab for every essential oil product in our collection.
GC/MS tests verify the quality and purity of every Rocky Mountain Oils product, which guarantees you're using the safest and highest quality essential oils and essential oil blends on the market.
To view the GC/MS test results for this roll-on, click here.
Breathe Roll-on FAQ
What essential oils are good for breathing?

How do I use this Breathe essential oil roll-on?

To use this breathe easy roll-on, simply apply the roller to the upper chest and neck, then breathe the soothing, medicinal aroma and allow it to loosen any blockages in your lungs or sinuses. You can also use it on the ribcage to relax stiff, sore diaphragm muscles and calm coughing fits. For immediate relief from stuffy noses, uncap and inhale.

Is the Breathe essential oil roll-on safe for kids?

Yes! Our Breathe essential oil roll-on is part of our special Kid's Line Collection of essential oil blends that are ready-made for children. This roll-on is prediluted to 2% and safe for topical use on kids ages 2 and up. However, we advise doing a patch test on children prior to check for allergic reactions or sensitivity prior to extensive topical use. Add additional carrier oils if necessary.

If your child has a respiratory illness that worsens or persists, contact your pediatrician.

Will a breathe easy roll-on help with bronchitis?

Yes, a breathe easy roll-on like Breathe helps treat symptoms of bronchitis as well as other upper respiratory infections, colds, flus, and congestion caused by seasonal allergies. This blend contains many essential oils with medicinal and menthol-like properties, including Cedarwood Atlas, that are known to strengthen lung health and support the respiratory system.