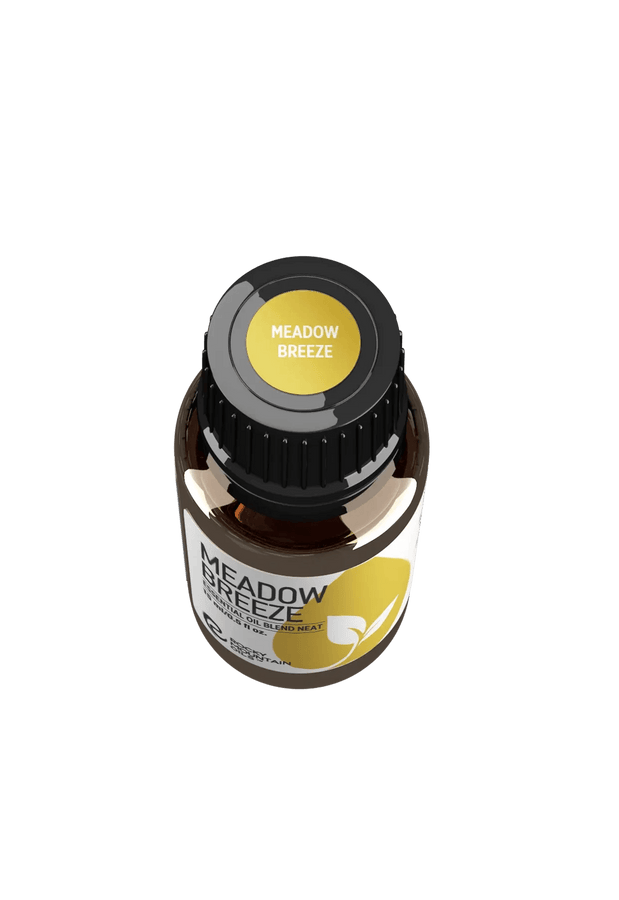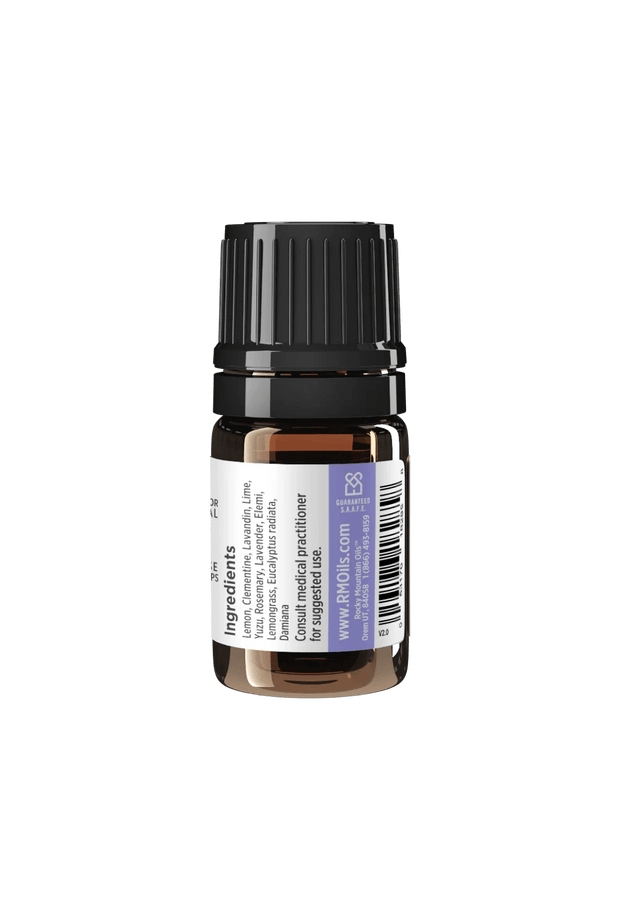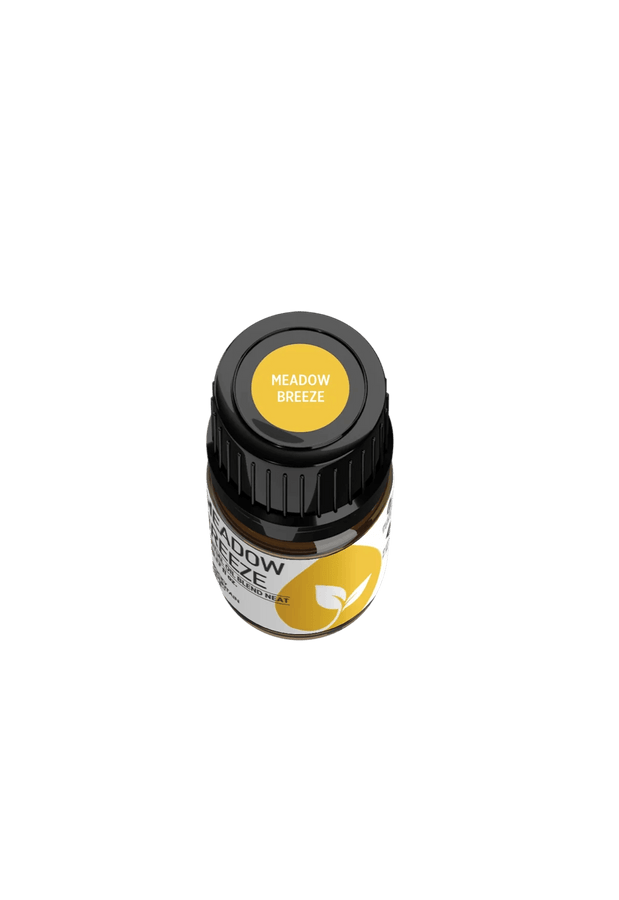 Meadow Breeze Essential Oil Blend 5ml
GC/MS
TESTING
90 DAY
RETURNS
100% RECYCLED
PACKAGING
S.A.A.F.E
PROMISE
Freshen the air with the crisp, clean aroma of a mountain meadow with our Meadow Breeze Essential Oil Blend. Meadow Breeze is the perfect essential oil blend for clean air, made with a purifying combination of Lemon, Clementine, Lavandin, Lime, Yuzu, Rosemary, Lavender, Elemi, Lemongrass, Eucalyptus radiata, and Damiana essential oils.
Together, these essential oils deliver a light, clean aroma that's citrusy and floral, with a hint of cooling menthol. Diffuse this blend of essential oils to breathe better, feel uplifted, and shift the energy in your space. Meadow Breeze is naturally antibacterial and antifungal, so it eliminates odor-causing germs, mold spores and fungus, and other environmental pollutants.
Meadow Breeze is also a popular essential oil blend for happy mood, mental clarity, and calm. Try inhaling this blend to clear brain fog, reduce anxiety, and alleviate fatigue. It can also help you feel more connected to nature and attain deeper levels of peace and concentration during meditation.
You can also use this fresh air essential oil blend with a carrier oil as a personal cologne or perfume, or add it to your daily skincare or haircare routine. The oils in this blend will help reduce inflammation and support a stronger respiratory system.
Diffuse or use in a room spray to neutralize odor-causing bacteria, germs, allergens, or other environmental pollutants while filling your space with a crisp and uplifting aroma to inspire a happy mood.
Dilute with a carrier oil and apply to pulse points, behind the ears, or the upper chest to reduce anxiety and fatigue.
Use topically to reduce inflammation, support the immune system, and promote respiratory health. Makes a soothing medicinal chest rub to calm coughs and reduce congestion.
Add to DIY cleaning products, soaps, candles, bath bombs, and more.
Inhale before meditating to clear your mind and feel more centered.
Meadow Breeze Linen Spray
Refresh your linens and fill your space with the delightfully crisp scent of clean mountain air with this Meadow Breeze Linen Spray.
1 spray bottle
15-20 drops Meadow Breeze
1 cup witch hazel
1 cup water
funnel (optional)
Instructions: Fill a clean, empty spray bottle with 1 cup water and 1 cup witch hazel. Add essential oil and shake well to combine. Spray on sofas and other soft furniture, bedding, pillows, rugs, and more.
Always dilute with a carrier oil and patch test prior to extensive use on the skin. To patch test, apply a very small amount of oil to one area of the skin and wait 15 minutes to confirm that irritation or allergic reaction does not occur.
Do not use while pregnant or breastfeeding. Do not use near the eyes, nose, mouth, sensitive areas, or on broken skin or abrasions. For external use only. Do not ingest.
CAUTION: This blend contains citrus oils which are phototoxic and may temporarily increase the risk of sun damage. When using topically, always keep exposed areas out of direct sunlight and avoid tanning beds for 12 hours after use.
KIDS SAFETY: Safe to use on children ages 2 and up. Dilute to a .5-1% dilution rate before applying topically on children. Click here to learn more.
Safe Diffusing Tips:
Diffuse in an open, well-ventilated area.
Keep children and pets out of the direct line of mist.
Diffuse in 30-60 minute intervals with ample break periods.
Your trust and confidence matter to us. As part of our S.A.A.F.E. Promise™ to you, Rocky Mountain Oils provides verified third-party GC/MS (Gas Chromatography/Mass Spectrometry) test results from an independent lab for every essential oil product in our collection.
GC/MS tests verify the quality and purity of every Rocky Mountain Oils product, which guarantees you're using the safest and highest quality essential oils and essential oil blends on the market.
To view the GC/MS test results for your essential oil blend, click here.
Meadow Breeze Essential Oil Blend 5ml FAQ
What should I use for a fresh air essential oil recipe?

If you looking for a fresh air essential oil recipe, we recommend using Lemon, Clementine, Lavandin, Lime, Yuzu, Rosemary, Lavender, Elemi, Lemongrass, Eucalyptus radiata, and Damiana essential oils. Each of these oils helps purify and uplift. For convenience, try them in our preblended Meadow Breeze.

How do I use mood boosting essential oil blends?

To use a mood boosting essential oil blend for anxiety, depression, or mental fatigue, diffuse or inhale the aroma and allow it to clear your mind of stressful thoughts. It may help to close your eyes, breathe deeply, and imagine your worries are carried away on a soft meadow breeze. You can also use mood boosting essential oil blends topically by diluting them in a carrier oil and massaging them into the skin.

What are the benefits of Meadow Breeze Essential Oil Blend?

Meadow Breeze offers numerous benefits, including air freshening, neutralizing germs, boosting the immune system, supporting respiratory health, reducing anxiety and depression, lifting brain fog, inspiring better focus, and more. You can also use this blend topically for skincare and haircare.

Is Meadow Breeze safe for kids?

Yes, Meadow Breeze is safe to diffuse around children. However, it's important to keep kids away from the direct line of mist, always diffuse in a well-ventilated area with plenty of air flow, and take breaks every 30-60 minutes. This blend can be used topically on kids ages 2 and up when diluted topically to a .5-1% dilution rate.