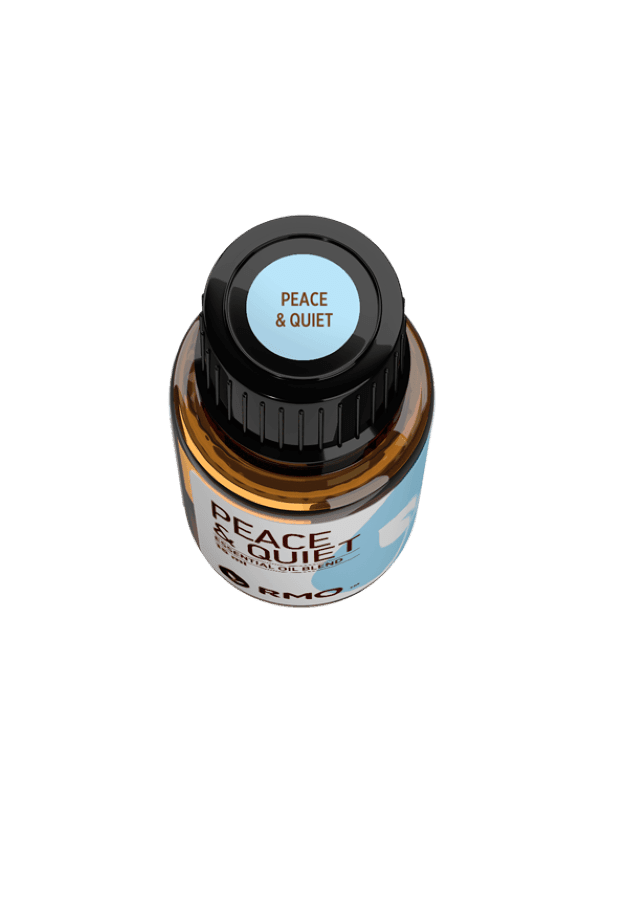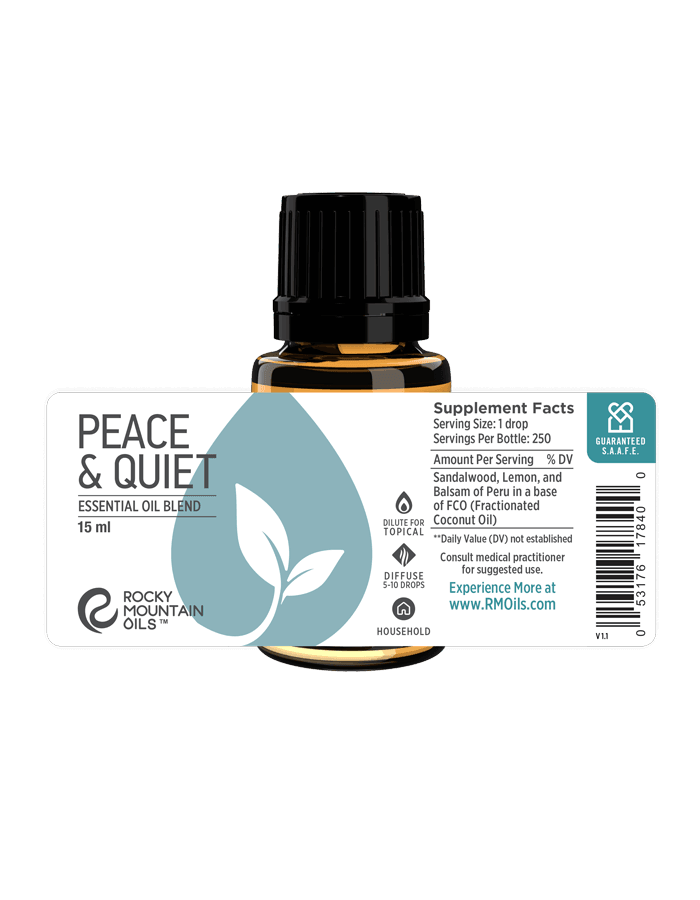 Peace & Quiet Essential Oil Blend
GC/MS
TESTING
90 DAY
RETURNS
100% RECYCLED
PACKAGING
S.A.A.F.E
PROMISE
Create more tranquility and balance in your life with our Peace and Quiet Essential Oil Blend. It's a soothing, serene combination of some of the best peace and calming essential oil varieties: Sandalwood, Lemon, and Balsam of Peru essential oils.
These oils blend together to create a relaxing aroma that helps you remain centered and calm throughout the day. It's warm, earthy, and lemony, with a hint of vanilla-like sweetness. Together, these scents inspire you to release tension and anxiety while accepting the present moment with grace. 
This blend is perfect for meditation, as well as massage oils, bath soaks, and DIY home products. The oils in Peace and Quiet Essential Oil Blend are naturally anti-inflammatory and antimicrobial, which helps heal your body while quieting the mind. Try it for stress, depression, insomnia, burnout, mental fatigue, or ADHD symptoms.
When life feels chaotic, this blend of essential oil for peace offers a moment of zen. It helps you feel connected, emotionally stable, and more resilient. Inhale this blend to reduce distractions, turn the volume down on noisy thoughts, and experience total relaxation.
Apply 1-2 drops to the forehead, temples, pulse points, or upper chest in the morning to help you feel emotionally balanced, peaceful, and resilient.
Use as an anti-inflammatory massage oil to ease tense muscles and stiff joints.
Inhale or apply to aromatherapy jewelry to relieve anxiety, stress, depression, insomnia, and irritability, while improving concentration and helping manage ADHD symptoms.
Use it in a room spray or DIY cleaning products to add more quiet and peaceful vibes to your space.
Apply a few drops to the skin or inhale before meditation to help clear your mind and let go of distractions. It's also great for relieving mental fatigue, brain fog, and improving concentration.
Balancing Foot Balm
When life feels out of balance, use this Balancing Foot Balm to release stress and tension while absorbing the healing benefits of essential oils.
½ ounce Beeswax
2 tablespoons Shea Butter
1 teaspoon Vitamin E
1 capsule Evening Primrose oil
45 drops Peace and Quiet Essential Oil
Instructions: Melt the beeswax and shea butter together in a double boiler, then remove from heat and add Vitamin E and Evening Primrose. Stir slowly, adding the additional essential oils as the mixture cools. Pour into a glass jar and allow to cool completely, then massage into the feet as needed.
For external use only. Do not ingest. Always patch test prior to extensive use on the skin. Avoid contact with the eyes, nose, mouth, sensitive areas, and broken skin. Do not use while pregnant or breastfeeding.
Warning: This blend contains Lemon Essential Oil, which is phototoxic and may temporarily increase the risk of sunburn and UV damage. Do not expose skin to sunlight or tanning beds for 12 hours after topical application.
Kids Safety: Safe to use topically with children ages 2 and up when diluted to a 1-2% dilution rate. Click here to learn more about essential oils and kid safety.
Not recommended for diffusing. For a diffuser-friendly blend, try Tranquility.
As part of our S.A.A.F.E. Promise™, we offer independently verified GC/MS (Gas Chromatography/Mass Spectrometry) test results from a third-party lab for every essential oil and essential oil blend we sell.
GC/MS tests verify the safety and purity of our products, guaranteeing that every essential oil or essential oil blend you purchase from Rocky Mountain Oils is of the highest quality available on the market.
To view the GC/MS test results for this essential oil blend, click here.
Peace & Quiet Essential Oil Blend FAQ
What are the best essential oils for peace and quiet?

Some of our favorite peace and quiet essential oil blends include Sandalwood, Lemon, and Balsam of Peru essential oils. These essential oils are grounding yet uplifting, which helps you feel more balanced and calm when life becomes stressful. Try our Peace and Quiet Essential Oil Blend for a morning meditation to set a relaxing tone for the day ahead.

How do I use peace and calming diffuser blends?

Although diffusing essential oils is a wonderful way to clear the energy and purify the air in your space, we do not recommend carrier oil blends (such as Peace & Quiet) for diffusing. Instead, try Tranquility or create your own peace and calming diffuser blends from pure oils. When you've found the right blend, simply add to your diffuser and diffuse in cycles of 30-60 minutes in a well-ventilated area. (Note: Always take breaks between diffusion cycles and keep children and pets away from the direct line of mist.)

Will a peace essential oil blend help with anxiety?

Yes, many people discover that an essential oil for peace also helps with anxiety, as well as other mental health issues such as stress, burnout, mental fatigue, low motivation, and depression. A peace and calming essential oil helps release our bodies from chronic stress and fight-or-flight mode, which can quiet the mind and help us heal.

Do peace and calming essential oil blends help with ADHD?

The symptoms of attention deficit hyperactivity disorder (ADHD) are different for every individual, however, using peace and calming essential oil blends can help manage symptoms. These blends relax the central nervous system and promote better focus and concentration. While research is ongoing, some studies indicate that essential oils may be a safe, natural alternative to treating ADHD.