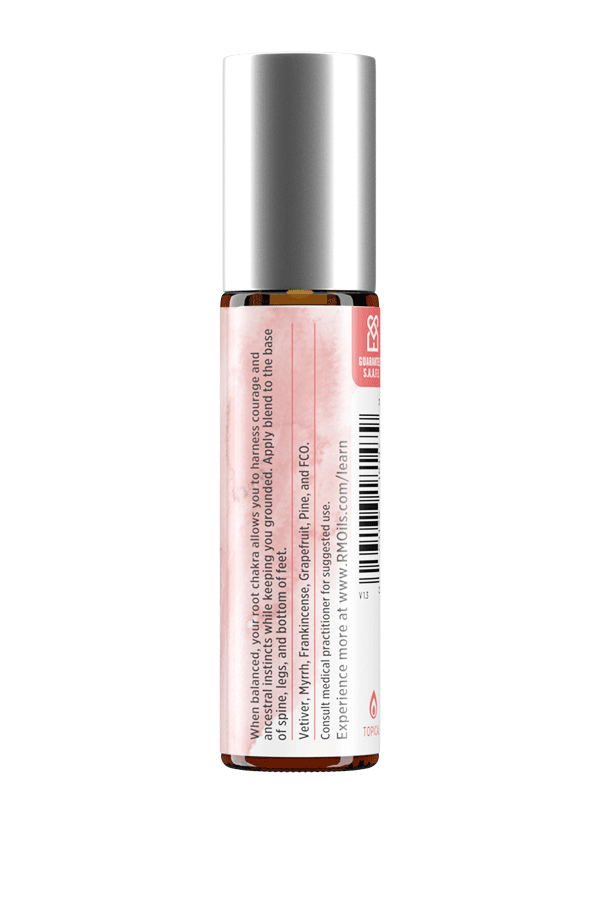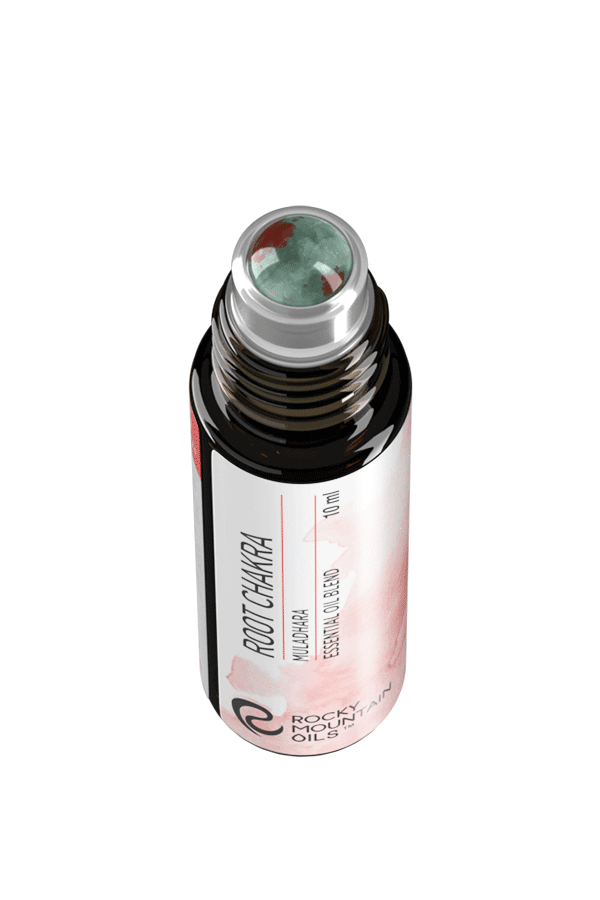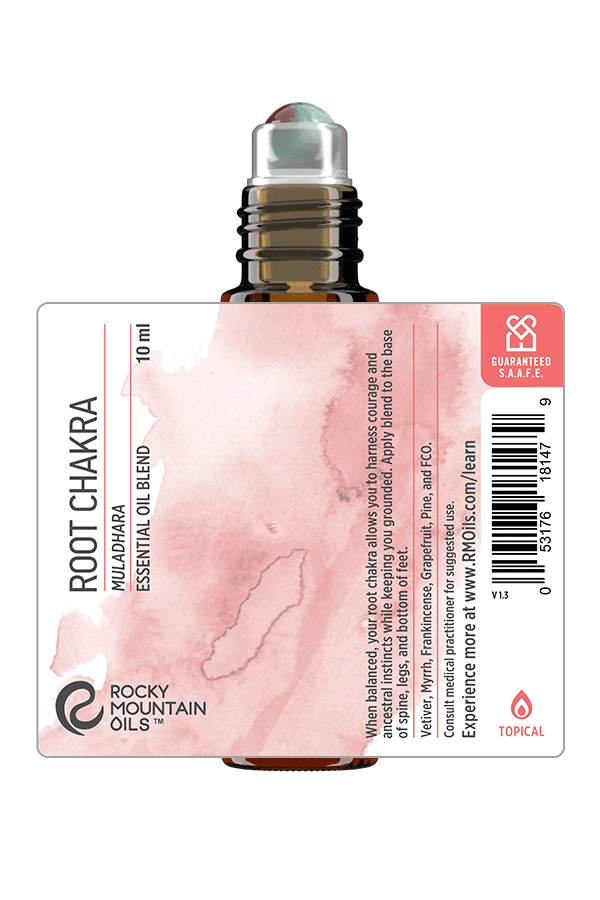 Root Chakra Roll-on
90 DAY
RETURNS
100% RECYCLED
PACKAGING
S.A.A.F.E
PROMISE
Strengthen your spiritual foundation with this Root Chakra Roll-on. This roll-on features our signature Root Chakra Essential Oil Blend recipe of Vetiver, Myrrh, Frankincense Serrata, Grapefruit, and Pine essential oils in a moisturizing base of Fractionated Coconut Oil. 
Chakras are energy centers that support our emotional, physical, and spiritual wellness. The Root Chakra, also known as the First Chakra, serves as the energetic foundation for the other six Chakras in the subtle body. It is located at the base of the spine and is associated with security, stability, self-confidence, and resilience. Balancing your Root Chakra helps you navigate change and tap into your innermost strength. 
Using Root Chakra aromatherapy is a powerful way to bring this Chakra into alignment and allows you to harness its grounding, calming energy. At Rocky Mountain Oils, we've created unique Chakra Roll-ons that include a crystal roller ball to enhance the metaphysical properties of our oils. These are the only roll-ons available on the market to synergize therapeutic oils with healing crystals. 
Our Root Chakra Roll-on includes a Bloodstone roller ball to activate and harmonize the energies in this Chakra. Simply roll the oil directly onto the skin and inhale the rich, grounding aroma to stabilize and realign your Root Chakra. This Roll-on is also perfect for reducing stress, releasing tension in the body, and boosting your immune system.

To learn more about the Root Chakra, click here.
---
The statements contained herein have not been evaluated by the Food and Drug Administration. Neither Rocky Mountain Oils® nor its products are intended for the purpose of diagnosing, treating, curing, or preventing any disease. If you are pregnant, nursing, taking medication, or have a medical condition, consult your physician before using these products. 
Roll onto lower back, legs, or the bottoms of the feet to harmonize and stimulate the Root Chakra's energy reserves located at the base of the spine.
Inhale the aroma to calm anxiety, feel more grounded, and support your ability to navigate change while feeling stable and secure.
Use to soothe sore, stiff muscles and joints, reduce inflammation, and promote a stronger immune system.
Apply to the base of the spine as well as pulse points to reach deeper levels of meditation and stillness for energy work, breathwork, or other forms of spiritual healing.
For topical use only. Do not use near eyes, mouth, nose, or mucus membranes. Always patch test prior to continuous use on the skin. Discontinue use if irritation occurs.
NOTE: Occasional leaking (1-2 drops) may occur due to pressure changes from air transit and the unique texture of the gemstone roller ball. If you receive a roll-on with any leaking, please contact our Customer Experience team for a replacement container at no extra charge.
Kids Safety: Safe to use topically with children ages 6 and older when diluted with extra carrier oil to a 1-2% dilution rate. Click here to learn more about essential oils and kid safety.
Root Chakra Roll-on FAQ
What is the Root Chakra responsible for?

The Root Chakra is responsible for feelings of safety and security. As the name suggests, it helps you feel rooted and supports your ability to remain grounded during stressful or challenging situations. When your Root Chakra is balanced, you'll feel more confident, self-assured, relaxed, and independent. It also functions as the "foundation" for your Chakra system, so healing your Root Chakra helps you heal your other Chakras more easily.

Does aromatherapy help balance your Root Chakra?

Yes! Aromatherapy is a powerful tool for balancing your Chakras, including the Root Chakra. Due to its position at the base of the spine, the Root Chakra is strongly connected to physical well-being and responds favorably to external sensory experiences. Using Root Chakra aromatherapy to stimulate your sense of smell can balance the energies within this Chakra.

What is the best essential oil for Root Chakra healing?

The best essential oil for Root Chakra healing is any oil with an earthy, woody aroma that promotes feelings of groundedness and stability. Our favorite Root Chakra essential oils are Vetiver, Myrrh, Frankincense Serrata, Grapefruit, and Pine. We've combined these oils in a unique Root Chakra oil recipe with an FCO carrier oil base for a convenient, easy-to-use Roll-on.

What crystals should I use with Root Chakra oils?

The Root Chakra is associated with the color red and the element of Earth, so the best crystals to use with Root Chakra oils are mineral-dense and deep red or crimson. In our Root Chakra Roll-on, we've included a unique Bloodstone roller ball. This crystal roller ball help activate the energetic properties of the essential oils and stimulate the meridians at the base of the spine where the Root Chakra is located. It also promotes feelings of courage, resilience, and emotional strength.