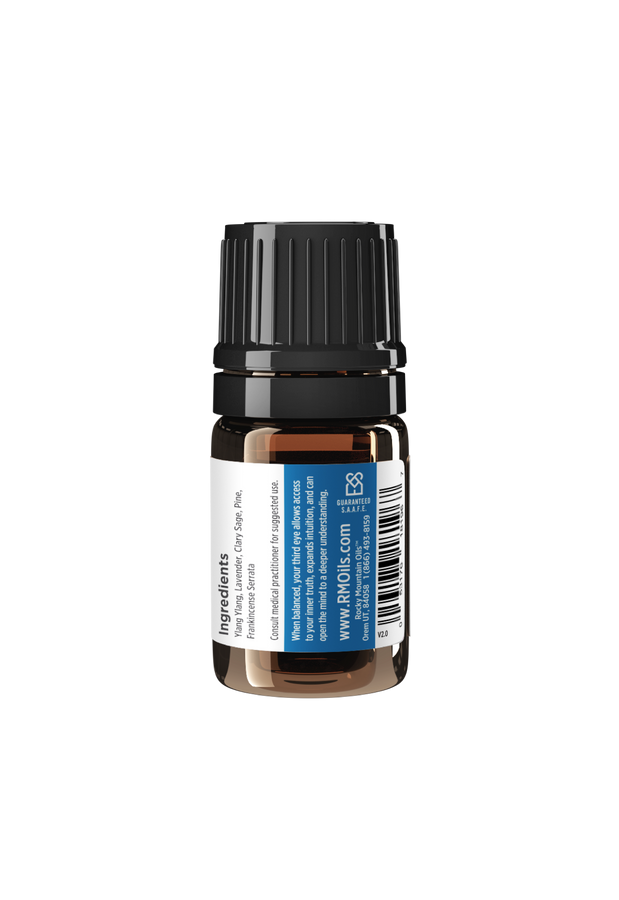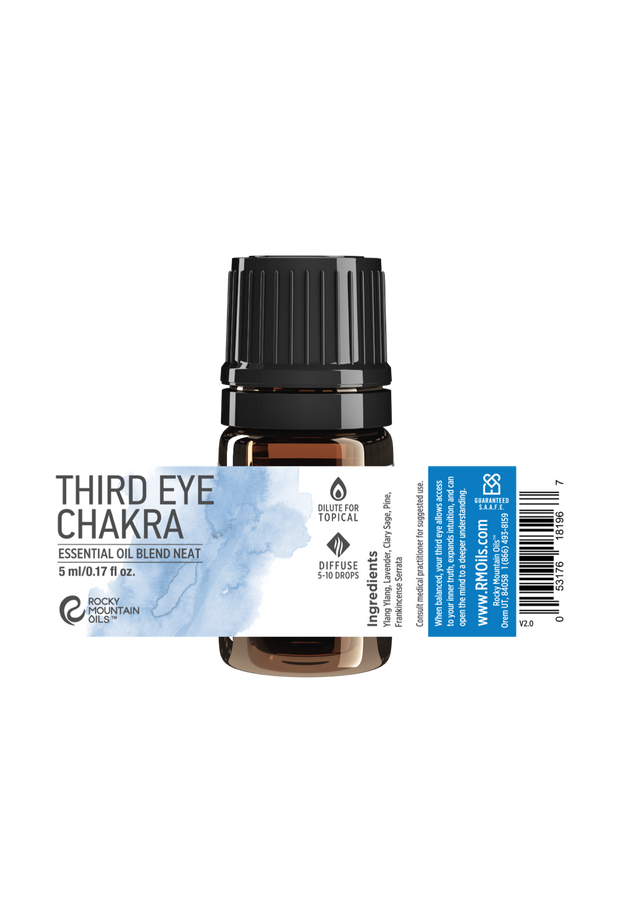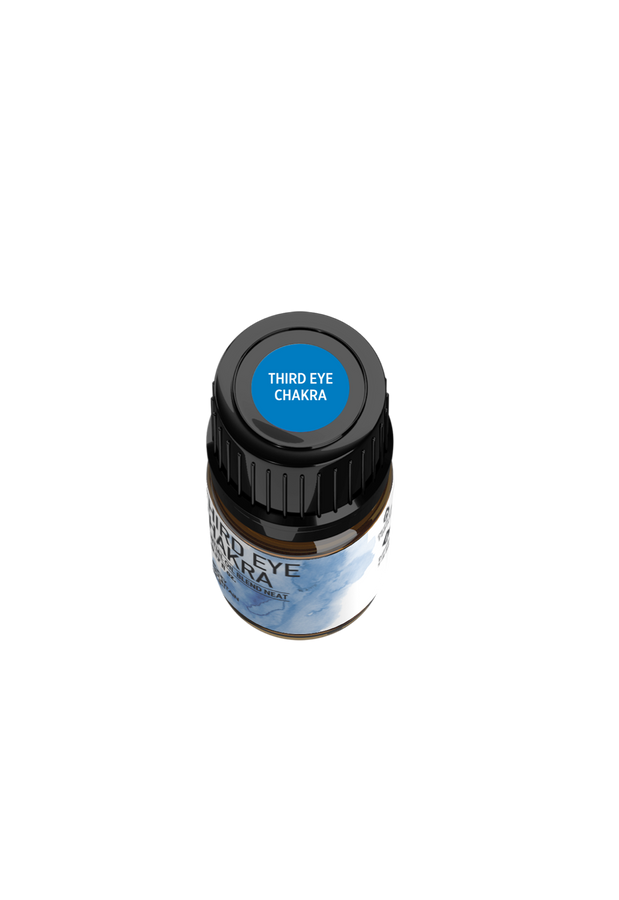 Third Eye Chakra - 5ml
GC/MS
TESTING
90 DAY
RETURNS
100% RECYCLED
PACKAGING
S.A.A.F.E
PROMISE
Enhance your perception and sharpen your intuition with our Third Eye Chakra Essential Oil Blend. This illuminating blend offers the best essential oil for Third Eye Chakra awakening and helps you activate your deepest spiritual connection. 
This blend is a combination of Ylang Ylang Complete, Lavender, Clary Sage, Pine, and Frankincense Serrata essential oils. Together, these oils offer a tantalizing mystical aroma for Third Eye Chakra healings to enliven your senses and open your mind. The scent is deep, earthy, and floral, with a sweet note of pine for added freshness.
Also known as the Ajna Chakra or Sixth Chakra, the Third Eye is believed to sit in the center of the forehead between your eyebrows. Working with this chakra helps you access more internal wisdom, greater awareness of the present moment, and the ability to see through illusions. It's an important chakra for anyone on a path of self-growth and expanding consciousness.
Try diluting this essential oil blend with a carrier oil and applying it to the forehead to help you meditate, or diffuse it as you practice yoga, Tai Chi, or other spiritual practices. You can also use these oils in homemade cleaning products like soaps and room sprays to shift the energy in your home.
Click here to learn more about the Third Eye Chakra.
Diffuse to fill your space with a soothing, mystical aroma that promotes tranquility, clarity, and creativity.
Dilute with your preferred carrier oil and apply to the forehead, temples, behind the ears, or pulse points. Use the scent of this essential oil blend for meditation or rub it into the muscles to loosen tension and release stress held in the body.
Perfect for aromatherapy jewelry, crystals, wooden mala beads and rosaries, or passive diffusers.
Use this blend for Third Eye Chakra healings to connect with your intuition or spiritual guidance, and help remove any self-doubt when you need to make important decisions.
Inhale or use topically to inspire bold creative vision for new projects.
Great for affirmations, mantras, vision boarding, journaling, and other personal growth practices.
Add to DIY room sprays, household cleaners, soaps, candles, bath bombs, and more. Using this natural fragrance in homemade products makes a great gift.
Sixth Chakra Bath Soak
Soothe sore muscles and release tension while nourishing your intuition with this rejuvenating bath soak for the Sixth Chakra.
10-15 drops Third Eye Chakra Blend
1/2 cup Sea Salts
1/2 cup Epsom Salt
Instructions: Patch test to ensure you are not allergic to the essential oils. To patch test, apply a small drop to one area of the skin to confirm you are not allergic or sensitive. If irritation does not occur within 15 minutes, you're safe to use the oils. Blend them together with the salts and dissolve the mixture in a warm bath. Soak for 20-30 minutes and allow the alluring aroma to inspire your imagination and open your Sixth Chakra.
Always dilute with a carrier oil and patch test prior to extensive use on the skin. Click here for dilution rates. For external use only. Do not ingest. Avoid contact with the eyes, nose, mouth, sensitive areas, and broken skin. Do not use while pregnant or breastfeeding.
Kids Safety: Safe to use topically with children ages 10 and older when diluted to a 1-2% dilution rate. Click here to learn more about essential oils and kid safety.
Practice Safer Diffusing
Diffuse in an open, well-ventilated area
Keep children and pets out of the direct line of mist
Diffuse in 30-60 minute intervals with long breaks in between
At Rocky Mountain Oils, your trust and confidence are very important to us. As part of our S.A.A.F.E. Promise™, we offer independently verified GC/MS (Gas Chromatography/Mass Spectrometry) test results from a third-party lab for every product in our line.
GC/MS tests verify the purity and quality of our essential oils and essential oil blends, guaranteeing that every product you purchase from our website is the safest, purest, and highest quality on the market.
To view the GC/MS test results for this essential oil blend, click here.
Third Eye Chakra - 5ml FAQ
What is the meaning of the Third Eye Chakra?

The meaning of Third Eye Chakra is intuition, clear thinking, imagination, and expanded consciousness. When the Third Eye Chakra is open and balanced, it helps promote better mental health and awareness while allowing us to "see" truths that may be hidden in our unconscious minds. Some people believe that Third Eye Chakra healings also deepen our connection to the spirit world.

Is the Third Eye Chakra the same as the pineal gland?

The Third Eye Chakra is not the same as the pineal gland, but many believe it is connected to this gland and helps it function. Currently, scientific evidence to verify the existence of chakras is limited. It's believed that chakras exist within the "subtle body," which refers to the unseen energies dwelling beyond our physical form. However, some researchers believe that the chakras correspond to the major glands in our bodies, including the pineal gland.

How do I open my Third Eye Chakra?

There are many ways to open this chakra, including work with crystals, aromatherapy, meditation, yoga, and spending time in nature. This chakra is also balanced through free-form creativity and imagination. When we give ourselves the freedom to play, daydream, make an abstract painting, or write poetry, it helps open the Sixth Chakra.

Why do essential oils help with Third Eye Chakra meditation?

All chakras can be healed with essential oils, but the Third Eye is extra sensitive due to its location in the center of the forehead. Using an essential oil blend can help with Third Eye Chakra meditation because the oils' aroma can stimulate the limbic system in the brain via the olfactory nerve. This supports cognitive function like increased focus, memory, and attention span, which enable you to meditate more deeply and for longer periods of time.