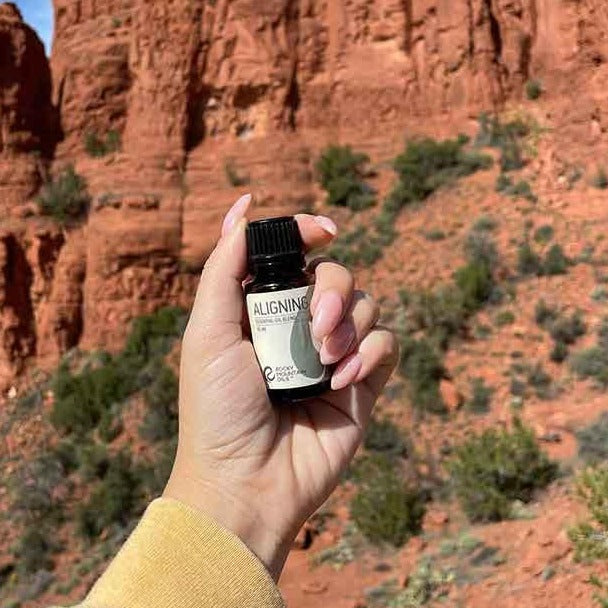 Aligning Essential Oil Blend
GC/MS
TESTING
90 DAY
RETURNS
100% RECYCLED
PACKAGING
S.A.A.F.E
PROMISE
Bring your mind, body, and soul into greater balance with this Aligning Essential Oil Blend. Aligning is a delicate yet grounding blend of essential oils for stress that also promotes spiritual balance: Rosewood, Spruce, Frankincense Serrata, Roman Chamomile, and German Chamomile essential oils.
Aligning has a woody, herbaceous aroma that's slightly floral. It's one of our favorite essential oil blends for relaxation, meditation, yoga, and general stress relief. When you inhale Aligning, it helps bring equilibrium back to your central nervous system. This allows your body to release any stored trauma, which then helps your mind release anxiety and allows your spiritual energy to flourish.
Whether you work specifically with chakras and meridians, or simply feel when your energy is out of balance, this blend offers a moment of calm, clear presence to help you return to your center. It also lifts brain fog, supports memory recall, and enhances your concentration.
Try applying a few drops of Aligning to your forehead, chest, the base of the spine, or pulse points to feel lighter yet more grounded. You can also use this blend for a soothing, meditative bath soak.
"Learn why Aligning Essential Oil Blend is Michael & Phoenix's favorite product"
Add a drop of this blend of essential oils for stress to the palms of your hands, then rub them together and cup your hands over your face. Inhale the deeply grounding aroma to quiet the mind and return your focus to the present moment.
Massage into the soles of the feet to absorb immunity-boosting, anti-inflammatory plant compounds in the oils.
Promote feelings of acceptance, strength, and wisdom by applying to the base of the spine, the center of the chest, or the forehead.
Use on blocked meridian points, misaligned chakras, or anywhere in your body you feel stagnant or imbalance energy.
Apply to aromatherapy jewelry, porous crystals, wooden mala beads, or rosaries to support your personal healing journey and aid in meditation and other spiritual practices.
Add 3-5 drops to a warm bath for a soothing, meditative soak that promotes feelings of well-being.
Aligning Bath Soak
No matter how busy you are, you can create a moment of peace and stillness with this deeply relaxing bath soak that helps release tension and promote balance within.
Instructions: Mix Aligning and FCO (optional, use for extra hydration) with the salts. Add the mixture to a warm bath, stirring occasionally with your hand to make sure the salts dissolve completely. Soak for 20-30 minutes.
For external use only. Do not ingest. Always patch test prior to extensive use on the skin. Avoid contact with the eyes, nose, mouth, sensitive areas, and broken skin. Do not use while pregnant or breastfeeding.
Kids Safety: Safe to use on children ages 2 years and older. Dilute to a .5-1% dilution rate for topical application on children. Click here for more information about essential oil safety and children.
Not recommended for diffusing. For a diffuser blend to promote alignment, try Tranquility instead.
Keep out of reach of children and pets.
As part of our S.A.A.F.E. Promise™ to you, Rocky Mountain Oils offers GC/MS (Gas Chromatography/Mass Spectrometry) test results from an independent, third-party lab for all of our essential oils and essential oil blends.
GC/MS tests verify the quality and purity of every Rocky Mountain Oils product, which guarantees you're using the safest and highest quality essential oils and essential oil blends available anywhere in the world.
To view the GC/MS test results for this essential oil blend, click here.
Aligning Essential Oil Blend FAQ
What are the best essential oils for brain fog?

Studies show that essential oils for memory and concentration may help lift brain fog and promote mental clarity by stimulating the olfactory nerve, which is connected to the limbic system in the brain that is responsible for mood, cognition, and more. If you're looking for the best essential oils for brain fog, try the oils in our Aligning blend: Rosewood, Spruce, Frankincense Serrata, Roman Chamomile, and German Chamomile.

What are the benefits of Aligning Essential Oil Blend?

Aligning is one of the best essential oil blends for relaxation, emotional balance, concentration, better sleep, and mental clarity. Try this blend for stress, depression, anxiety, trouble focusing, low motivation, and malaise. You can also use it in DIY skincare, haircare, and home cleaning products.

How do I use essential oils for yoga and meditation?

To use essential oils for yoga and meditation, such as our Aligning blend, apply to the forehead, heart-center, or pulse points. Inhale the soothing aroma and allow it to relax your body and quiet the mind so you can attain deeper levels of presence in your practice. Try it before, during, or after yoga and meditation.

Do essential oils for stress help kids?

Yes! When your little ones feel anxious, overwhelmed, or out of control, try using essential oils for stress to help them feel calmer and more balanced. Our Aligning blend is safe for topical use on children ages 2 and up when diluted with carrier oil to a .5-1% dilution rate. (Always patch test before using oils on kids. Learn more about essential oils and children here.)