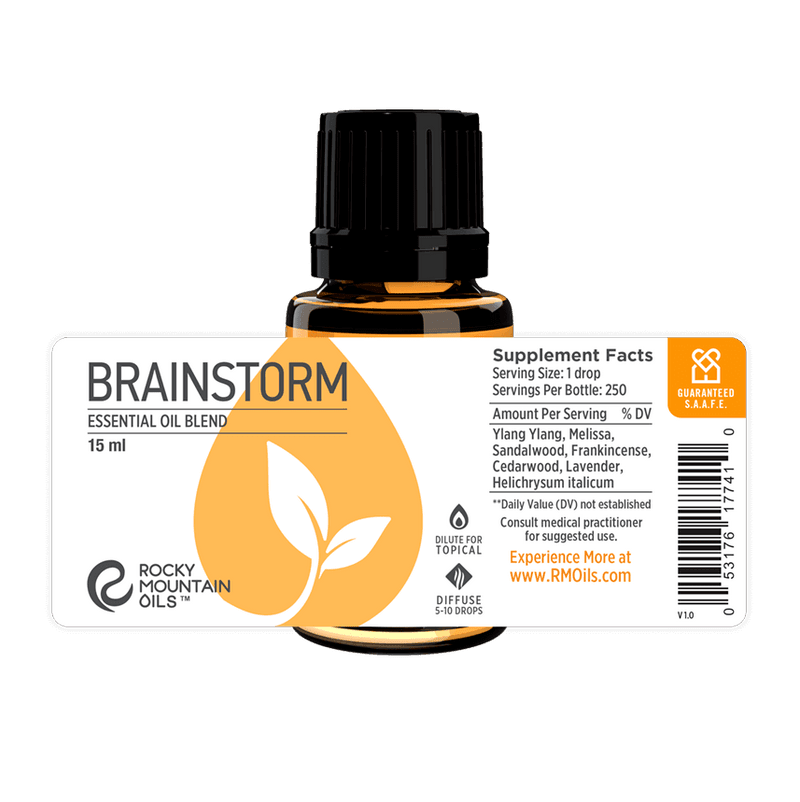 Brainstorm Essential Oil Blend
GC/MS
TESTING
90 DAY
RETURNS
100% RECYCLED
PACKAGING
S.A.A.F.E
PROMISE
Enhance your focus and get ideas flowing with our Brainstorm Essential Oil Blend. Brainstorm is a powerful blend of essential oils for mental clarity: Ylang Ylang, Melissa, Sandalwood, Frankincense Serrata, Cedarwood, Lavender, and Helichrysum italicum. 
Whether you're struggling with brain fog or simply find your mind wandering when you need to focus, Brainstorm can help. This blend offers a woody, floral, slightly sweet aroma that helps turn the volume down on anxious thoughts while calming the central nervous system and encouraging deeper concentration. 
Our sense of smell is closely connected to the limbic system in the brain, which is responsible for memory recall, emotional balance, and decision-making. Studies indicate that using essential oils may help improve cognitive function. They may also help naturally treat ADHD symptoms, lengthen your attention span, inspire more creative thinking, and remove mental blocks.
The ingredients in our Brainstorm Blend are also some of the best essential oils for anxiety, which often makes concentration more difficult. Diffuse Brainstorm or apply topically in a carrier oil for study sessions, work meetings, or any time when you find your mind wandering away from the task at hand.
---
The statements contained herein have not been evaluated by the Food and Drug Administration. Neither Rocky Mountain Oils® nor its products are intended for the purpose of diagnosing, treating, curing, or preventing any disease. If you are pregnant, nursing, taking medication, or have a medical condition, consult your phsyician before using these products. 
Diffuse or use in a room spray to clear stagnant energy, inspire creativity, and create a calmer environment for enhanced mental focus.
Dilute in a carrier oil and apply to the forehead or pulse points whenever you need a mental boost. This blend may also help with brain fog, ADHD, procrastination, anxiety, depression, and other mental blocks.
Inhale or use in a personal diffuser to help you tune out distractions and bring your attention back to the task at hand.
Add 2-3 drops to a warm bath to soak away sore, tired muscles and release daily stressors that may be clouding your thinking.
Use before bedtime to fall asleep faster and sleep more deeply.
Meditate with this essential oil blend, or use it while doing puzzles and memory games, to support overall brain health and cognitive function.
Brainstorm Massage Cream
Try this relaxing massage cream to release tension, tune out distractions, and inspire deeper concentration when you need to work or study.
30 drops Brainstorm
1 teaspoon FCO
1 cup Shea Butter
Instructions: Melt the shea butter in a double boiler over low heat. Once melted, add the FCO and essential oil. Mix well. Pour the mixture into a sealable container, and allow to cool completely. To use, massage the cream into the shoulders and neck before school, studying, or working.
Always dilute with a carrier oil and patch test prior to extensive use on the skin. Do not use while pregnant or breastfeeding. Do not use on broken skin or abrasions. For external use only, do not ingest.

Kids Safety: Safe to use on children ages 2 years and up. Dilute to a .5-1% dilution rate prior to applying topically on children. Click here to learn more about essential oils and kid safety.
As part of our S.A.A.F.E. Promise™ to you, Rocky Mountain Oils provides verified third-party GC/MS (Gas Chromatography/Mass Spectrometry) test results from an independent lab for every essential oil product in our collection.
GC/MS tests verify the quality and purity of every Rocky Mountain Oils product, which guarantees you're using the safest and highest quality essential oils and essential oil blends on the market.
To view the GC/MS test results for your essential oil blend, click here.
Brainstorm Essential Oil Blend FAQ
What are the best essential oils for mental clarity?

How do I use a focus essential oil blend?

There are several ways to use a focus essential oil blend. You can dilute it with a carrier oil and apply topically to the forehead or pulse points, diffuse it in your office or study space, or simply uncap and inhale the aroma to bring your focus back to the task at hand.

Can essential oils for focus help with ADHD?

Attention deficit hyperactivity disorder (ADHD) often manifests differently for different individuals, using essential oils for focus can help manage common symptoms. Diffusing essential oils for focus, such as our Brainstorm Blend, promotes deeper relaxation, reduces anxiety, and stimulates memory and concentration. They can help people with ADHD lengthen their attention span and experience greater mental clarity.

Can kids use Brainstorm Essential Oil Blend?

Yes, Rocky Mountain Oils' Brainstorm Essential Oil Blend is safe for children ages 2 and up. However, always dilute in with carrier oil prior to topical use on children. This blend should be diluted to a .5-1% dilution rate. To learn more about essential oil safety and kids, click here.