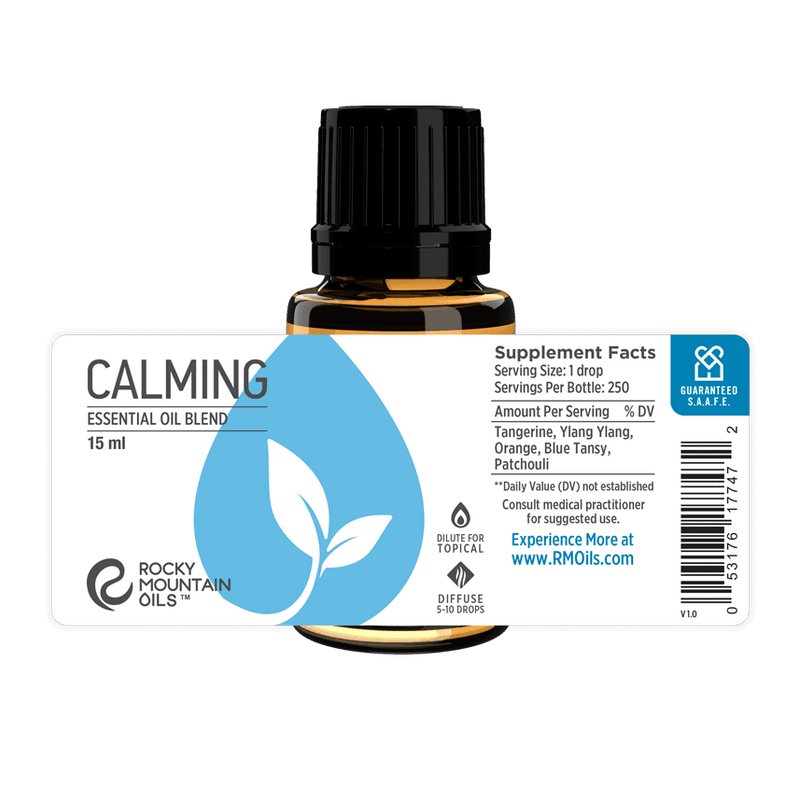 Calming Essential Oil Blend
90 DAY
RETURNS
100% RECYCLED
PACKAGING
S.A.A.F.E
PROMISE
Inhale deep calm and exhale stress with our Calming Essential Oil Blend. Calming is a pure blend of Tangerine, Ylang Ylang, Orange, Blue Tansy, and Patchouli essential oils. Together, these oils offer a comforting aroma that's light, fruity, and slightly floral, with an earthy undertone for grounding.
It's the best essential oil blend for sleep, relaxation, and letting go of anxiety and tension. Diffuse this blend whenever you feel overwhelmed and need to create a moment of zen. Add Calming to your daily self-care ritual or simply uncap and breathe this tranquil scent for quick relief from fight-or-flight mode.
You can also use this essential oil blend for relaxation by diluting it with a carrier oil, then applying topically. The oils in this blend are anti-inflammatory and may help relieve chronic pain, sore muscles, and stiff joints so you can feel deeper calm in your body as well as your mind. 
Try Calming in a DIY room spray, candles, soap, bath bombs, massage oils, household cleaners, and more. It's perfect for keeping in your purse, backpack, or briefcase for on-the-go rescue from sudden stress or panic attacks. This blend also may also help reduce hyperactivity in children.
---
The statements contained herein have not been evaluated by the Food and Drug Administration. Neither Rocky Mountain Oils® nor its products are intended for the purpose of diagnosing, treating, curing, or preventing any disease. If you are pregnant, nursing, taking medication, or have a medical condition, consult your physician before using these products. 
Diffuse this essential oil blend for calming for 30 minutes before bed, as part of your nightly wind-down routine to quiet the mind and relax the body.
Dilute in a carrier oil and apply topically to the temples, behind the ears, or pulse points to reduce stress and promote relaxation.
Uncap and inhale for quick relief from anxiety spikes or panic attacks.
Use in a massage oil to soothe sore, tired muscles and melt away tension. Rub onto the back, shoulders, or bottoms of the feet to reduce feelings of overwhelm and stress-induced depression.
Add to a room spray to purify the air and cleanse the energy in your home or office, inviting peaceful vibes to feel more grounded and calm.
Diffuse or apply topically with a carrier oil to calm emotional outbursts and stabilize moods in kids ages 2 and up (click here to learn more about essential oils and kid safety).
Use in DIY candles, soaps, bath bombs, cleaning products, or aromatherapy blends.
Inhale the rich, peaceful aroma to deepen your meditation and feel more present in spiritual practices.
Calming Bath Soak
Use this essential oil recipe for sleep or any time you'd like to relax and unwind in a warm, soothing bath.
2-3 drops Calming Blend
2 teaspoons FCO (Fractionated Coconut Oil)
1 cup Sea Salts
Instructions: Combine oils and sea salts in a small container. Stir to combine. Dissolve salts in a warm bath, then soak for 20-30 minutes.
Always dilute with a carrier oil and patch test prior to extensive use on the skin. Do not use while pregnant or breastfeeding. Do not use on broken skin or abrasions. For external use only, do not ingest.
WARNING: This blend contains Blue Tansy Oil. Blue Tansy has a thick, ink-like viscosity and a very strong blue color. It can potentially stain clothes, porous materials, and skin. Use with caution. It also contains Orange Oil, which may cause temporary photosensitivity. Avoid direct sun exposure if using topically.
Kids Safety: Safe to use on children ages 2 years and older. Dilute to a .5-1% dilution rate before applying topically on children. Click here to learn more about essential oils and kid safety.
Practice Safe Diffusing:
- Diffuse in an open, well-ventilated area.
- Keep children and pets out of the direct line of mist.
- Diffuse in 30-60 minute intervals with ample break periods.
Calming Essential Oil Blend FAQ
What are the best essential oils for relaxation and sleep?

The best essential oils for relaxation and sleep include Tangerine, Ylang Ylang, Orange, Blue Tansy, and Patchouli essential oils. Each of these essential oils offers a deeply relaxing aroma that helps you let go of stress and anxiety while releasing tension in the body. By using them together in a blend, they will help you quiet the mind so you can fall asleep faster and sleep more deeply. You can also use these essential oils to fall back to sleep if you wake up in the middle of the night.

How do I use essential oil blends for relaxation?

Use essential oil blends for relaxation by adding a few drops to a diffuser or DIY room spray, then mist liberally and allow the tranquil aroma to melt away your stress. You can also add relaxation oils to a carrier oil, then use them as a massage oil or meditation aid. Simply close your eyes, breathe deeply, and let the oil blend help you feel a deep sense of calm.

What is a good essential oil recipe for sleep?

There are many essential oil recipes for sleep that help with everything from chronic insomnia to occasional restlessness and jet lag. To make an essential oil blend for calming sleep, choose grounding aromas that make you feel more relaxed and at peace. Some of our favorite essential oils for relaxation and sleep are Patchouli, Blue Tansy, Orange, Ylang Ylang, and Tangerine oils.

Can I use a calming essential oil blend on skin?

Yes, you can use Calming Essential Oil blend on the skin when properly diluted in a carrier oil such as Jojoba or Fractionated Coconut. Once diluted, apply to the upper chest, temples, or pulse points to breathe the relaxing aroma, or add it to a DIY massage oil and rub it into sore, stiff, tired muscles before bed.

Can I use an essential oil for calming kids?

Yes, essential oil blends can help kids feel calmer, quell tantrums, and reduce hyperactivity. An essential oil blend for calming can also help children fall asleep faster during naptime. Try this blend in a diffuser or dilute to a .5-1% dilution rate, then patch test and apply topically. (Click here to learn more about essential oils and kid safety.)