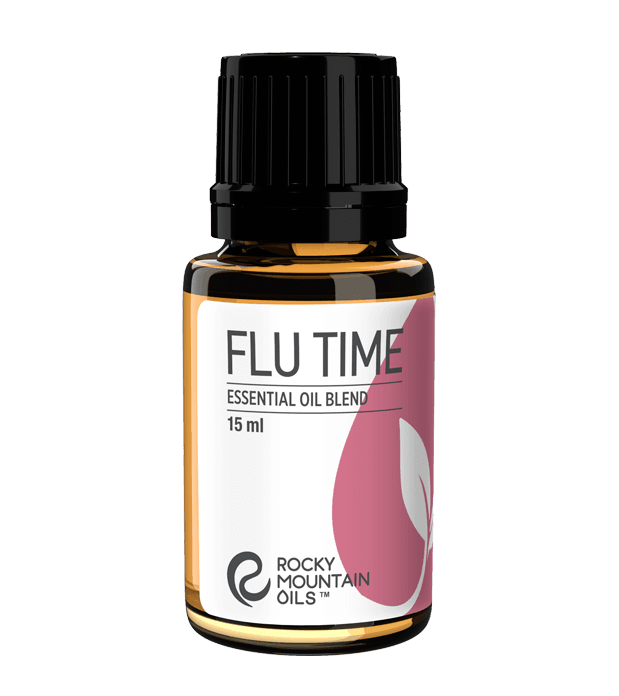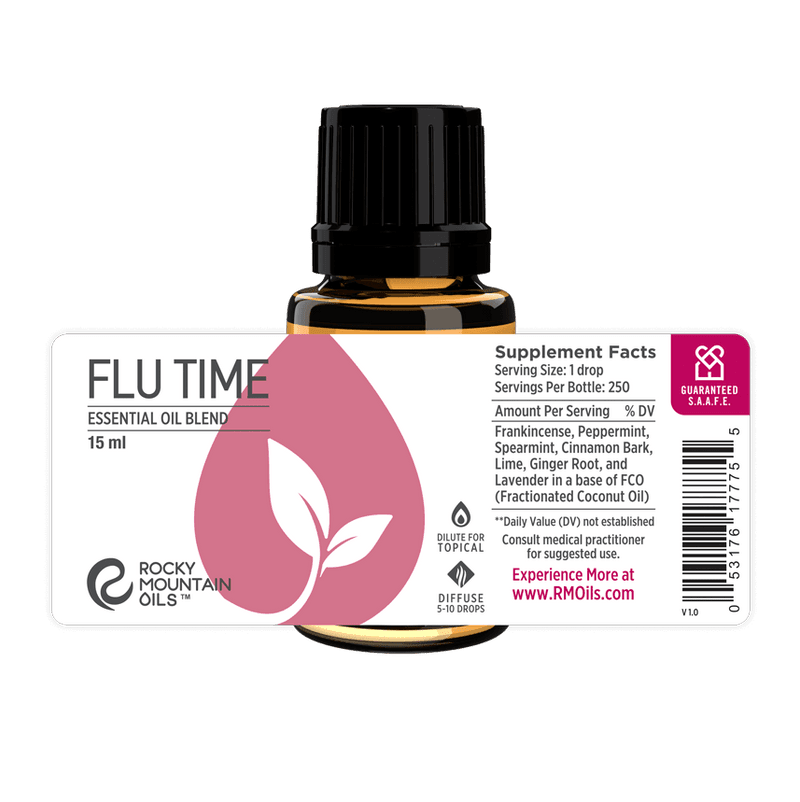 Flu Time Essential Oil Blend
GC/MS
TESTING
90 DAY
RETURNS
100% RECYCLED
PACKAGING
S.A.A.F.E
PROMISE
Feel better and boost your immunity with Flu Time, our blend of essential oil for sickness. This potent medicinal blend combines Frankincense Serrata, Peppermint, Spearmint, Cinnamon Bark, Lime, Ginger Root, and Lavender oils, prediluted in a base of FCO carrier oil so it's ready for immediate topical use on adults.
When you start to feel under the weather, these essential oils for flu will help boost your immune system and treat symptoms naturally. Flu Time features Peppermint and Spearmint for a menthol-like cooling sensation that loosens mucus and phlegm, Cinnamon Bark and Lavender for reducing inflammation, Lime for vitamin C, Ginger Root for gastrointestinal support, and Frankincense Serrata for immunity.
Apply this blend to your back and chest for relief from coughing and congestion, the abdominal region for relief from cramps and other digestive symptoms, or simply breathe in the medicinal aroma to feel calmer and support your body's healing ability. Flu Time has a relaxing yet powerful scent that's herbal, woody, and menthol-like, with a hint of spicy sweetness. It also supports better sleep.
Try Flu Time at the first sign of illness or any time you know you've been exposed to someone with a flu bug, cold, or other viral infection. It's perfect for cold and flu season or any time of the year yto support your body's defenses.
---
The statements contained herein have not been evaluated by the Food and Drug Administration. Neither Rocky Mountain Oils® nor its products are intended for the purpose of diagnosing, treating, curing, or preventing any disease. If you are pregnant, nursing, taking medication, or have a medical condition, consult your physician before using these products. 
Apply 1-3 drops to the chest, neck, back, or forehead to relieve lung congestion and sinus pressure.
Use at bedtime to calm coughing, help you fall asleep faster, and sleep more deeply.
Inhale the aroma to reduce feelings of nausea and upset stomach, and apply to the stomach to relieve cramping or other gastrointestinal discomfort.
Rub into the bottoms of your feet to absorb anti-inflammatory benefits and plant-based healing compounds that may help boost your immune system.
Use at the first signs of illness, when you know you've been exposed to a bug, or any time you want to strengthen your body's natural defenses against flu, colds, and other infections.
Add 1-3 drops to a warm bath to soothe aching muscles and feel better faster.
Congestion & Coughing Chest Rub
When you feel congested or can't seem to stop coughing, try this chest rub with essential oils. The warming, medicinal aromas of the oils in this rub will help act as a natural expectorant to loosen mucus and phlegm, while reducing inflammation and soothing away pain.
1/4 cup Coconut Oil
25-35 drops Flu Time
Instructions: Heat the coconut oil in a double boiler over low heat. Once melted, add the essential oil blend and stir to combine. Pour the mixture into a sealable container and allow to cool completely. Once cooled, rub liberally onto your chest, neck, or back to open up your airways and relax your diaphragm.
For external use only. Do not ingest. Always patch test prior to extensive use on the skin. Avoid contact with the eyes, nose, mouth, sensitive areas, and broken skin. Do not use while pregnant or breastfeeding.
CAUTION: This blend contains Cinnamon Bark, which is considered a "hot" oil that may cause skin irritation. If sensitive, dilute with extra carrier oil. Discontinue use if you experience skin irritation.
Kids Safety: Safe to use topically with children ages 10 and older when diluted to a .5-1% dilution rate. Click here to learn more about essential oils and kid safety.
Not recommended for diffusing. For a cough and cold diffuser blend, try our Immune Strength Blend.
As part of our S.A.A.F.E. Promise™ to you, Rocky Mountain Oils offers GC/MS (Gas Chromatography/Mass Spectrometry) test results from an independent, third-party lab for all of our essential oils and essential oil blends.
GC/MS tests verify the quality and purity of every Rocky Mountain Oils product, which guarantees you're using the safest and highest quality essential oils and essential oil blends available anywhere in the world.
To view the GC/MS test results for this essential oil blend, click here.
Flu Time Essential Oil Blend FAQ
What are the best essential oils for colds and flu?

Some of the best essential oils for flu and colds include Frankincense Serrata, Peppermint, Spearmint, Cinnamon Bark, Lime, Ginger Root, and Lavender. Each of these oils offer powerful anti-inflammatory benefits and contain natural plant compounds that may help boost your immune system. We've included these oils in Flu Time, which is one of the most powerful essential oil blends for cough, cold, flu, and other viral infections.

Is Frankincense good for flu?

Frankincense is one of the best essential oils for flu. This essential oil has been used for generations in traditional medicine to treat illnesses like flu, colds, and more. In fact, scientific studies are beginning to validate its benefits! Using Frankincense essential oil helps reduce sinus congestion, eases coughing, and reduces inflammation associated with the flu virus.

Is Flu Time safe for kids?

Some of the essential oils for flu used in this blend may be too strong for young children, so Flu Time is not recommended for kids younger than 10. For topical use on children, it's also important to dilute this blend with extra carrier oils to reach a .5-1% dilution rate. (Learn more about kids and essential oils here.)

When is the best time to use essential oils for flu?

Use essential oils for common cold, flu, or other illness whenever you start to feel under the weather or when you know you've been exposed to someone who is sick. When you use essential oils for flu early, you may be able to lessen the severity of your symptoms and shorten the duration of your illness. We also recommend using a blend like Flu Time for regular immune system maintenance during the colder months when contagious viruses are more likely to spread. It's also a great choice to keep you healthy while traveling.