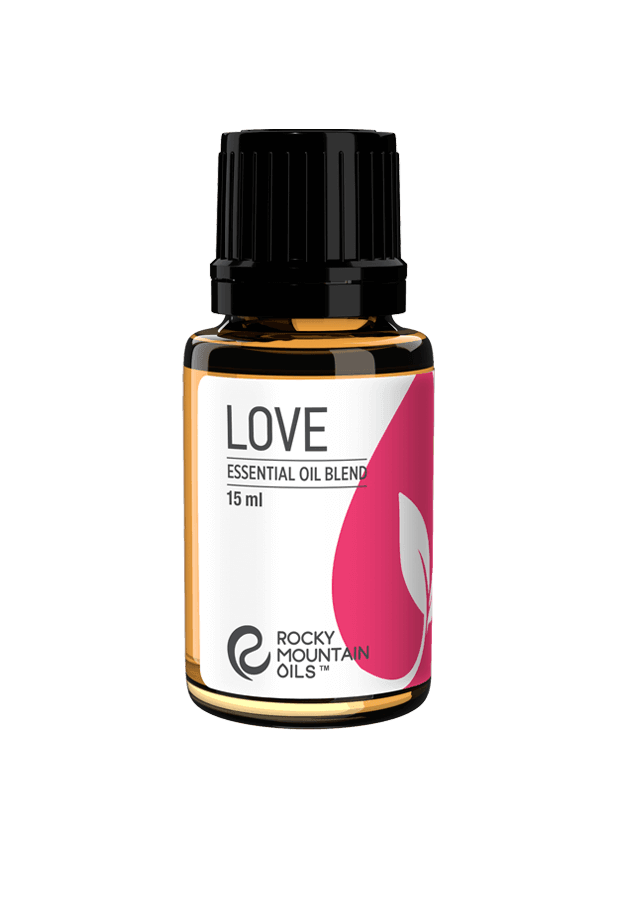 Love Essential Oil Blend
GC/MS
TESTING
90 DAY
RETURNS
100% RECYCLED
PACKAGING
S.A.A.F.E
PROMISE
Invite more affection, connection, and passion into your life with our Love Essential Oil Blend. Our Love blend is designed to open your heart to deeper feelings and help you remove any negative emotions blocking more love from entering your life.
Love is an alluring combination of Lemon, Orange, Geranium, Bergamot, Mandarin, Ylang Ylang, and Rose essential oils, prediluted in a moisturizing base of 66% Fractionated Coconut Oil so it's ready for immediate topical use on adult skin. With a sweet, delicate aroma that's citrusy and floral, this essential oil blend is deeply relaxing and allows you to let go of negativity.
When you inhale the scent of Love, you'll instantly feel calmer, uplifted, and more joyful. Apply a drop behind your ears, along your collarbone, or at your pulse points for a hint of romance wherever you go. Tuning into this heart-based aroma will help you see the world around you, and yourself, with greater love and compassion.
If you're looking to spice things up with your partner, you can also use this blend as an aphrodisiac or sensual massage oil. It's the perfect way to open yourselves to more romance and quality time together.
Use as a natural perfume or cologne to feel more joyful, peaceful, and loving vibes, while releasing past anger, hurt, trauma, or other negative emotions that may be blocking your heart.
Add a drop to the center of your forehead, throat, and sternum to open your energy to receive more love and passion in all forms, whether romantic, familial, or self-love.
Inhale or apply to aromatherapy jewelry, wood mala beads, or rosaries to use as a meditation aid for working with your Heart Chakra or clearing emotional wounds from past relationships.
Add 3-5 drops to a warm bath for a sensual soak that helps reduce inflammation, soothes stiff joints, and relieves achy muscles while improving your mood.
Apply to the face with a cotton pad or clean fingertips to tone, brighten, and moisturize your skin while reducing oily buildup, acne, and inflammation. The essential oils in this blend also minimize signs of aging and promote a healthy natural glow.
Love Massage Cream
Try this recipe for a deep, soothing, sensual massage cream that's perfect for inviting more love into your life whether you're single or with a partner.
30 drops Love Essential Oil Blend
1 teaspoon FCO
1 cup Shea Butter
Instructions: Melt shea butter in a double boiler over low heat. Once melted, remove from heat and add the rest of the ingredients. Stir to combine. Pour the mixture into a sealable container and allow to cool completely. To use, apply a liberal amount to your back, neck, and shoulders to relax sore muscles and inspire feelings of love and connection.
This blend contains Rose essential oil, which may solidify at temperatures below 70 degrees Fahrenheit. If solidification occurs, it does not affect the quality or purity of the oils. Simply warm the bottle in your hand or place it in your pocket to return the blend to its liquid state.
Do not use while pregnant or breastfeeding. Do not use near the eyes, nose, mouth, sensitive areas, or on broken skin or abrasions. For external use only. Do not ingest.
CAUTION: This blend contains citrus oils, which are phototoxic and may temporarily increase the risk of sun damage. When using topically, always keep exposed areas out of direct sunlight and avoid tanning beds for 12 hours after use.
KIDS SAFETY: Safe to use on children ages 2 and up. Dilute to a .5-1% dilution rate before applying topically on children. Click here to learn more.
Not recommended for diffusing. For a diffuser-friendly blend to inspire more love, try our Heart Chakra Blend instead.
Your trust and confidence matter to us. As part of our S.A.A.F.E. Promise™ to you, Rocky Mountain Oils provides verified third-party GC/MS (Gas Chromatography/Mass Spectrometry) test results from an independent lab for every essential oil product in our collection.
GC/MS tests verify the quality and purity of every Rocky Mountain Oils product, which guarantees you're using the safest and highest quality essential oils and essential oil blends on the market.
To view the GC/MS test results for your essential oil blend, click here.
Love Essential Oil Blend FAQ
What are the best essential oils for negative energy?

The best essential oil for negativity includes Lemon, Orange, Geranium, Bergamot, Mandarin, Ylang Ylang, and Rose. For your convenience, we've included these oils in our Love blend to help remove negative energy and open your heart to more affection, romance, and passion.

How do I use essential oils for self love?

To use essential oils for self love, try diffusing your favorite aromas (such as our Love Blend) while tending to your favorite self-care practices like journaling, meditating, cooking, dancing, singing, reading, or any other activity that helps you feel relaxed and at peace. You can also add a few drops to a warm bath or apply directly to the skin to use as a soothing massage oil.

Can I use Love essential oil on skin?

Yes! Our Love Essential Oil Blend is prediluted in a nourishing, moisturizing base of Fractionated Coconut Oil so it's ready to apply topically. Use it as a natural perfume or cologne, or to treat blemishes while toning and brightening the skin. However, we recommend patch testing prior to extensive topical use. Due to the phototoxicity of the citrus oils in this blend, we also advise that you avoid directly sunlight and tanning beds if using on exposed skin.

What are the health benefits of Love essential oil blend?

Our Love Blend is anti-inflammatory, antimicrobial, antifungal, and rich in antioxidants to help reverse and prevent damage caused by free radicals. Thanks to these natural medicinal properties, it can help boost the immune system, relieve pain caused by inflammation, prevent infection, and help heal small cuts, burns, and abrasions. This blend also offers numerous benefits for emotional health by reducing anxiety, depression, loneliness, and mental fatigue.