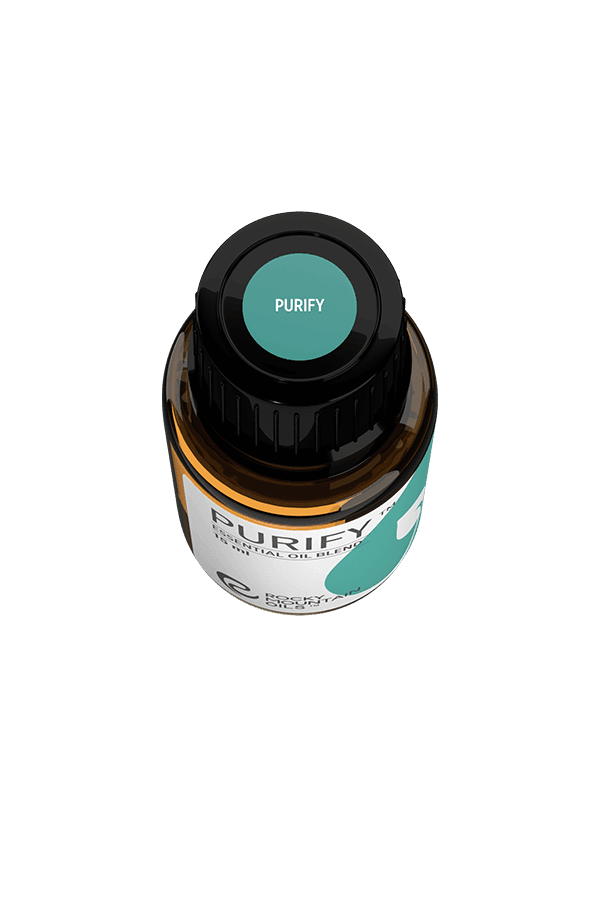 Purify Essential Oil Blend - 5ml
90 DAY
RETURNS
100% RECYCLED
PACKAGING
S.A.A.F.E
PROMISE
Purify and cleanse your home without harsh chemicals with our Purify Essential Oil Blend. This blend includes some of the most powerful essential oils for purifying air and sanitizing surfaces naturally.
Purify is a vibrant combination of lemongrass, tea tree, rosemary, lavender, myrtle, and citronella essential oils. Thanks to the natural antibacterial and antifungal properties of these oils, Purify deodorizes, disinfects, treats mold, and freshens any space. It also functions as a chemical-free bug spray and can be sprayed along doorways and windows to deter insects.
Try it in your favorite diffuser or use it in a spray bottle to make an uplifting air freshener. You can also add Purify to DIY household cleansers, soaps, laundry detergents, and more. Purify can also be used topically in carrier oils.
Along with your home, Purify can also cleanse your mood thanks to its aromatherapeutic abilities. Diffuse or inhale Purify to let go of stress and anxious thoughts, feel grounded, and invite more joy and peace into your life.
---
The statements contained herein have not been evaluated by the Food and Drug Administration. Neither Rocky Mountain Oils® nor its products are intended for the purpose of diagnosing, treating, curing, or preventing any disease. If you are pregnant, nursing, taking medication, or have a medical condition, consult your physician before using these products.
Purify Essential Oil Blend Uses
Purify Essential Oil neutralizes bacteria and germs to sanitize spaces naturally.
Makes a great diffuser blend for clean air and aromatherapy.
Dilute in a carrier oil and use on chest to alleviate bronchial congestion.
Diffuse or spray around doorways and windows to repel mosquitoes, ants, spiders, and other bugs.
Add 3-4 drops of our Purify Essential Oil Blend to a cotton ball or pad. Place the cotton inside shoes, gym bags, cars, or other stinky spaces and leave overnight to eliminate odors.
Try 5-10 drops in a warm bath to soothe sore muscles, melt away stress, and feel rejuvenated, or inhale to feel fresh vibes for meditations.
Add 2-3 drops to laundry detergent, or use in DIY household cleaners for a deeper clean without harsh chemicals or allergens.
Purify Essential Oil Blend Recipes
Purify The Air Spray
Cleanse your space without chemicals with our Purify The Air Spray, made with our powerful air purifying essential oil blend. Great for use in bathrooms, laundry rooms, garages, and more.
75 drops Purify
4 ounces Distilled Water
Instructions: Add oil and water to a 4-ounce spray bottle. Shake to combine. Spray generously as needed to neutralize odor and eliminate germs. Refill water 2-3 times before refilling oil.
Natural Home Cleanser
75 drops Purify
4 ounces Water
4 ounces White Vinegar
Instructions: Add Purify oil blend, water, and vinegar to an 8-ounce spray bottle. Shake vigorously to combine and shake well before each use. Use to clean bathrooms, kitchen counters, showers and tubs, and more. Helps kill mold and bacteria. Also helps repell insects.
Dilute before applying topically.
Kids Safety: Safe to use around children ages 10 years and older. Dilute to a .5-1% dilution rate before applying topically on children.
Practice Safe Diffusion:
Diffuse in an open, well-ventilated area.
Keep children out of the direct line of mist.
Diffuse in 30- to 60-minute intervals with ample break periods for safe and effective use.
Your trust and confidence is very important to us. As part of our S.A.A.F.E. Promise™ to you, we provide GC/MS (Gas Chromatography / Mass Spectrometry) test results from a verified third party, independent lab for each one of our essential oil products.
GC/MS tests verify purity and quality of the oils we sell, so you can be sure you're using the highest quality oils available on the market today.
Click here for the GC/MS test results for your bottle of Purify Essential Oil Blend.
Click here for dilution rates.
Purify Essential Oil Blend - 5ml FAQ
What is Purify Essential Oil Blend made of?

What are the most purifying essential oils?

All essential oils have purifying properties, however the most powerful purifiers include citrus oils, tea tree, lavender, myrtle, rosemary, and citronella. Together, these essential oils form our Purify Essential Oil Blend. They are antimicrobial, antifungal, and reduce or eliminate unpleasant odors caused by bacteria.

How do you purify air with essential oil?

To make a natural air freshener to purify your space, fill a spray bottle or mister with 10-20 drops of Purify Essential Oil Blend, shake well, and spritz as needed. You can also use this air purifying essential oil blend in a diffuser.

Can you use Purify Essential Oil Blend on skin?

We recommend diluting Purify in a carrier oil prior to use on skin to avoid possible irritation or sensitivity. We also advise that you perform a patch test prior to extensive topical application. Apply a small amount to one area of the skin, then 15 minutes to see whether irritation occurs.

Is Purify Essential Oil Blend safe to use around kids?

Purify Essential Oil Blend is safe to use around children ages 10 years and older. For topical application, dilute to a .5-1% dilution rate before use. Click here to learn more about essential oil safety and kids.