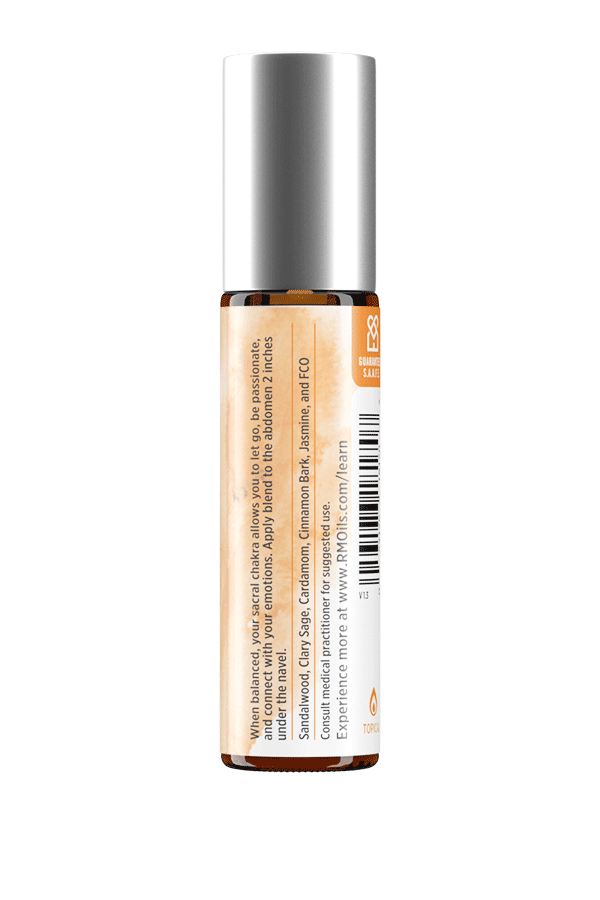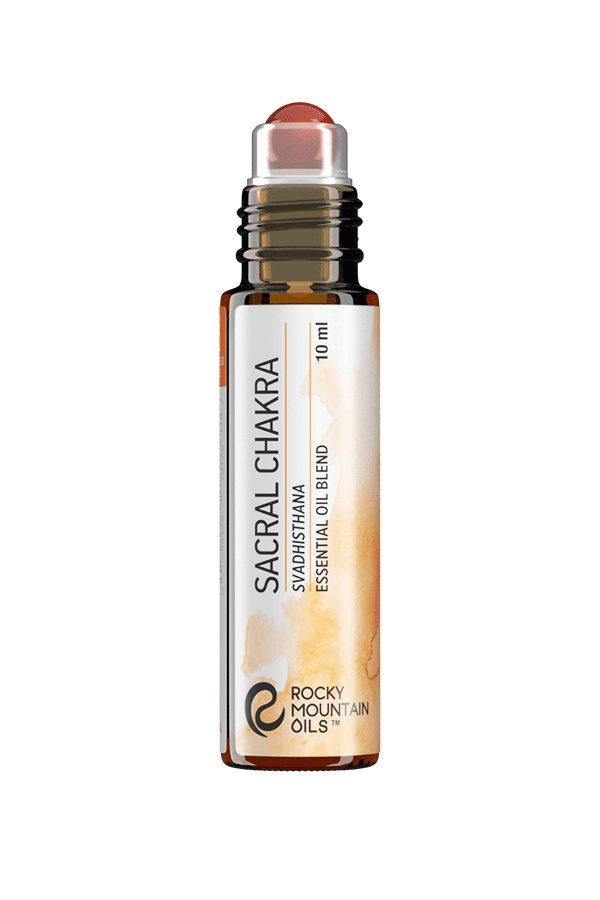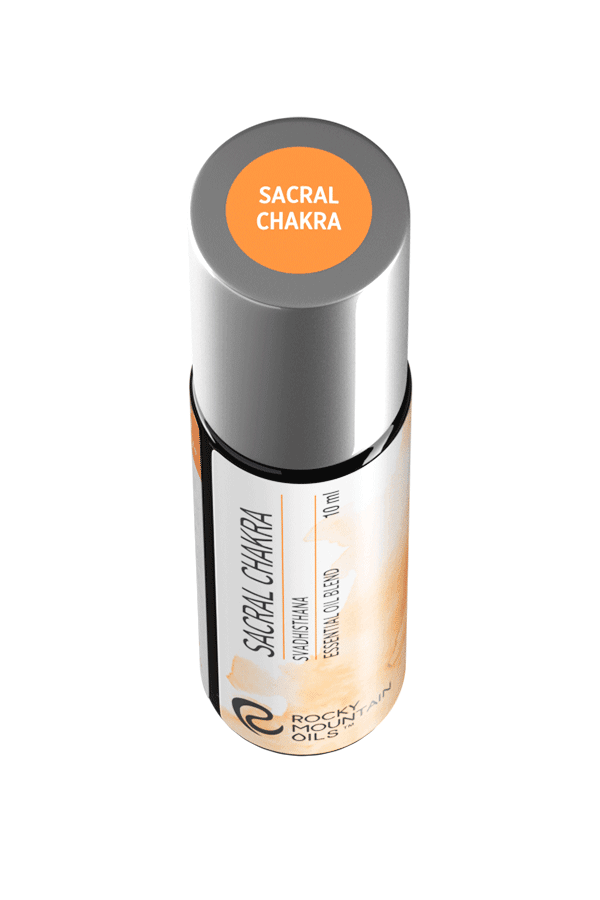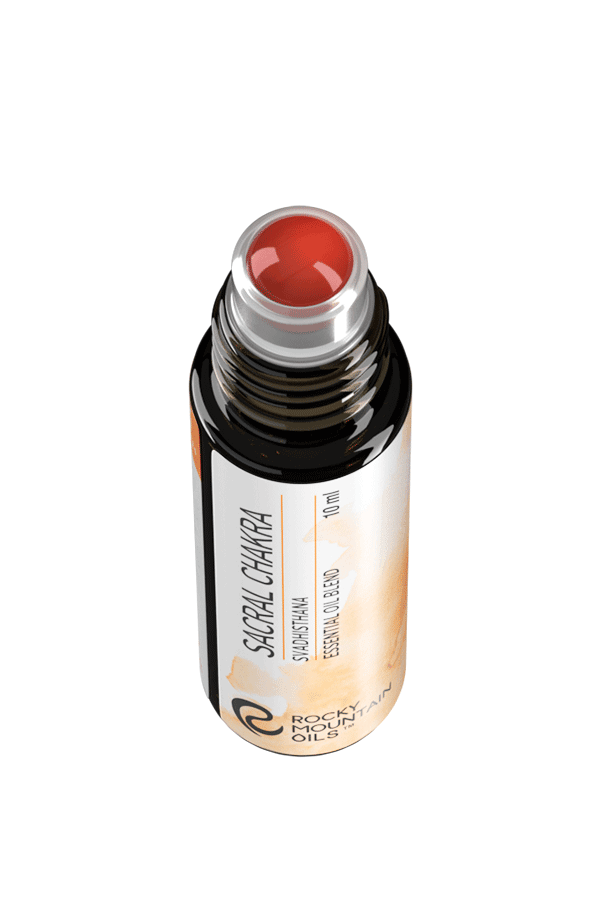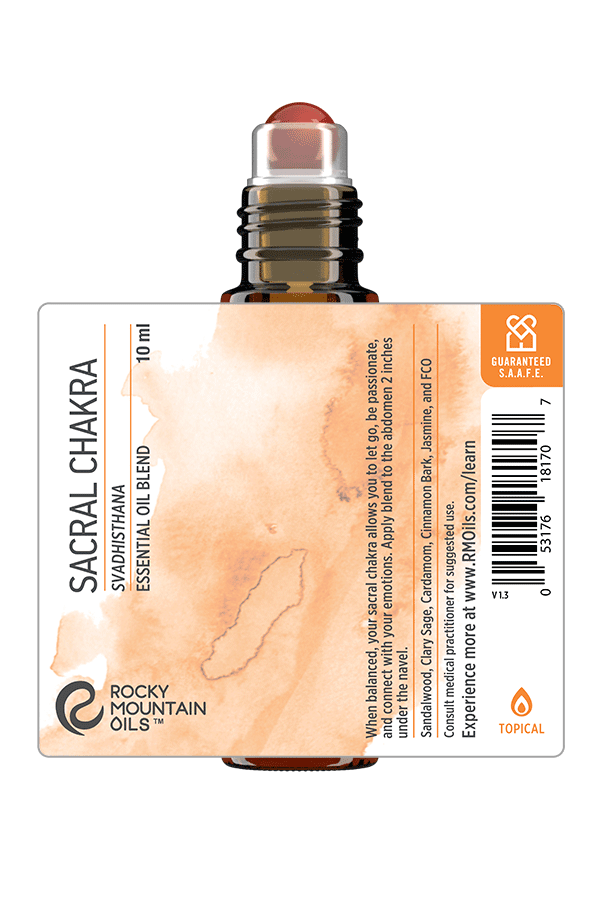 Sacral Chakra Roll-on
GC/MS
TESTING
90 DAY
RETURNS
100% RECYCLED
PACKAGING
S.A.A.F.E
PROMISE
Embrace your deepest passions with this Sacral Chakra Roll-on. This roll-on offers a sensual blend of some of the best essential oils for Sacral Chakra healing: Sandalwood, Clary Sage, Cardamom, Cinnamon Bark, and Jasmine essential oil. This blend is prediluted in a hydrating base of Fractionated Coconut Oil and ready for immediate topical use on adult skin.
The Sacral Chakra, also known as the Second Chakra, is one of seven energy centers located in the subtle body along the spine. It is situated between the navel and the top of the pelvis, where it governs the flow of our creative energy, passion, and sensuality. Working with the Sacral Chakra helps you connect with your emotions, achieve deeper levels of intimacy in relationships, and attract new romantic connections.
Using an essential oil for Sacral Chakra healing is one of the most powerful ways to heal and activate this energy. The Sacral Chakra oils in this blend offer an earthy, woody, spicy-sweet aroma with a floral note to inspire sensuality while helping you feel more empathy and creativity. 
At Rocky Mountain Oils, we've designed the only Chakra healing roll-ons that combine the therapeutic benefits of essential oils with crystal healing. This Sacral Chakra Roll-on includes a Carnelian roller ball to activate the metaphysical properties of this oil blend and help balance the energies in your Second Chakra.

Click here to learn more about the Sacral Chakra.
---
The statements contained herein have not been evaluated by the Food and Drug Administration. Neither Rocky Mountain Oils® nor its products are intended for the purpose of diagnosing, treating, curing, or preventing any disease. If you are pregnant, nursing, taking medication, or have a medical condition, consult your physician before using these products. 
Use the Carnelian gemstone roller ball to apply oil to the lower abdomen, 2-3 inches below the navel, to awaken the Sacral Chakra and bring its energy into balance.
Apply this blend of essential oils for the Sacral Chakra to the upper chest or inhale directly from the Roll-on and allow the sensual aroma to carry you into a blissful meditative state for energy work, breathwork, sound baths, or other intuitive healing.
Roll onto achy joints or tired muscles to relieve inflammation and tension in the body.
Apply to the soles of the feet to absorb anti-inflammatory and immunity-boosting benefits.
Use to relieve pain caused by stomach aches, cramps, bloating, or other digestive issues.
For topical use only. Do not use near eyes, mouth, nose, or mucus membranes. Always patch test prior to continuous use on the skin. Discontinue use if irritation occurs.
NOTE: Occasional leaking (1-2 drops) may occur due to pressure changes from air transit and the unique texture of the gemstone roller ball. If you receive a roll-on with any leakage, please contact our Customer Experience team for a replacement container at no extra charge.

Kids Safety: Safe to use topically with children ages 10 and up when diluted with an additional carrier oil to a .1-.5% dilution rate. Click here to learn more about using essential oils safely with children.
Your trust and confidence matter to us. As part of our S.A.A.F.E. Promise™ to you, Rocky Mountain Oils provides verified third-party GC/MS (Gas Chromatography/Mass Spectrometry) test results from an independent lab for every essential oil product in our collection.
GC/MS tests verify the quality and purity of every Rocky Mountain Oils product, which guarantees you're using the safest and highest quality essential oils and essential oil blends on the market.
Click here for the GC/MS test results for all our Chakra Blends.
To view the GC/MS test results for this Sacral Chakra Roll-on, click here.
Sacral Chakra Roll-on FAQ
What does the Sacral Chakra do?

The Sacral Chakra, also known as the Second Chakra, is responsible for your creative energy, emotions, and sensuality. Working closely with this Chakra helps you become more in touch with your deepest feelings and greatest passions. When your Sacral Chakra is aligned, you may also experience great intimacy in relationships or attract new romance into your life.

Can essential oils balance your Sacral Chakra?

Yes, aromatherapy and essential oils are a powerful tool for energy work involving Chakras. By using essential oil for Sacral Chakra, you can bring this energy center back into balance. If you find yourself becoming distant with your loved ones, or too needy and codependent, it may be a sign that your Sacral Chakra is out of balance. A Sacral Chakra Essential Oil Blend can help harmonize the subtle energies in this Chakra and clear any blockages or misalignments.

What is the best Sacral Chakra essential oil blend?

For balancing your Sacral Chakra, use any essential oil that inspires you to feel more sensual and passionate. Some of our favorites include Sandalwood, Clary Sage, Cardamom, Cinnamon Bark, and Jasmine essential oil. Enjoy these oils, prediluted for topical use in an FCO carrier oil, in our Sacral Chakra Essential Oil Blend Roll-on.

What crystals help with Sacral Chakra healing?

The Sacral Chakra is associated with the color orange and the element of Water. Any crystal or gemstone that connects with the energy frequencies of these elements will help support your Sacral Chakra. In this Roll-on, we've included a Carnelian stone as a roller ball. Carnelian is associated with metaphysical properties that elevate creativity and vitality, which makes it an excellent stone for supporting the Sacral Chakra.