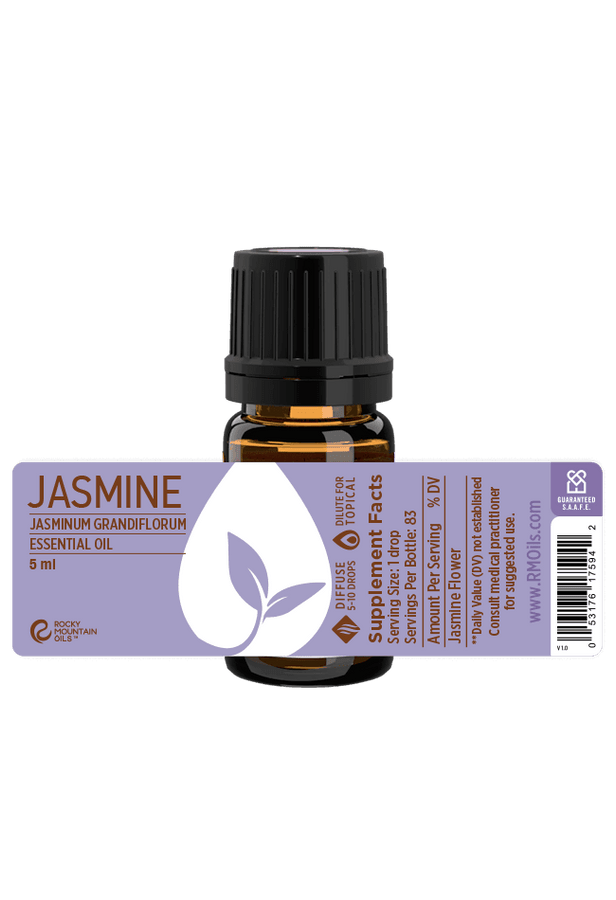 Jasmine Essential Oil
GC/MS
TESTING
90 DAY
RETURNS
100% RECYCLED
PACKAGING
S.A.A.F.E
PROMISE
Tantalize your senses with the delightfully alluring aroma of Jasmine Essential Oil. Bearing an uplifting yet calming fragrance that's flora, sultry, and slightly sweet, Jasmine is highly sought-after due to its versatile and luxurious scent. Its unmistakable aroma evokes the magic of a warm summer night.
Steam distilled from the delicate white flowers of the Jasminum plant, Jasmine essential oil makes a perfect natural perfume or diffuser fragrance. Inhaling Jasmine will release tension, ease anxiety, and promote better sleep. Try adding 1-3 drops to a warm bath for the ultimate self-care soak.
Studies suggest that this essential oil stimulates the production of GABA in the brain, which is a neurotransmitter that relaxes the central nervous system and helps our bodies recover from chronic and accute stress. Using Jasmine for aromatherapy also supports memory, lifts brain fog, and balances mood swings.
Jasmine essential oil benefits also include skincare, haircare, meditation, enhancing libido, and boosting self-confidence. Try diluting this essential oil with Jojoba Oil or Fractionated Coconut Oil, then dab it onto your wrists, neck, upper chest, or pulse points in the morning to cleanse and uplift your energy while setting a peaceful tone for the day ahead.
---
The statements contained herein have not been evaluated by the Food and Drug Administration. Neither Rocky Mountain Oils nor its products are intended for the purpose of diagnosing, treating, curing or preventing any disease. If you are pregnant, nursing, taking medication, or have a medical condition, consult your physician before using these products.
Diffuse to promote relaxation and turn the volume down on anxious thoughts, allowing you to let go of stress and feel uplifted.
Dilute with a carrier oil and apply topically to reduce the appearance of fine lines and wrinkles.
Create a soothing massage oil with Jasmine and Fractionated Coconut Oil to reduce inflammation, promote better circulation, and soothe aches and pains.
Apply with a carrier oil to the abdominal region to promote gut health, reduce gas and bloating, promote regular bowel movements, and support overall digestive health.
Diffuse, inhale, or create a sensual massage oil with Jasmine to inspire deeper romance with your partner, create stronger intimacy, and boost libido.
Diffuse, inhale, or apply topically with a carrier oil to promote hormonal balance that can help reduce menstrual cramps, hot flashes, and mood swings.
Romantic Massage Oil
Set the mood with your partner and spark more romance and passion with this sensual Jasmine massage oil.
5-10 drops Jasmine Essential Oil
1 oz. Fractionated Coconut Oil or Almond Oil
Instructions: Blend oils together and warm between the palms of your hands, then massage into your partner's upper back, neck, arms, or legs to soothe tension and create intimacy.
May cause irritation in its pure form. Always dilute with a carrier oil and patch test prior to extensive topical use. Do not use if pregnant or breastfeeding. Do not use on broken skin. Keep out of reach of children and pets.
Safe to use topically with children ages 2 and up when diluted to a .5-2% dilution rate. Click here to learn more about using essential oils for kids.
Safe Diffusing Tips:
Diffuse in an open, well-ventilated area.
Keep children and pets out of the direct line of mist.
Diffuse in 30-60 minute intervals with ample break periods.
Your trust and confidence matter to us. As part of our S.A.A.F.E. Promise™, Rocky Mountain Oils offers GC/MS (Gas Chromatography/Mass Spectrometry) test results verified by a third-party, independent lab for every essential oil and essential oil blend in our catalog.
GC/MS tests verify the purity and quality of all Rocky Mountain Oils products, so you can be sure you're using the safest, highest-quality essential oils available on the market.
GC/MS Test: Click Here
For batch-specific GC/MS tests, click here.
Jasmine Essential Oil FAQ
Does Jasmine essential oil help with stress?

Yes! The sweet, sultry floral aroma of Jasmine essential oil helps relieve stress, anxiety, irritability, and balances mood swings. Inhaling Jasmine can help you feel calmer and less reactive. It also creates feelings of comfort and safety.

How do I use Jasmine oil for hair?

To use Jasmine oil for hair, dilute with a carrier oil or add 1-3 drops to your regular shampoo or conditioner. Massage into the scalp, working the oil into a rich lather to permeate your hair at the roots. You can also comb it through your hair to de-tangle and moisturize. Then rinse as usual and enjoy thicker, fuller hair that shines.

Is it safe to use Jasmine oil for skin?

Jasmine oil is safe to use for skincare when properly diluted with a carrier oil. Thanks to its anti-inflammatory properties, Jasmine essential oil is anti-aging and helps lighten dark spots. It helps heal eczema, psoriasis, acne, or other skin irritations. Additionally, you can use Jasmine to soothe itchy bug bites and allergy rashes.

What are Jasmine essential oil benefits for meditation?

Meditating with Jasmine oil will help strengthen your mind-body connection and allow you to focus in stillness for longer periods of time. This can help you achieve deeper levels of meditation and expand your consciousness. Jasmine oil is also an excellent aroma to diffuse during sound baths, yoga, tai chi, energy healing sessions, or other spiritual practices.