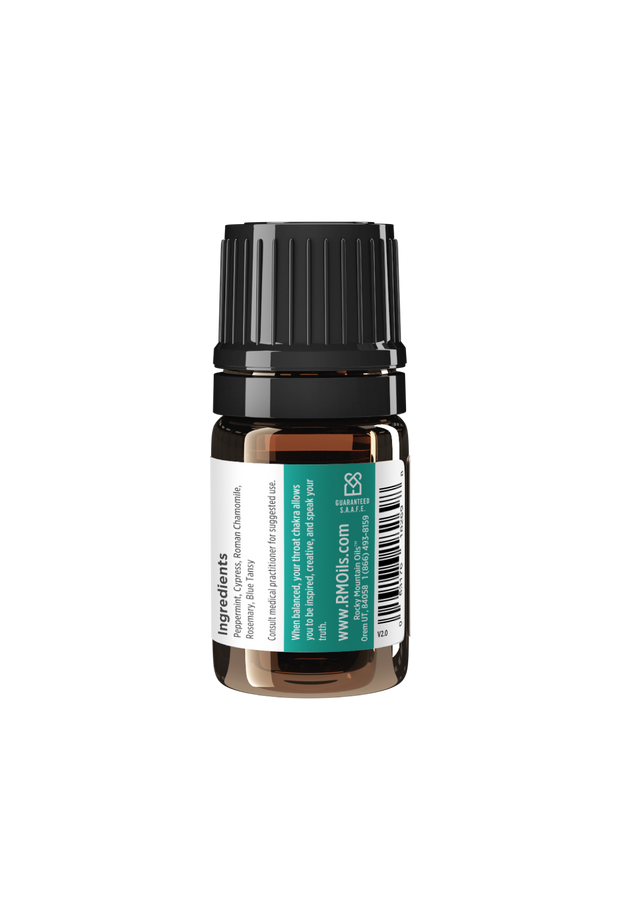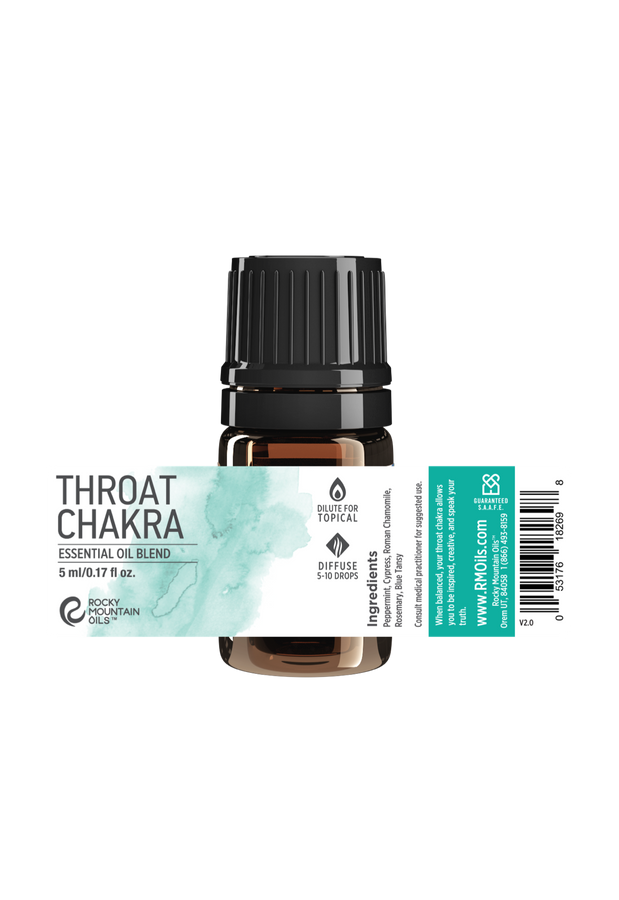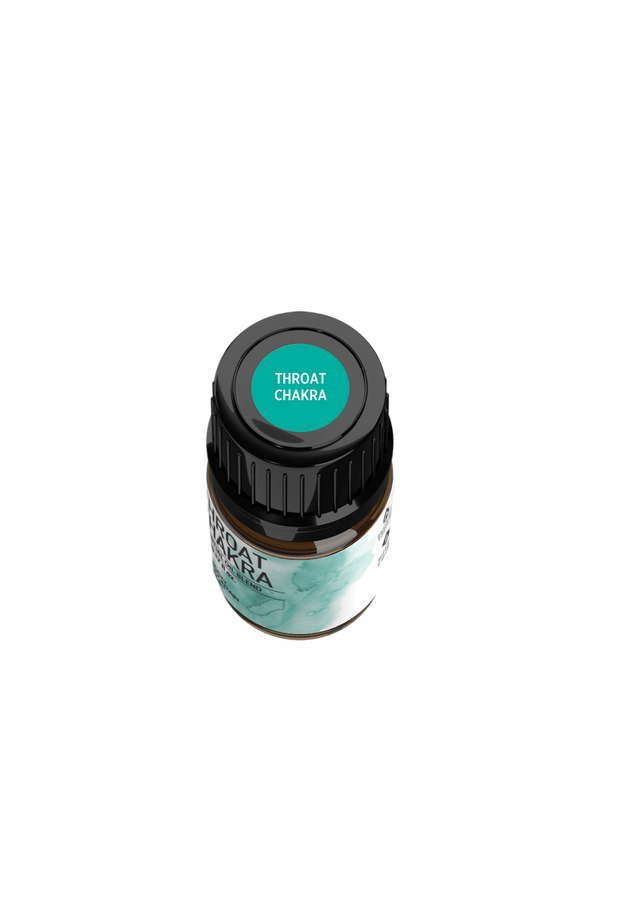 Throat Chakra - 5ml
GC/MS
TESTING
90 DAY
RETURNS
100% RECYCLED
PACKAGING
S.A.A.F.E
PROMISE
Speak your truth and express your authentic self with our Throat Chakra Essential Oil Blend. This blend of essential oils for Throat Chakra includes pure Peppermint, Cypress, Roman Chamomile, Rosemary, and Blue Tansy. It offers an uplifting aroma that's crisp, herbal, and slightly floral, with a gentle note of cooling mint.
As its name implies, the Throat Chakra is located in the center of the neck and governs the flow of energy from the chin down through the shoulders and collarbone area. It is the Fifth of the Seven Chakras and is associated with the color blue. This chakra is all about self-expression and sound. If you're struggling to make your voice heard, you may need to balance this chakra!
By combining the best essential oils for Throat Chakra, we've created a potent spiritual blend that can help you discover your true voice. Using Throat Chakra essential oils can also help with creativity by allowing more ideas to flow through you. This blend is excellent for artists and performers, as well as anyone who communicates professionally. 
Try diffusing this blend to balance Throat Chakra so you can communicate with more honesty, charisma, and passion. You can also use this blend with a carrier oil to wear as a natural perfume or cologne. Place a drop on the throat or behind the ears to help you listen and speak more effectively. It's also great for DIY candles, soaps, roll-ons, and more.
To learn more about this chakra, click here.
Dilute with a carrier oil such as Fractionated Coconut Oil or Almond Oil, then apply 1-2 drops to the throat and neck to open your Fifth Chakra and help you speak more clearly.
Inhale directly from the bottle or use in a personal aroma inhale to help open congested airways and support respiratory health.
Use it in a diffuser to draw more spiritual energy into your space, cleanse negative vibes, and neutralize germs, pollutants, and odor-causing bacteria from the air.
Apply a few drops to aromatherapy jewelry or dilute with a carrier oil and wear as a natural perfume or cologne.
Add to DIY candles, soaps, room sprays, bath bombs, or household cleaning products.
Great for meditation, sound baths, affirmations, and self-care.
Use this blend to boost your confidence and strengthen your ability to express yourself before presentations, public speaking, interviews, or performances and recitals.
Fifth Chakra Massage Oil
Try this cooling massage oil to bring balance to your Fifth Chakra, open your airways for deeper breathing, and promote respiratory health.
3-5 drops Throat Chakra Blend
2 tbsp. Fractionated Coconut Oil
Instructions: Blend oils together and warm between your hands, then apply to the neck and collar bones and massage in slow circles. Close your eyes and inhale the deep, healing aroma as you meditate on your Fifth Chakra.
Always dilute with a carrier oil and patch test prior to extensive use on the skin. Click here for dilution rates. For external use only. Do not ingest. Avoid contact with the eyes, nose, mouth, sensitive areas, and broken skin. Do not use while pregnant or breastfeeding.
CAUTION: This blend contains Blue Tansy essential oil, which has a thick, ink-like consistency and may stain clothes, skin, or porous materials. To avoid staining your diffuser, clean the water chamber with white vinegar after using this essential oil blend.
Kids Safety: Safe to use topically with children ages 10 and older when diluted to a 1-2% dilution rate. Click here to learn more about essential oils and kid safety.
Practice Safer Diffusing
Diffuse in an open, well-ventilated area
Keep children and pets out of the direct line of mist
Diffuse in 30-60 minute intervals with long breaks in between
At Rocky Mountain Oils, your trust and confidence are very important to us. As part of our S.A.A.F.E. Promise™, we offer independently verified GC/MS (Gas Chromatography/Mass Spectrometry) test results from a third-party lab for every product in our line.
GC/MS tests verify the purity and quality of our essential oils and essential oil blends, guaranteeing that every product you purchase from our website is the safest, purest, and highest quality on the market.
To view the GC/MS test results for this essential oil blend, click here.
Throat Chakra - 5ml FAQ
What does the Throat Chakra symbolize?

The Throat Chakra, also known as the Vishudda Chakra or 5th Chakra, symbolizes communication. This chakra is all about speaking your truth, expressing yourself with authenticity, and making your voice heard. It also helps fine-tune your discernment so you'll have a clear awareness of when to speak and when to listen, which helps improve communication in the relationships in your life.

How do I open a blocked Throat Chakra?

If this chakra is blocked, it interferes with your ability to communicate clearly with others. Luckily, there are several ways to open a blocked Throat Chakra. Try using essential oils, crystals, chanting mantras, speaking affirmations, singing or humming a favorite song, or expressing yourself by free-writing in a journal to balance Throat Chakra.

What are the signs that your Throat Chakra is unbalanced?

Your Fifth Chakra may be misaligned or out of balance if you experience frequent sore throats or hoarseness, as well as trouble communicating. Signs of an unbalanced Throat Chakra include speaking over people or getting interrupted frequently, difficulty getting to the main point in a conversation, an inability to listen to others, frequently telling white lies, agreeing with someone just to keep the peace, or holding back instead of speaking your truth.

How do I meditate for Throat Chakra healing?

Meditation is a powerful tool for Throat Chakra healing. Because it's located at the throat, this chakra is strongly connected to sound and responds well to singing, chanting, or speaking affirmations. To heal and balance this chakra, try this simple meditation. Diffuse or inhale our blend of Throat Chakra essential oils, then find a comfortable seated position and close your eyes. Then, begin humming, singing, or speaking and affirmation that resonates with you, such as, "I am truth." As you do this, focus your attention on your neck and imagine a blue glow surrounding and healing this chakra.