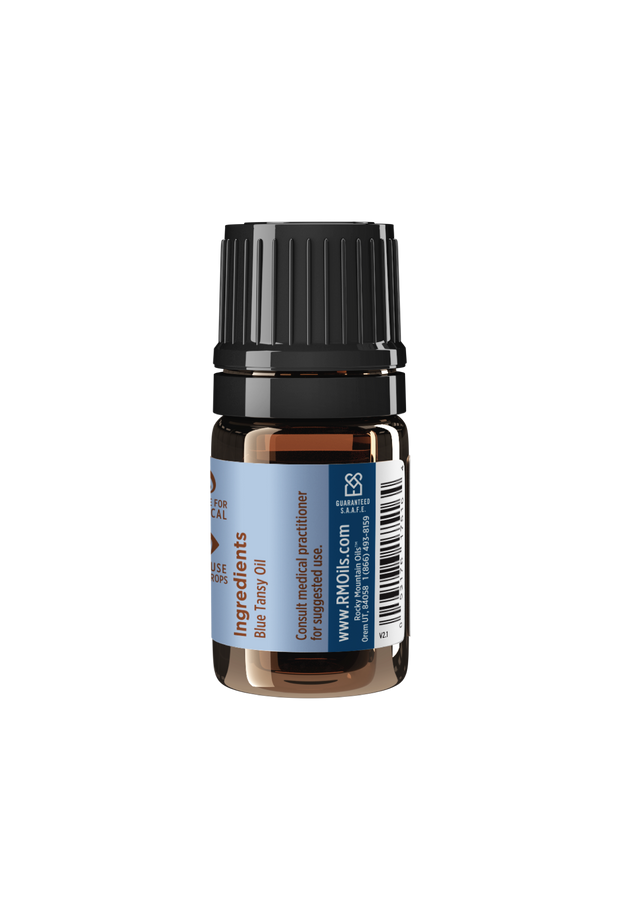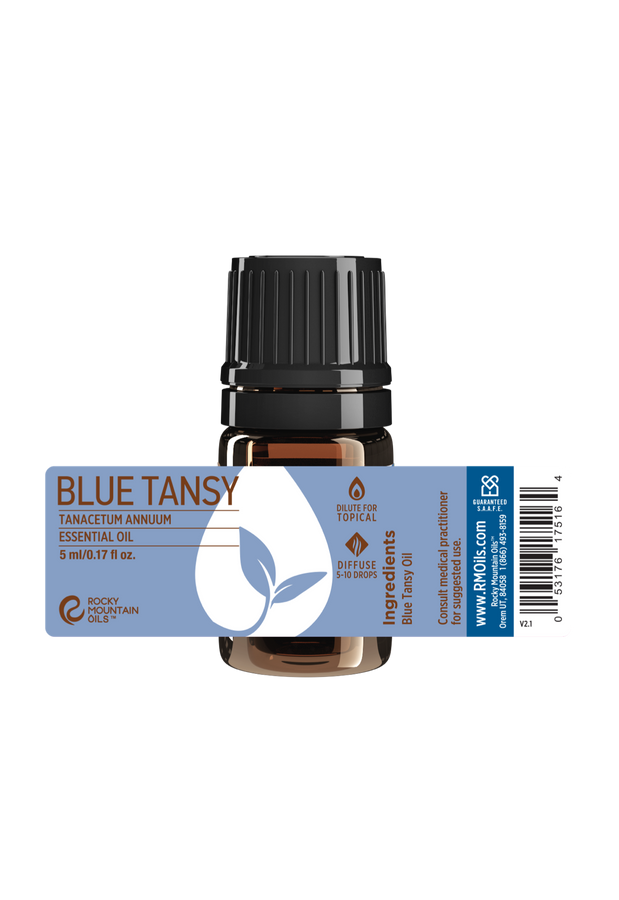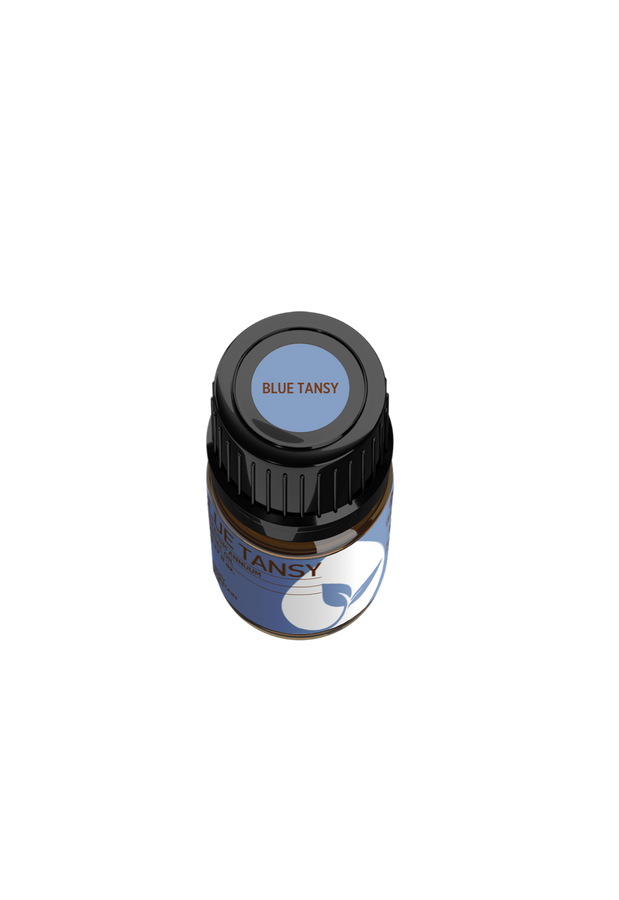 Blue Tansy Essential Oil
GC/MS
TESTING
90 DAY
RETURNS
100% RECYCLED
PACKAGING
S.A.A.F.E
PROMISE
Blue Tansy Essential Oil is the perfect aroma to lift you up when you feel blue. This powerful medicinal oil is steam distilled from the flowers and leaves of the Blue Tansy plant, a rare flower that's native to Morocco. 
Also sometimes called Moroccan Tansy to honor its origins, this essential oil is sought-after for its benefits in skincare and natural beauty as well as aromatherapy. Blue Tansy essential oil uses include toning and brightening the skin, reducing the appearance of fine lines and wrinkles, and restoring the skin's natural collagen and elastin for a firmer, more youthful look.
When you diffuse Blue Tansy oil, you'll fille your space with a distinct aroma that's sweet, herbal, floral, and slightly fruity. The scent helps promote a serene, happy mood while helping you release anxious thoughts and tune out distractions. Many people also enjoy Blue Tansy essential oil to enhance their meditation, energy work, yoga, or other spiritual practices.
Other Blue Tansy essential oil benefits include purifying the air, sanitizing surfaces, and neutralizing germs and bacteria that cause infection. Try diluting Blue Tansy in your preferred carrier oil, then massage into the soles of the feet to absorb anti-inflammatory and immunity-boosting benefits.
Learn more about Blue Tansy on our blog.
The statements contained herein have not been evaluated by the Food and Drug Administration. Neither Rocky Mountain Oils® nor its products are intended for the purpose of diagnosing, treating, curing, or preventing any disease. If you are pregnant, nursing, taking medication, or have a medical condition, consult your physician before using these products.
Diffuse to reduce stress and depression while supporting respiratory health and strengthening your immune system.
Dilute with a carrier oil to apply topically, or add a few drops to your regular cleanser or moisturizer for vibrant, youthful-looking skin.
Dilute with a carrier oil, then massage into the abdomen for relief from stomach cramps, gas and bloating, indigestion, and other abdominal issues as well as PMS symptoms.
Use as a DIY massage oil to soothe sore muscles, reduce pain, and relieve inflammation in stiff joints.
Use to help heal small wounds as well as skin conditions like eczema and psoriasis, dry skin, bug bites, and more.
Blue Tansy Essential Oil Respiratory Chest Rub
When you have a cold, flu, or bronchitis causing chest congestion, try this natural chest rub made with Blue Tansy and other medicinal essential oils.
10 drops Blue Tansy
5 drops Eucalyptus
5 drops Peppermint
¼ cup Carrier Oil
Instructions: Blend all oils together, then rub the mixture onto your chest and back to help loosen phlegm and mucus while opening your airways. Store any leftover balm in an airtight container in a cool, dark place.
Botanical Name: Tanacetum annuum
Country of Origin: Morocco
Extraction Method: Steam Distilled
Plant Part: Leaves and Flowers
Aroma: Warm, Herbaceous
Consistency: Thick
Blends Well With: Bergamot, Cedarwood, Clary Sage, Frankincense Sacred, Geranium, Lavender, Lemon, Neroli, Patchouli, Rose, Sandalwood, Ylang Ylang
Popular Blue Tansy Blends: True Blue, Tranquility, Calming, Throat Chakra Blend, Fortify
Always dilute prior to topical application. Avoid contact with mucous membranes, eyes, and the inside of the mouth, nose, and ears. Do not ingest. Do not use while pregnant or breastfeeding.
WARNING: Blue Tansy has a thick, ink-like viscosity. The oil has a very strong blue color that may potentially stain clothes, porous material, diffusers, and skin. When diffusing this essential oil, we recommend cleaning your diffuser's water chamber in between each use to avoid stains and oily buildup.
Kids Safety: Safe to use topically with children ages 2 years old and up. Dilute to a .5-2% dilution rate for topical application.
Tips for Safer Diffusing:
Diffuse in an open, well-ventilated area.
Keep children and pets out of the direct line of mist.
Diffuse in 30-60 minute intervals, with ample break periods for safe and effective use.
At Rocky Mountain Oils, your trust and confidence matter to us. As part of our S.A.A.F.E. Promise™, we offer third-party verified GC/MS (Gas Chromatography/Mass Spectrometry) test results from an independent lab for every essential oil and blend in our line.
GC/MS tests verify the purity and quality of our essential oils, so you can be sure you're using the safest, highest-quality essential oils available today.
GC/MS Test: Click Here
For batch-specific GC/MS tests, click here.
Blue Tansy Essential Oil FAQ
What does Blue Tansy essential oil smell like?

Blue Tansy essential oil has a sweet, herbaceous aroma that is similar to German Chamomile. It is slightly sweet, fruity, and has deep, rich undertones that some people compare to red wine. Inhaling or diffusing this aroma evokes a calm, peaceful atmosphere that's warm and cozy. If you feel anxious or stressed out, turn to Blue Tansy oil to find a moment of tranquility and help release negative energy.

Is Blue Tansy oil good for skincare?

Yes! Blue Tansy essential oil offers many anti-aging benefits for skincare and natural beauty. It functions as a natural emollient to help hydrate skin and restore the skin's natural protective barrier while smoothing roughness, brightening dull skin tone, and healing conditions like acne. Many people also use Blue Tansy essential oil to help fade the appearance of scars and stretch marks. However, please be mindful that Blue Tansy oil may stain surfaces and clothing. Use caution when apply this oil topically.

Why is Blue Tansy essential oil so expensive?

Blue Tansy essential oil is made from a very rare flower that grows only in Morocco. It also requires sustainable harvesting practices to ensure the population of Blue Tansy flowers is not decimated to critical levels. As a result of its scarcity and high production costs, Blue Tansy is highly sought-after and can be an expensive oil. To enjoy Blue Tansy essential oil benefits more affordably, try our True Blue blend.

Is Blue Tansy oil safe for dogs and cats?

No. Blue Tansy essential oil is not safe for dogs or cats. If you have pets, make sure you keep them away from this essential oil and do not diffuse near your pet's bed, food bowl, litter box, or other areas where your pet frequently spends time. You can also practice pet-safe diffusing by making sure you only diffuse this oil in an area with open windows for plenty of ventilation, and keeping your animal away from the direct line of mist. If you are using Blue Tansy oil in DIY cleaning products, always rinse or wipe away all oils and make sure your pet does not accidentally lick or ingest it.