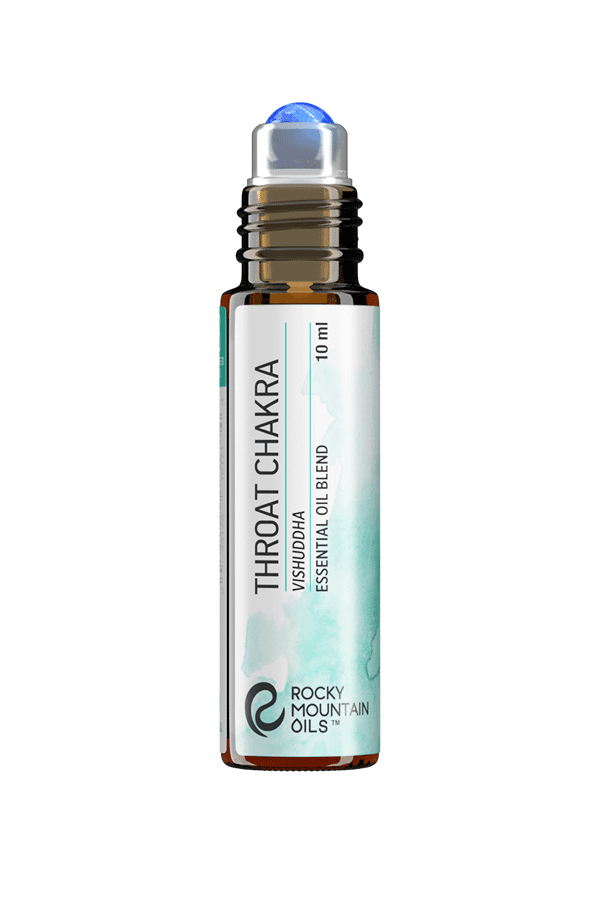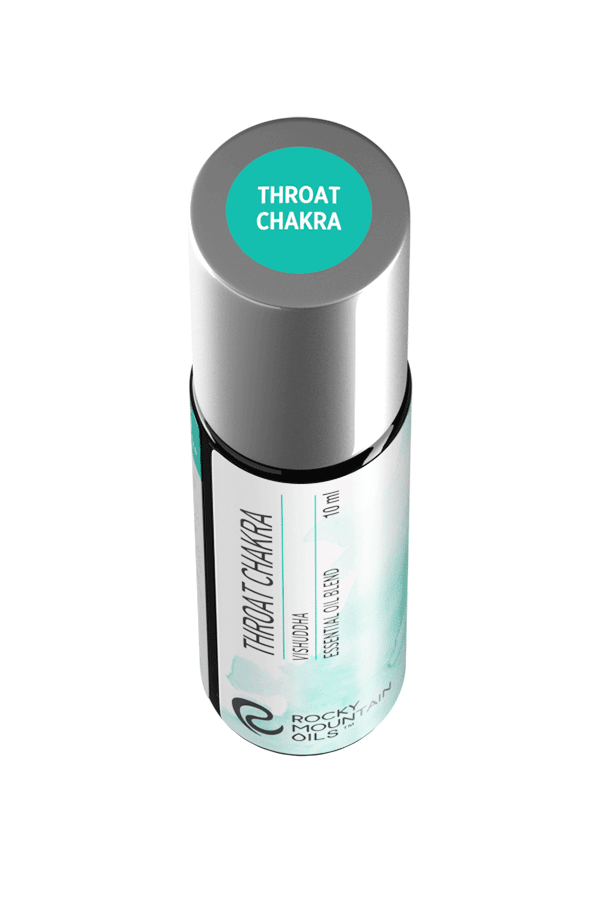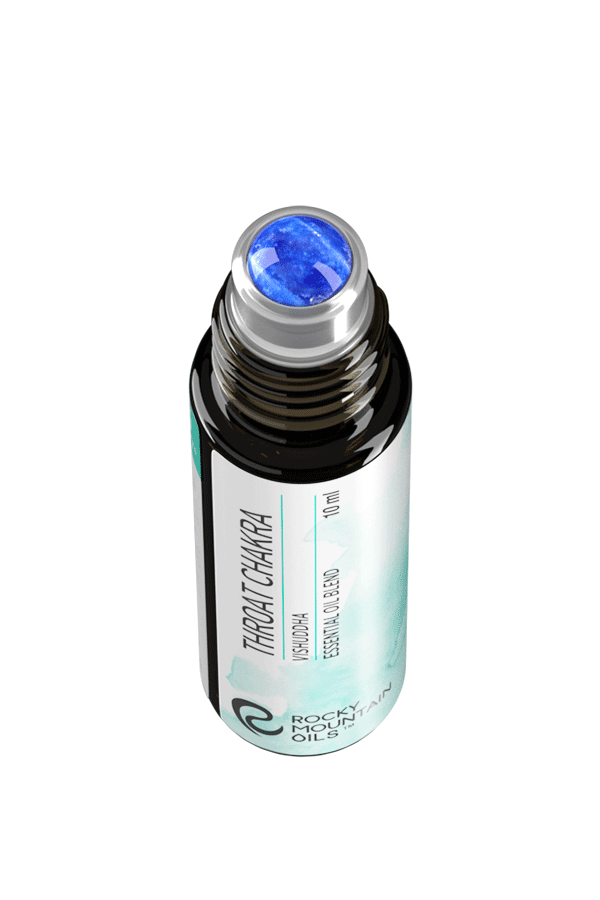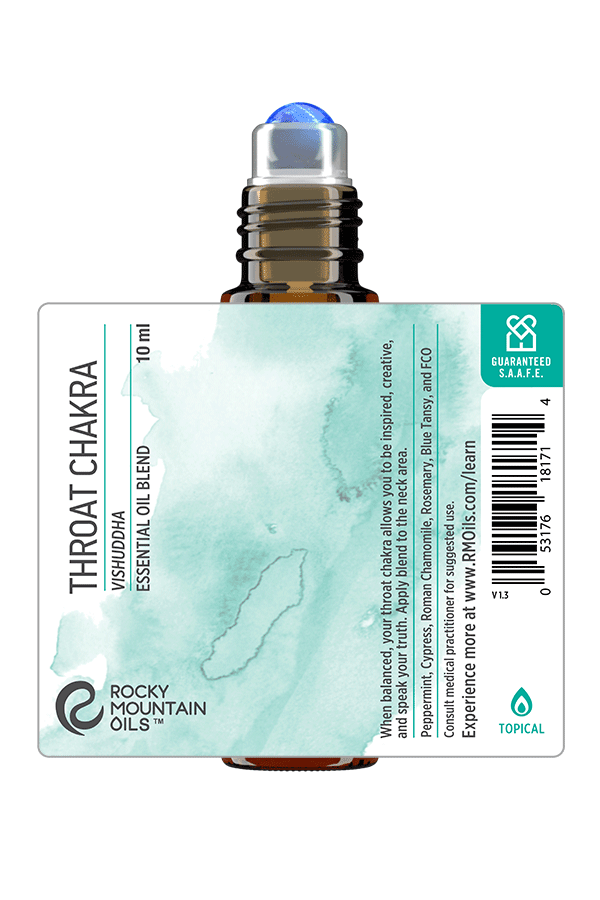 Throat Chakra Roll-on
GC/MS
TESTING
90 DAY
RETURNS
100% RECYCLED
PACKAGING
S.A.A.F.E
PROMISE
Find your true inner voice with this Throat Chakra Essential Oil Roll-on. This roll-on includes a prediluted blend of the best chakra roll-on oils for activating Throat Chakra: Peppermint, Cypress, Roman Chamomile, Rosemary, and Blue Tansy essential oils.
Located in the throat, this chakra is the fifth energy center in the subtle body and governs communication. When the Throat Chakra is aligned, we can speak our truth and express ourselves with confidence and clarity. This chakra helps us understand and be understood. If you feel like you're not being heard, this roll-on can help balance the energies in this chakra.
The oils in our Throat Chakra blend create a bright, uplifting aroma that's herbal and slightly floral, with a hint of cooling mint. Thanks to its anti-inflammatory and expectorant properties, this blend is also a great choice for supporting respiratory health. Try using this roll-on to calm coughs, open congested airways, and help drain clogged sinuses.
As part of our unique Chakra Roll-on collection, we've included a healing crystal roller ball made of Lapis Lazuli. This powerful gemstone is said to promote communication and help you connect with hidden emotions. It works in tandem with the therapeutic benefits of the essential oils to help clear negative energy and align your Fifth Chakra. 
Click here to learn more about this chakra.
Using the Lapis Lazuli gemstone roller ball, apply the oil blend to the throat, behind the ears, and upper chest to balance your Fifth Chakra.
Apply to the hands, then warm the oil between your palms and massage into stiff joints and aching muscles.
Inhale the aroma to calm anxious thoughts and disperse negative energy to help open Throat Chakra.
Use to clear sinus congestion, open airways, and support respiratory health. Inhale or massage into the soles of the feet to absorb health benefits.
Roll onto the forehead and temples to soothe headaches.
For topical use only. Do not use near eyes, mouth, nose, or mucus membranes. Always patch test prior to continuous use on the skin. Discontinue use if irritation occurs.
NOTE: Occasional leaking (1-2 drops) may occur due to pressure changes from air transit and the unique texture of the gemstone roller ball. If you receive a roll-on with any leakage, please contact our Customer Experience team for a replacement container at no extra charge.
This blend contains Blue Tansy, which may cause staining of clothes, skin, and porous materials. Use with caution.
Kids Safety: Safe to use topically with children ages 6 and up when diluted with an additional carrier oil to a 1-2% dilution rate. Click here to learn more about using essential oils safely with children.
Your trust and confidence matter to us. As part of our S.A.A.F.E. Promise™ to you, Rocky Mountain Oils provides verified third-party GC/MS (Gas Chromatography/Mass Spectrometry) test results from an independent lab for every essential oil product in our collection.
GC/MS tests verify the quality and purity of every Rocky Mountain Oils product, which guarantees you're using the safest and highest quality essential oils and essential oil blends on the market.
Click here for the GC/MS test results for all our Chakra Blends.
Throat Chakra Roll-on FAQ
Why is the Throat Chakra also known as the Fifth Chakra?

In the primary chakra system, there are seven chakras that govern the main flow of energy within the subtle body. These chakras are located along the spine, beginning with the First Chakra at the base of the pelvis and extending up to the Seventh Chakra at the crown of the head. The Throat Chakra is the Fifth Chakra in the system.

Why is Lapis Lazuli associated with this chakra?

The Throat Chakra is represented by the color blue and the element of ether, which correspond to the healing properties of the Lapis Lazuli crystal. Lapis Lazuli is said to promote better communication, self-expression, and creativity, which are important qualities to embrace when activating Throat Chakra healing.

How do I know if I need to unblock Throat Chakra?

This chakra is all about communication. If it's blocked, you may find yourself struggling to find your voice or be heard by others around you. A blocked Throat Chakra can also lead to poor listening, talking over other people, or difficulty speaking your truth. Physical signs that you may need to unblock Throat Chakra include frequent laryngitis, sore throats, or neck stiffness.

Does singing help open Throat Chakra?

Yes! This chakra responds very well to sound, especially singing and chanting. If you need to open Throat Chakra but can't find the privacy to comfortably sing or chant, try humming. You can also open this chakra by speaking affirmations, such as, "I have a right to speak my truth." or, "My voice is unique and deserves to be heard."