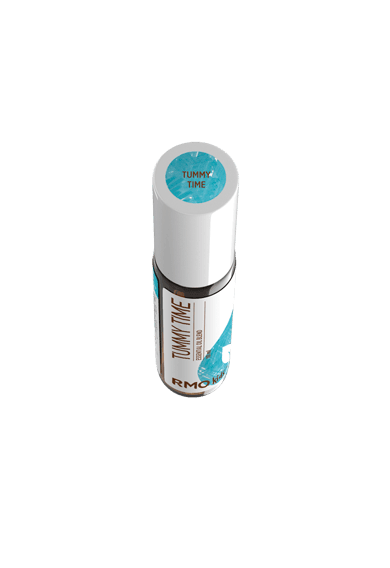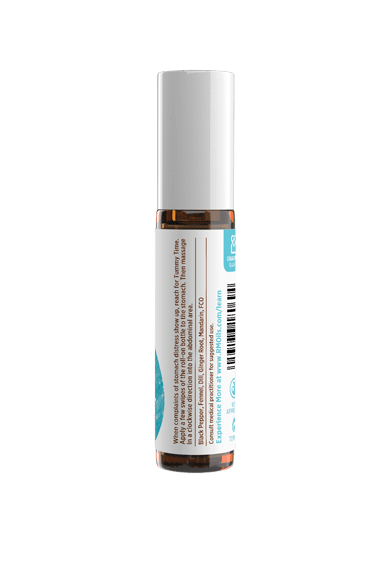 Tummy Time Roll-on
GC/MS
TESTING
90 DAY
RETURNS
100% RECYCLED
PACKAGING
S.A.A.F.E
PROMISE
When your little one has tummy troubles, reach for our Tummy Time Roll-on. This roll-on is specially formulated with some of the best essential oils for upset stomach, cramps, bloating, and diarrhea: Mandarin, Black Pepper, Fennel, Dill, and Ginger Root.
Prediluted in a base of 98% Fractionated Coconut Oil, it's ready for immediate topical use on children ages 2 and up. It has a sweet, earthy aroma that's reminiscent of black licorice, with a hint of citrus. Unlike over-the-counter stomach pain relievers, this tummy roll-on is 100% natural and helps your child feel better by working with the body's natural healing ability.
This blend features Fennel, Dill, and Ginger Root essential oils to soothe abdominal pain, plus Mandarin and Black Pepper essential oil for digestion and diarrhea. Each of these oils is rich in anti-inflammatory compounds that help promote better circulation and reduce inflammation.
Simply apply the gentle tummy roll-on to the abdomen whenever you or your kids have an upset stomach or other digestive issues. You can also inhale the deep, warming, medicinal aroma to reduce nausea. Over time, absorbing the essential oils in this blend will support overall gut health.
---
The statements contained herein have not been evaluated by the Food and Drug Administration. Neither Rocky Mountain Oils nor its products are intended for the purpose of diagnosing, treating, curing, or preventing any disease. If you are pregnant, nursing, taking medication, or have a medical condition, consult your physician before using these products.
Uncap and apply to the abdomen, using the tummy roll-on in a slow clockwise motion, or apply with the roll-on and massage into the skin with clean hands. Use as often as needed while symptoms persist.
Inhale the healing aroma for immediate relief from nausea, indigestion, diarrhea, gas pain, or other gastrointestinal discomfort.
Rub into the soles of the feet to absorb anti-inflammatory benefits and help boost immunity against stomach flu or other gastrointestinal viruses.
For topical use only. Do not use near eyes, mouth, nose, or mucus membranes. Always patch test prior to continuous use on the skin. Discontinue use if irritation occurs.
Kids Safety: Safe for kids ages 2 and up.
Your trust and confidence matter to us. As part of our S.A.A.F.E. Promise™ to you, Rocky Mountain Oils provides verified third-party GC/MS (Gas Chromatography/Mass Spectrometry) test results from an independent lab for every essential oil product in our collection.
GC/MS tests verify the quality and purity of every Rocky Mountain Oils product, which guarantees you're using the safest and highest quality essential oils and essential oil blends on the market.
To view the GC/MS test results for this roll-on, click here.
Tummy Time Roll-on FAQ
What are the best essential oils for upset stomach?

Some of the best essential oils for upset stomach include Mandarin, Black Pepper, Fennel, Dill, and Ginger Root. For your convenience, we've included these oils in our preblended, kid-safe Tummy Time Roll-on.

What does a tummy roll-on do?

Our Tummy Time roll-on provides temporary relief from stomach aches, cramps, gas and bloating, diarrhea, nausea, constipation, and other gastrointestinal issues. It also provides anti-inflammatory and antioxidant benefits that may help strengthen the immune system against stomach flu viruses, support gut health, and promote regular bowel movements.

How do I use a tummy roll-on?

To use a tummy roll like Tummy Time, uncap the roll-on and apply it directly to the abdomen. You can also roll the oil onto your hands and warm it between your palms first. Once applied, massage the oil in clockwise circles using gentle yet firm pressure. Because this roll-on is prediluted to 2% in a FCO carrier oil base, it's safe for topical use on children ages 2 and up.

Does an essential oil for digestion really work?

Although research is still ongoing, studies show that many essential oils offer potential benefits for the digestive system. Using these essential oils may help promote better gut health by increasing circulation to the abdomen, supporting a healthy microbiome, and reducing inflammation. There is also indication that an essential oil for digestion, like Ginger Root, may help reduce bloating and IBS.