DIY Essential Oil Sun Guard
It's almost summer, and we are loving the warm weather! It's Memorial Day weekend, and we are celebrating with barbecues, camping trips, beach days, and picnics. The skies are blue, flowers are blooming, and sunshine is bright as far as the eye can see. It's the perfect time to enjoy the outdoors.
As much as we enjoy spending time outside, we've all experienced a little too much time in the sun at one point or another and ended up with an uncomfortable sunburn. Too much time in direct sunlight can lead to dehydration, heat exhaustion, or even sun poisoning in the short term. In the long term, sun damage can cause premature aging, skin cancer, and other issues. To protect our skin, it's important to wear hats, sun-protection clothing when possible, and use sunscreen. However, many commercial sunscreen brands can contain chemicals that can be harmful or pose as irritants to those with sensitive skin. 
If you are looking for a natural alternative to sunscreen, we have put together a simple all-natural Sun Guard DIY for you. This recipe utilizes the benefits of essential oils with the protection of zinc oxide. Unlike many sunscreens, zinc oxide doesn't absorb into the skin, creating a physical barrier against the sun. 
The SPF of this recipe will vary depending on the type and the amount of zinc oxide you use, so do some research on the leading brands and adjust this recipe to your liking. The other ingredients in this recipe don't have sun-blocking properties, but the shea butter and fractionated coconut oil can help moisturize your skin, and the Carrot Seed and Lavender EOs give it a calming, grounding scent.
Sun Guard Recipe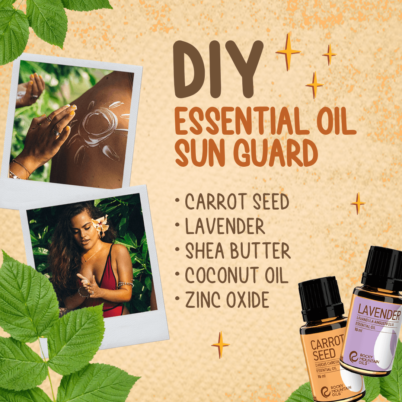 Ingredients
Directions
Use a double boiler to melt the shea butter. 

Once melted, remove from the heat and allow it to cool to room temperature

Add the rest of the ingredients and mix until smooth with a handheld mixer.

Store in a dark glass airtight container. Keep somewhere cool between uses.