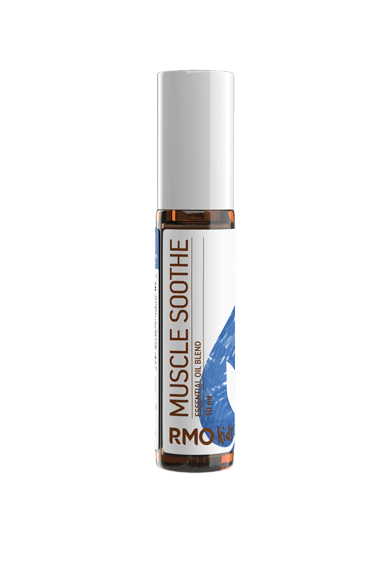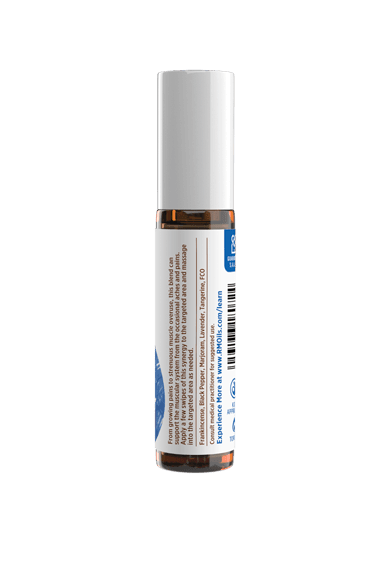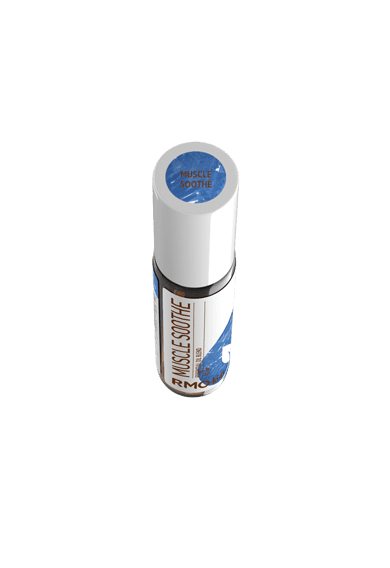 Muscle Soothe Roll-on
GC/MS
TESTING
90 DAY
RETURNS
100% RECYCLED
PACKAGING
S.A.A.F.E
PROMISE
Relieve aches and pains naturally with our Muscle Soothe Roll-on. It's the best roll-on muscle pain relief product available, utilizing the healing properties of essential oils to help soothe sore muscles and melt away pain without artificial ingredients or toxic chemicals.
Muscle Soothe is a blend of Marjoram, Tangerine, Black Pepper, Frankincense Serrata, and Lavender essential oils, prediluted in a silky-smooth base of 98% Fractionated Coconut Oil. It's safe, effective, and ready to use on both adults and kids ages 2 and up. 
Each of the essential oils in this muscle pain relief roll-on contain potent antioxidants and anti-inflammatory compounds, which act as a topical analgesic to gently numb pain and discomfort. Roll it onto sore muscles for fast relief after excessive physical activity, injury, or pain caused by chronic inflammation. 
It also makes a deeply relaxing massage oil. Try it whenever you or your family members feel stiff, achy, or tense. This roll-on muscle relief product offers a relaxing aroma that's sweet, spicy, herbal, and slightly citrusy. The oils cause a gentle tingling sensation to alleviate discomfort, while the scent helps you release stress and anxiety. No matter what causes your aches and pains, this Muscle Soothe Roll-on will help you feel better, faster!
Related Pure Oils: Clary Sage, Thyme, Sandalwood, Lemon, Frankincense Carterii
Related Blends: Pain Ease, True Blue, Sports Pro
Uncap and roll onto the affected area for relief from muscle pain, joint stiffness, cramps, body aches, or other discomfort.
Apply to the palms, warm the oil blend by rubbing your hands together, and use it as a soothing massage oil.
Use as a chest rub or inhale directly from the roll-on container to feel relaxed and let go of stress, anxiety, and tension held in the body.
Apply to the soles of the feet to absorb anti-inflammatory benefits and improve circulation.
Use before a workout to improve flexibility and muscle conditioning.
For topical use only. Do not use near eyes, mouth, nose, or mucus membranes. Always patch test prior to continuous use on the skin. Discontinue use if irritation occurs.
Your trust and confidence matter to us. As part of our S.A.A.F.E. Promise™ to you, Rocky Mountain Oils provides verified third-party GC/MS (Gas Chromatography/Mass Spectrometry) test results from an independent lab for every essential oil product in our collection.
GC/MS tests verify the quality and purity of every Rocky Mountain Oils product, which guarantees you're using the safest and highest quality essential oils and essential oil blends on the market.
Click here for the GC/MS test results for all our roll-ons.
Muscle Soothe Roll-on FAQ
What does Muscle Soothe smell like?

Our Muscle Soothe roll-on muscle relief blend has a spicy-sweet, herbaceous aroma with notes of citrus, wood, and floral scents. It provides a gently tingling sensation while inspiring calming, relaxing energy to relieve tension and promote healing. When used often, you and your family will associate the scent of this blend with muscle recovery and pain relief. Soon, it will smell like "feeling better"!

Is a muscle pain roll-on safe for everyone?

This muscle pain relief roll-on is safe for adults and children ages 2 and up. However, the essential oils in this blend include Black Pepper oil, which may cause irritation in some sensitive individuals. It also contains Tangerine oil, which is phototoxic and may temporarily increase the risk of sunburn. When using this product topically, avoid direct sunlight and tanning beds for 12 hours.

How does a muscle pain relief roll-on work?

Our muscle pain relief roll-on works by using a potent medicinal blend of essential oils that are high in anti-inflammatory compounds. When absorbed through the skin, these oils function as a topical analgesic to gently numb pain while increasing blood flow to the affected area. Additionally, the sensation of the rollerball helps release muscle tension and relaxes stiff, constricted tissue.

Why does Muscle Soothe have Black Pepper oil?

We included Black Pepper essential oil in our muscle pain roll-on because it is high in an antioxidant compound called piperine, which reduces inflammation and promotes healing. In several studies, the piperine in Black Pepper was found to reduce swelling, stiffness, and joint pain. Black Pepper also helps our body absorb and metabolize other antioxidants more effectively, which "boosts" the anti-inflammatory properties of other essential oils.