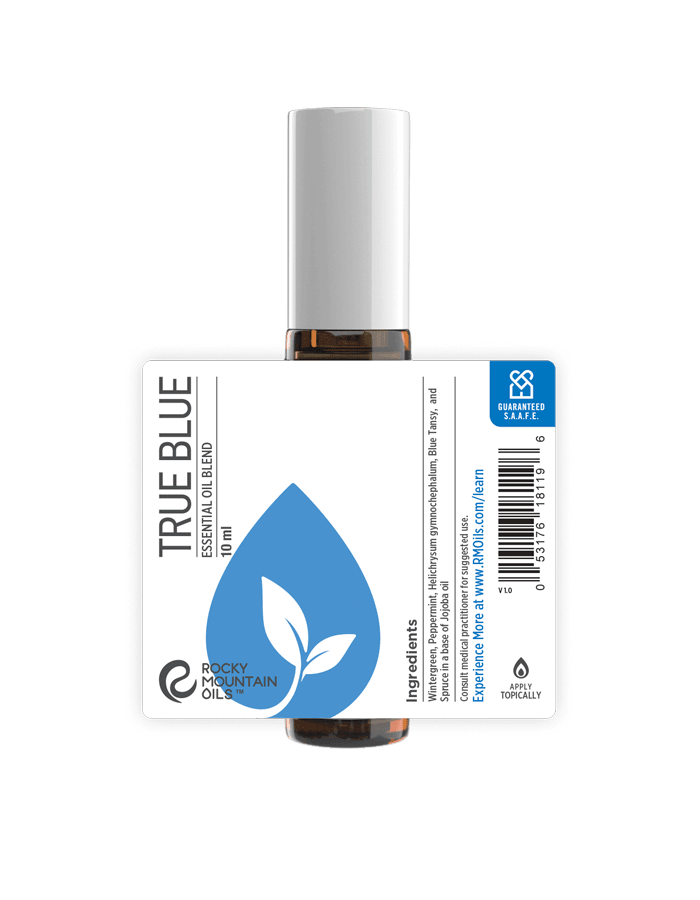 True Blue Roll-on
GC/MS
TESTING
90 DAY
RETURNS
100% RECYCLED
PACKAGING
S.A.A.F.E
PROMISE
Say goodbye to sore muscles with this True Blue Essential Oil Blend Roll-on. This roll-on offers the healing benefits of some of the best essential oil for sore muscles and body aches: Wintergreen, Peppermint, Helichrysum, Blue Tansy, and Spruce essential oils. 
True Blue Roll-on offers these incredible essential oils prediluted in a moisturizing base of 95% jojoba oil. It's ready for immediate topical use on adults for fast relief from inflammation, cramps, tendonitis, arthritis, or over-exertion. You can also use it to speed up recovery time after a workout. It provides a cooling, natural analgesic effect to numb pain and release tension.
Offering a crisp aroma that's warm, herbal, and minty with a slightly woody undertone, this essential oil blend to inspires an uplifting mood, reduces mental fatigue, and helps you feel invigorated. It also helps relieve anxiety and depression. It also helps heal skin irritations and redness.
This travel-sized roll-on is perfect for any gym bag, backpack, first-aid kit, carry-on luggage, or purse.
"Learn why True Blue Roll-on is Michael & Phoenix's favorite product"
Roll onto areas of pain or discomfort, including sore muscles and joints, then slowly massage into the affected area for fast-acting relief.
Use it for sore muscles, arthritis, tendonitis, body aches, cramps, tired feet, or other physical discomfort.
You can also apply the roll-on to the face to help control oily breakouts, heal acne and blemishes, and brighten your complexion.
Inhale the crisp, herbal aroma to relieve stress, support energy levels, and promote mental clarity.
For topical use only. Do not use near eyes, mouth, nose, or mucus membranes. Always patch test prior to continuous use on the skin. Discontinue use if irritation occurs. If muscle pain worsens or persists, consult your physician. Do not use with heating pads.
WARNING: This blend contains Blue Tansy, which has a very strong natural blue color and may cause staining on clothes, porous materials, and skin.

Kids Safety: Safe for children ages 10 and up when properly diluted to a .5-1% dilution rate. Click here to learn more about using essential oils safely for topical application on kids.
As part of our S.A.A.F.E. Promise™ to you, Rocky Mountain Oils provides verified third-party GC/MS (Gas Chromatography/Mass Spectrometry) test results from an independent lab for every essential oil product in our collection.

GC/MS tests verify the quality and purity of every Rocky Mountain Oils product, which guarantees you're using the safest and highest quality essential oils and essential oil blends on the market.

To view the GC/MS test results for this essential oil roll-on, click here.
True Blue Roll-on FAQ
How do you use a muscle ease essential oil roll-on?

To use an essential oil roll-on for easing muscle pain, simply uncap and apply the roller to the affected area. For additional soothing and relaxation, use clean hands to massage the oils deeper into your tissue.

What are the best essential oils for body aches?

The best essential oils for body aches include Wintergreen, Peppermint, Helichrysum, Blue Tansy, and Spruce oils. Each of these essential oils possesses anti-inflammatory benefits that reduce pain and swelling, while oils like Wintergreen and Peppermint possess natural menthol for a cooling analgesic effect. Try a DIY essential oil muscle relaxer with these oils, or use our prediluted True Blue Essential Oil Roll-on.

Is Wintergreen considered an essential oil muscle relaxer?

Wintergreen is a very effective essential oil for sore muscles because it possesses menthol, which triggers a cooling, tingling effect that numbs pain receptors in the body. It also eases tension, reduces inflammation, and promotes relaxation.

Are essential oil roll-ons good for post-workout recovery?

Yes, many essential oils and essential oil roll-ons help with post-workout recovery. Essential oils can reduce soreness and inflammation while supporting the body's natural ability to heal itself and generate new tissue. Whether you're a serious athlete or a weekend warrior, keep an essential oil roll-on like True Blue in your gym bag for fast relief after your workouts.