Sleep Better with Dreamtime Essential Oil Blend
Do you have trouble falling and staying asleep? You're not alone! Studies show that50-70 millionadults in the US have a sleep disorder. Between 10% and 30% of US adults struggle with chronic insomnia, and 35% report sleepingless than 7 hourson average a night. We all could use some help promoting restful sleep, and that's why we formulated Dreamtime!
This blend is a former fan favorite that we are excited to bring back!! It is specifically crafted with 100% pure essential oils to help you fall asleep faster and stay asleep. Not only that, but Dreamtime can help you experience more lucid dreams, just as the name suggests! 
Sound like a dream come true? That's because it is! But don't just take our word for it. Try it for yourself and experience some of the many benefits of Dreamtime! What are other people saying about this blend?
"This is the best sleep blend on the market. I've been using this blend for 8 years and was so bummed when it was discontinued. I reached out to express my disappointment and I'm so glad RMO listened to their customers! Can't wait to get this and start diffusing it again." - Melissa E.

"I really enjoy Dreamtime and Lavender in my diffuser before bed and all throughout the night! I have been sleeping better and waking up feeling rested!! Thank you! - Carol K.
Why We Love Dreamtime
Do you long for better sleep and more enjoyable dreams? Turn those dreams into reality with Dreamtime's incredible benefits, such as these: 
Calms your thoughts, allowing you to relax and drift off to sleep faster.
Relieves stress and worries to help you sleep better through the night. 
Enhances your ability to dream lucidly & effectively so that you can process your emotions while you sleep. 
Relaxes the muscles to help release extra energy. 
Helps you let go of daily stressors.
What's In This Blend?
What magical combination came together to produce Dreamtime?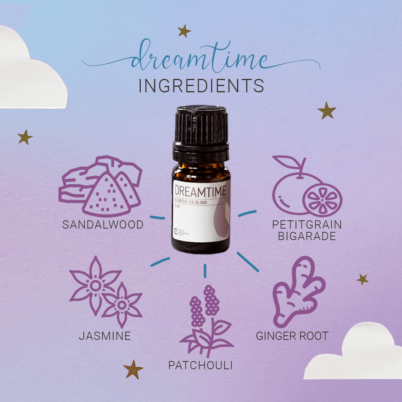 Sandalwood
This valuable oil is native to India and was historically used to purify spaces in religious ceremonies. It has a myriad of emotional, mental, and physical benefits including enhancing meditation, promoting peaceful sleep, and is incredible in a skincare regime.
Jasmine
Also known as Queen of the Night, Jasmine has a rich, floral fragrance and may even have aphrodisiac qualities. Jasmine can help improve the appearance and feel of skin, particularly for mature, dry, or sensitive skin types. Jasmine also promotes feelings of self-confidence and optimism
Patchouli
Often blended in perfumes, Patchouli's earthy-sweet scent is deeply relaxing. It's also wonderful to use in lotions and body butter to enhance hydration, and many people use it during yoga and meditation.
Ginger Root
Ginger Root presents an earthy, woody, slightly sweet, warm aroma. It's used to help boost memory and willpower while also uplifting the mood.
Petitgrain Bigarade
This essential oil has been used in traditional health practices for a long time and has a variety of benefits. It helps promote sleep, supports the immune system, and can be used for household cleaning. Petitgrain Bigarade has a fresh, floral, herbaceous scent.
How to use Dreamtime
There are lots of ways you can use this versatile blend! Here are a few of our favorites: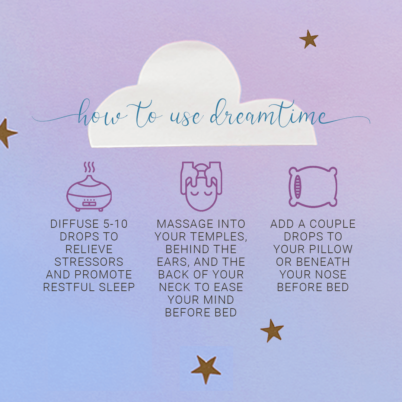 Diffuse 5-10 drops to relieve stressors & promote restful sleep
Massage into your temples, behind the ears, & the back of your neck to ease your mind before bed
Add a couple of drops to your pillow for sweet dreams
DIY Dreamtime Recipes
It's easy to experience the benefits of Dreamtime! Just try out these easy recipes and tips: 
Dreamy Bedtime Spray
75 drops Dreamtime
4 ounces Distilled Water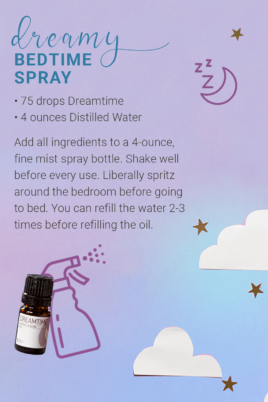 Add Dreamtime and water to a 4-ounce spray bottle, and shake well to combine. Shake before each use. Spritz around the bedroom before bedtime to help relax your mind and body. You can refill the water 2-3 times before refilling the oil. 
Relaxing Dreamtime Bath Soak
A nice, hot, calming bath is the perfect way to wind down and get ready for bed. Take your bath to the next level with this simple recipe:
Ingredients:
2-3 drops Dreamtime
2 teaspoons Fractionated Coconut Oil (FCO)
1 cup Sea Salts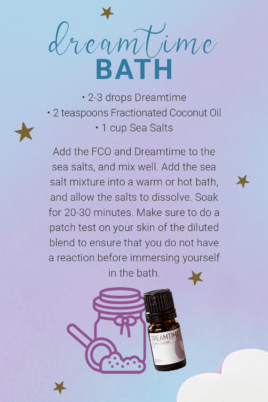 Add the FCO and Dreamtime to the sea salts and mix well. Add the sea salt mixture into a warm or hot bath and allow the salts to dissolve. Soak in the Dreamtime bath for 20-30 minutes.
Be sure to do a patch test on your skin of the diluted blend to ensure that you don't have a reaction before immersing yourself in the bath.
Pro Tip: If you're not a bath person, use the salt mixture for a relaxing foot soak!
Dreamtime Massage
Combine the oils together in your hands or in a small bowl. Gently massage the mixture into your back, arms, legs, and feet before bed to calm your mind and body. 
Tips
Add 1-2 drops of Dreamtime to an unscented lotion such as Tohi's Nature's Moisture and apply before bed. 
Diffuse Dreamtime in the bedroom 30-60 minutes before bed to create a calming atmosphere. 
Apply diluted Dreamtime behind the ears, on the bottom of the feet, on the temples, or the back of the neck to ease your mind before bed. 
Add a couple of drops of Dreamtime to your pillow to help you fall asleep and stay asleep. 
A good night's rest is essential for maintaining a healthy mind and body. With Dreamtime, you can let go of the stressors and anxieties of each day so that you can rest well and experience enjoyable, more peaceful dreams. If you have any questions about this amazing blend, feel free to contact us anytime. Sweet dreams!