WHAT ARE CHAKRAS?
Chakras are energy centers in the subtle body that are used in a variety of meditation and yoga techniques, as well as religious practices. Chakras distribute the flow of prana or energy throughout our body. There are seven chakras positioned throughout our body, starting at the base of the spine extending to the crown of your head. Each chakra has a different purpose, corresponding to specific physical, emotional, and spiritual states of being.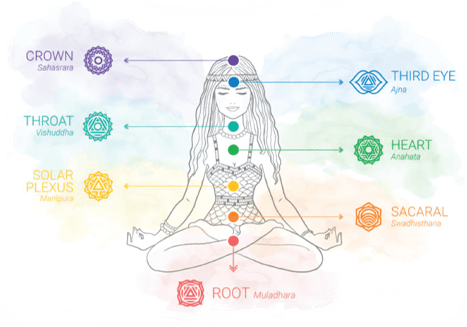 WHY YOU SHOULD BALANCE YOUR CHAKRAS
When you experience blockages or imbalance in your chakras, you mind, body, and spirit begin to suffer. Chakra balancing is the process of restoring harmonious and balanced flow or prana throughout the body. When your chakras are well balanced, it brings feelings of well-being, relaxation, stability, and embodiment of yourself.
Practicing daily awareness of your chakra balances allows energy to flow more smoothly, improving your mood and energy. Our Chakra Blends combine the therapeutic benefits of essential oils and the energetic properties of gemstones to aid you in opening and balancing your chakras.
GEMSTONE ROLLERBALL KIT
Gemstones and their energetic properties have been used for centuries across the world. Each gemstone serves a different purpose depending on the energy and vibration of the stone. The energetic properties of gemstones can help release emotional, physical, and spiritual blockages, allowing the free flow of prana or energy throughout the body.
Our Gemstone 10pk Rollerball Kit allows you to incorporate the energetic properties of gemstones with your favorite essential oils and blends. Simply attach the desired gemstone to your roll-on bottle, and experience the benefits of the gemstone's energetic properties.
*All stones are natural and untreated. Color and clarity can vary.