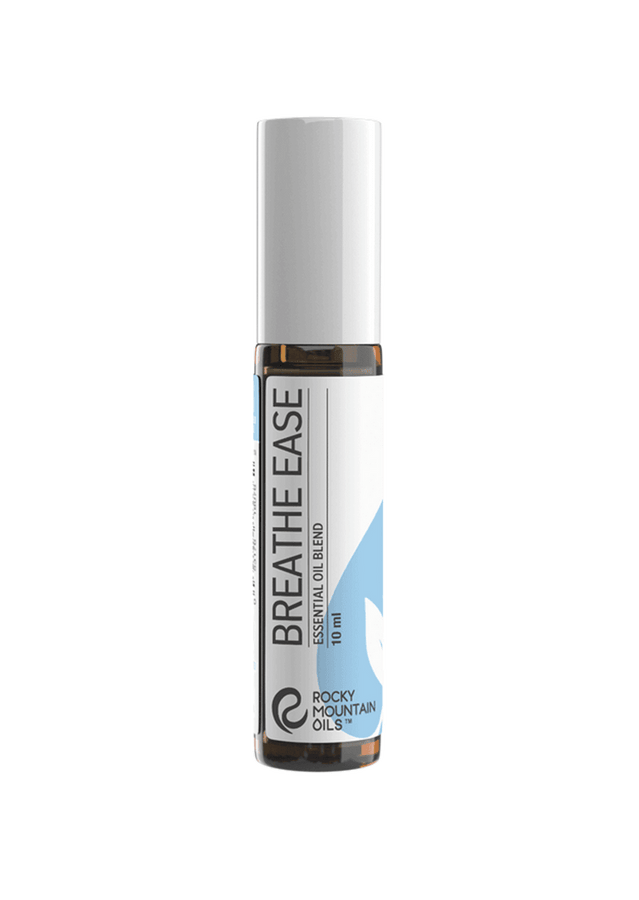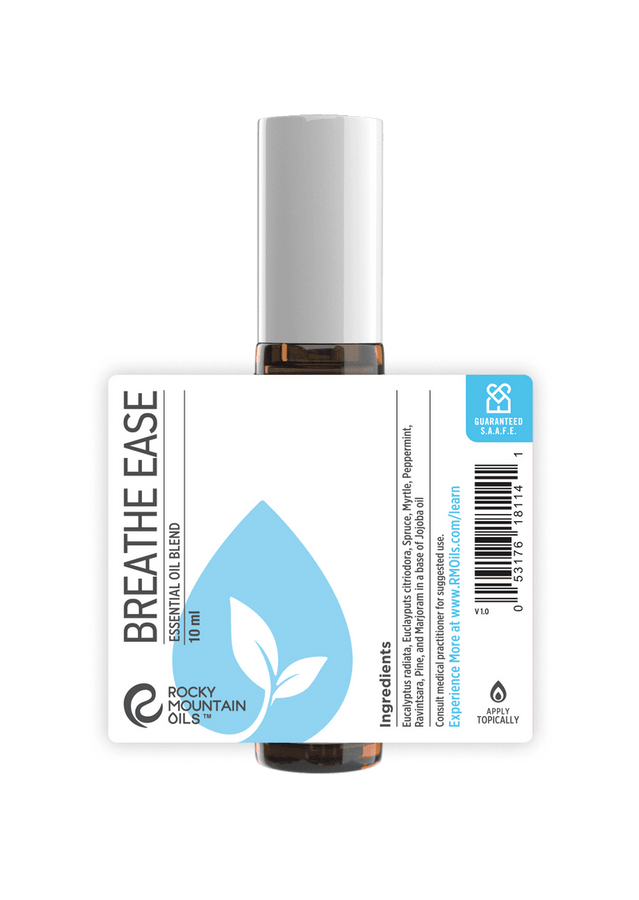 Breathe Ease Roll-On
GC/MS
TESTING
90 DAY
RETURNS
100% RECYCLED
PACKAGING
S.A.A.F.E
PROMISE
Clear congestion and breathe again with our Breathe Easy Roll-on. When allergies, sinus infections, or respiratory illnesses leave you feeling stuffed up, this roll-on offers relief thanks to Mother Nature's best essential oils for breathing. 
Our Breathe Ease Roll-on is a 5% dilution of our Breathe Ease Essential Oil Blend, which consists of Eucalyptus radiata, Eucalyptus citriodora, Myrtle, Peppermint, Spruce, Ravintsara, Pine, and Marjoram essential oils. Prediluted in a silky-smooth, moisturizing base of 95% Jojoba Oil, you can apply this gentle roll-on to the chest or neck any time you need to breathe more easily.
Featuring natural menthol and other healing plant compounds, these essential oils have an expectorant effect that helps your body loosen and expel phlegm. Our Breathe Ease Roll-on also soothes and calms your respiratory system, which may help reduce the frequency and intensity of coughs. When you want to breathe easy, roll-on, sit back, and wait for the relaxing and healing benefits to take effect.
Use at the first signs of a cold or any time you feel congested. Our Breathe Ease essential oil roll-on also lifts your mood and helps you feel better faster when sick. Packaged in a convenient 10mL roll-on, this product fits easily into any medicine cabinet, nightstand, backpack, or first-aid kit.
---
The statements contained herein have not been evaluated by the Food and Drug Adminstration. Neither Rocky Mountain Oils® nor its products are intended for the purpose of diagnosing, treating, curing, or preventing any disease. If you are pregnant, nursing, taking medication, or have a medical condition, consult your physician before using these products.
Breathe Ease Roll-on Uses
Use at the first sign of a cold, allergies, sinus infection, or other respiratory illnesses.
Simply apply Breathe Ease Roll-on to the upper chest, back, or neck. Allow the oils to absorb or massage into the skin for a deeper relaxation effect.
Try inhaling to breathe again more easily after feeling stuffed up.
Use to help reduce frequent coughing as well as head congestion.
You can also use this as an aromatherapy aid to promote a feeling of tranquility and enhance healing meditations.
Breathe Ease Roll-on Safety
The Breathe Ease 10ml Roll-On is pre-diluted to a 5% dilution rate, making it ready for short-term topical application on adults. Be sure to conduct a patch test first and add extra carrier oil if sensitivity occurs. Learn more about dilution rates here.
Caution: If you or your family members have asthma, use this blend with caution. Eucalyptus has been known to cause reactivity in asthmatics.
Your trust and confidence is very important to us. As part of our S.A.A.F.E. Promise™ to you, we provide GC/MS (Gas Chromatography / Mass Spectrometry) test results from a verified third party, independent lab for each one of our essential oil products.
GC/MS tests verify purity and quality of the oils we sell, so you can be sure you're using the highest quality oils available on the market today.
Click here for the GC/MS test results for your bottle of Breathe Ease Essential Oil Blend.
Click here for dilution rates.
Breathe Ease Roll-On FAQ
What are the best essential oils to help breathing?

How do I use an essential oil roll-on to help me breathe again?

To use an essential oil roll-on for better breathing and respiratory health, gently apply the roller to the upper chest, neck, or back whenever you feel chest or nasal congestion. Use at the first sign of a cold, allergies, or sinus infection, or at any point when you need a little help to breathe again.

Are essential oils good to breathe again after a cold?

Yes. If you experience a lingering cough or other symptoms after recovering from a cold, flu, or other illness, essential oils can help you feel relief. Try our Breathe Ease Roll-on for a convenient, prediluted option that's ready for immediate topical application.

When is the best time to use a breathe easy roll-on?

There's no wrong time to use the Breathe Ease Roll-on. Gently apply the roller to the skin whenever you experience respiratory discomfort, excessive coughing, or a stuffy nose. However, many people enjoy using this roll-on at bedtime to help calm nighttime coughing and sleep more easily.