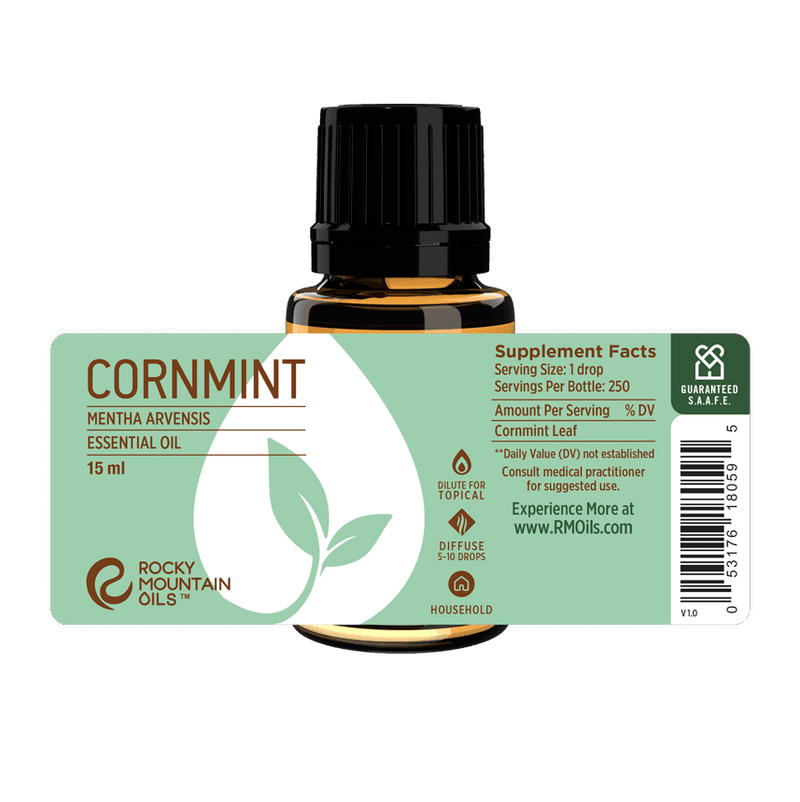 Cornmint Essential Oil - Corn Mint
GC/MS
TESTING
90 DAY
RETURNS
100% RECYCLED
PACKAGING
S.A.A.F.E
PROMISE
Feel refreshed and uplifted with the clean, cooling scent of Cornmint Essential Oil. Closely related to Peppermint, this essential oil has a distinct minty scent that's sweeter and gentler than other mint varieties yet higher in natural menthol.
Thanks to its menthol content, Cornmint is a powerful analgesic that helps numb pain and soothes sore muscles, stiff joints, cramps, headaches, and chest congestion. It has a cooling, tingling effect that stimulates local nerves and helps your body release tension, discomfort, and inflammation. Try Cornmint oil as an all-natural, chemical-free alternative to muscle balm liniments like Icy Hot and BenGay. 
When used in aromatherapy, Cornmint essential oil benefits include reducing stress and anxiety, promoting memory and concentration, and increasing energy levels. The crisp scent of this essential oil helps you tune out distractions, including mental chatter and environmental stimuli like noisy neighbors, while promoting emotional stability.
Cornmint essential oil infuses a delightful minty-fresh aroma into your custom cleaning concoctions, such as homemade hand sanitizers, kitchen tile scrubs, hand and floor soaps, as well as furniture polish. Harnessing the power of Corn mint, these DIY solutions not only leave your surroundings smelling splendid but also boast potent antimicrobial and antifungal properties. This natural wonder aids in the purification and sanitization of surfaces, combating bacteria, viruses, mold spores, mildew, and fungi. Elevate the ambiance of any space by diffusing Corn mint, rejuvenating it with its refreshing and deodorizing qualities.
Cornmint Essential Oil is part of the Rocky Mountain Oils Relief collection.
---
The statements contained herein have not been evaluated by the Food and Drug Administration. Neither Rocky Mountain Oils nor its products are intended for the purpose of diagnosing, treating, curing or preventing any disease. If you are pregnant, nursing, taking medication, or have a medical condition, consult your physician before using these products.
Dilute with a carrier oil and apply to the forehead, temples, or neck for relief from headaches, sinus pressure, and anxiety attacks.
Diffuse to purify the air in your home, office, car, or other spaces while promoting deeper concentration and focus and uplifting the mood.
Dilute with a carrier oil and massage into the lower abdomen for relief from digestive issues like nausea, constipation, gas, bloating, stomach aches, cramps, indigestion, and more.
Diffuse, inhale, or apply topically to the chest for a natural expectorant effect that loosens phlegm and mucus to promote easier breathing.
Add a few drops to your home cleaning products to neutralize odor-causing bacteria, germs, fungus and mold, and more.
Use for DIY skincare and haircare products, as well as homemade bath bombs, soaps, candles, bug sprays, and more.
Cornmint Bug Off Spray
Use the natural insect-repelling properties of Cornmint essential oil to keep pesky bugs like mosquitoes, flies, fleas, ticks, and bed bugs from ruining your day.
10 drops Cornmint
1 cup Distilled Water
1 teaspoon Witch Hazel
Instructions: Add all ingredients to a fine-mist spray bottle and shake well to combine. Shake again before each use. Spray onto exposed skin as well as clothes and hats to keep away bugs.
Always dilute prior to topical application. Avoid contact with mucous membranes, eyes, and the inside of the mouth, nose, and ears. Do not ingest. Do not use it while pregnant or breastfeeding.
CAUTION: Due to its high menthol content, this essential oil may cause skin irritation if used with heating pads or hot water bottles. Avoid contact with direct heat when using topically.
Kids Safety: Safe to use topically with children ages 6 years old and up. Dilute to a 1-2% dilution rate for topical application.
Tips for Safer Diffusing:
Diffuse in an open, well-ventilated area.
Keep children and pets out of the direct line of mist.
Diffuse in 30-60 minute intervals, with ample break periods for safe and effective use.
At Rocky Mountain Oils, your trust and confidence matter to us. As part of our S.A.A.F.E. Promise™, we offer third-party verified GC/MS (Gas Chromatography/Mass Spectrometry) test results from an independent lab for every essential oil and blend in our line.
GC/MS tests verify the purity and quality of our essential oils, so you can be sure you're using the safest, highest-quality essential oils available today.
GC/MS Test: Click Here
For batch-specific GC/MS tests, click here.
Cornmint Essential Oil - Corn Mint FAQ
Is Cornmint the same as Peppermint?

No. Although they are both in the Mentha family, Cornmint and Peppermint come from different plants. They have different chemical compositions, which lead to different aromas and different medicinal benefits. Cornmint has a higher menthol content than Peppermint, which means its healing abilities are better suited for respiratory health than Peppermint. Cornmint also has a sharper yet sweeter and gentler aroma.

Why is it called Cornmint essential oil? Is there corn in it?

Despite its name, Cornmint does not contain any corn and is not related to the corn plant. Although no one knows exactly why it's called Cornmint, most people believe the name originates from the fact that this variety of mint was often cultivated in corn fields. Corn farmers often used it as a natural insect repellent. Others believe that it's called Cornmint because the shape of the leaves resembles kernels of corn.

What are some Cornmint essential oil uses for aromatherapy?

In aromatherapy, Cornmint essential oil uses include balancing mood swings, reducing irritability, and relieving stress, anxiety, and depression. This essential oil is also used to promote cognitive health and is known to stimulate memory recall, lift brain fog, and lengthen the attention span. Try diffusing Cornmint to help naturally treat ADHD symptoms while promoting feelings of safety and stability.

Is Cornmint oil good for health?

Yes! Cornmint essential oil benefits include relieving inflammation, promoting better digestion, supporting lung health, and more. This essential oil has a rich history in traditional medicine, where it has been used to relieve pain and discomfort. Cornmint oil also helps promote healthy skin and can be used to treat bug bites, minor cuts and wounds, acne, psoriasis, eczema, rashes, and other external irritation.