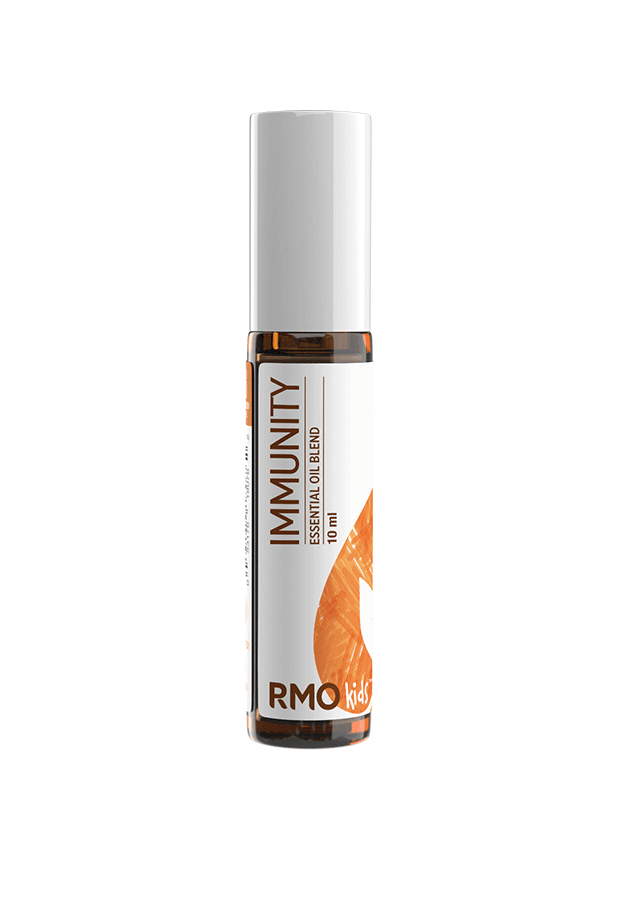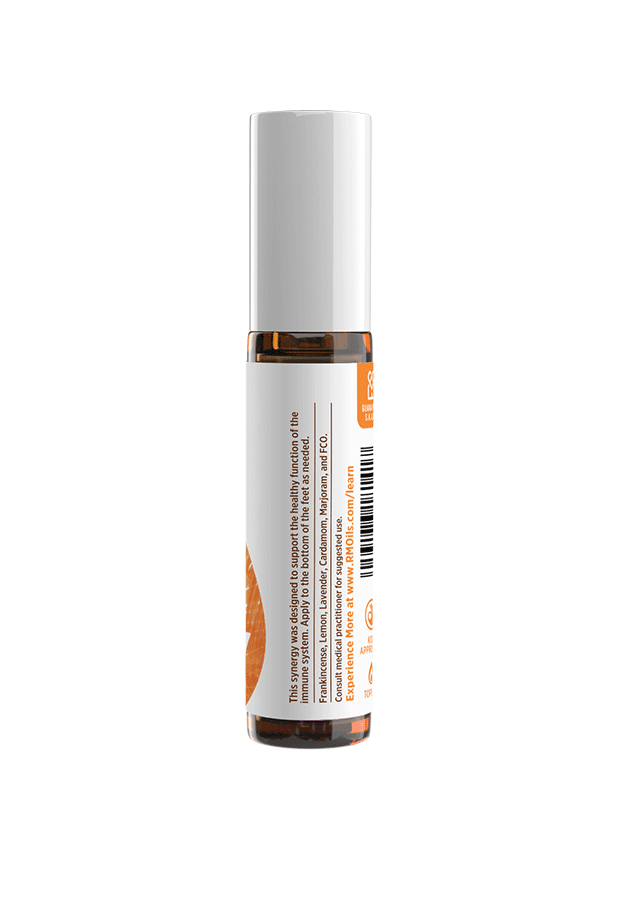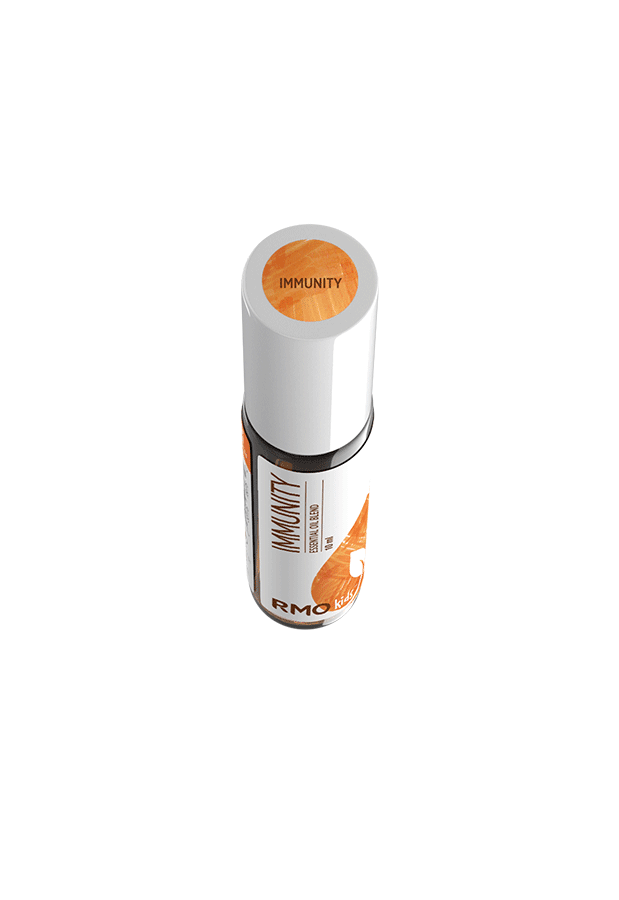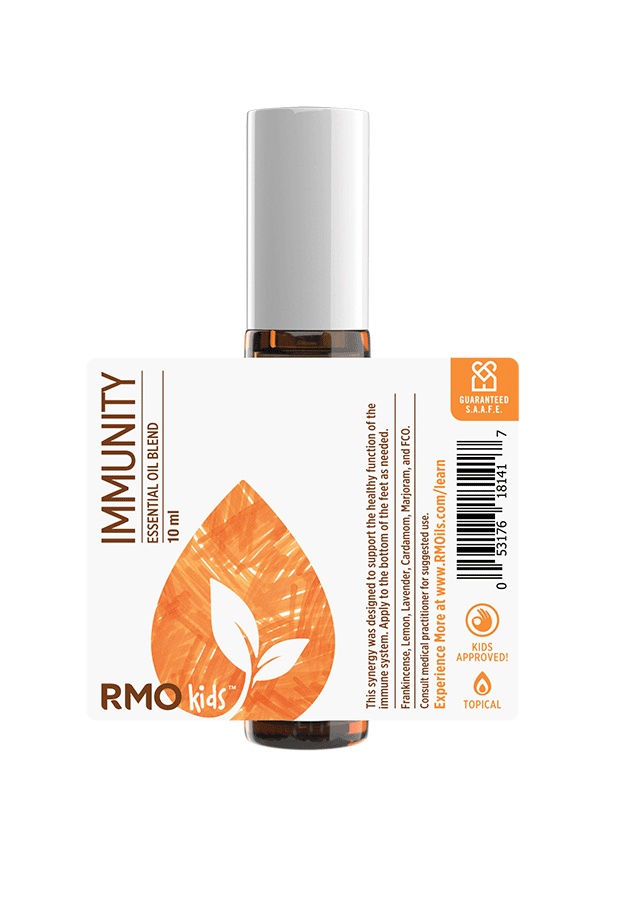 Immunity Roll-on
GC/MS
TESTING
90 DAY
RETURNS
100% RECYCLED
PACKAGING
S.A.A.F.E
PROMISE
Don't let colds and flu bugs slow you down! Strengthen the body's natural defenses with our Immunity Roll-on. It's a convenient, all-natural immunity booster for adults and kids ages 2 and up. 
This Immunity essential oil roll-on harnesses the power of plants that have been used for centuries in holistic healing and home remedies. Simply roll it onto the upper chest, neck, pulse points, or the soles of the feet to absorb the best defenses that Mother Earth has to offer. 
Our Immunity essential oil roll-on recipe features Frankincense Carterii, Lemon, Lavender, Cardamom, and Marjoram. Prediluted in a silky-smooth base of 98% Fractionated Coconut Oil, this roll-on is safe for immediate topical use. Try whenever you or your family start to feel under the weather, when you know you've been exposed to germs, or any time you want to enhance your immune system.
The oils in Immunity Roll-on provide a gentle, medicinal scent that relaxes you and lifts your spirits when you feel ill. It's fresh, sweet, and features a menthol-like undertone that cools and soothes. This tranquil, healing aroma helps calm coughs, relieves chest congestion, and helps you and your family feel better, faster. 
Related Pure Oils: Sacred Frankincense, Frankincense Serrata, Tangerine, Ginger Root
Related Blends: Immune Strength, Sacred Immune Strength
Apply during cold and flu season, whenever you or your family have been exposed to a contagious illness, or any time of year to support a more robust immune system.
Use while traveling to boost your defenses against unfamiliar germs and infections.
Use during the first signs of illness to help your body heal itself and shorten your recovery time.
Roll onto the neck, upper chest, the bottoms of the feet, or pulse points to absorb medicinal benefits.
Inhale the soothing scent to promote respiratory health and feelings of comfort, safety, and relaxation.
Safe for topical use on adults and kids ages 2 and up. Do not use it on the face. Avoid contact with eyes, mucous membranes, and the inside of the ears, mouth, and nose. If illness symptoms worsen or persist, consult your family physician.
We recommend conducting a patch test before extensive topical use. To patch test, apply a small amount on one area and wait 15 minutes to determine if irritation or allergic reaction occurs. Add more carrier oil for extra dilution if needed. Learn about dilution rates here.
Your trust and confidence are very important to us. As part of our S.A.A.F.E. Promise™, we provide GC/MS (Gas Chromatography/Mass Spectrometry) test results from a verified third-party, independent lab for all our essential oil roll-ons and other essential oil products.
GC/MS tests verify the purity and quality of our products, guaranteeing that you're buying the best essential oils and essential oil roll-ons available anywhere.
Click here for the GC/MS test results for your Immunity Roll-on.
Click here for dilution rates.
Immunity Roll-on FAQ
Do essential oils really help immunity?

Yes! Many essential oils, including the oils in our Immunity essential oil roll-on, are high in bioactive plant compounds that provide antimicrobial benefits. Studies show these essential oils can help neutralize bacteria and viruses that cause illness, while also protecting against allergens and environmental pollutants like mold and fungi. Additionally, stress is known to weaken the immune system, so using essential oils for aromatherapy can help reduce your anxiety levels and allow your body to function at optimal levels.

Why should I apply Immunity roll-on on feet?

The pores on the soles of the feet are larger than other areas of the skin. As a result, they absorb essential oils into the bloodstream more quickly. This allows you to metabolize the immunity-boosting benefits of the oils more effectively, which may boost healing time. However, you can also use our Immunity roll-on essential oil blend on pulse points, the chest, back, neck, or other body parts (except the face).

Can I use Immunity roll-on when I'm not sick?

Yes, you don't need to wait to feel ill to experience the benefits of the healing properties in our Immunity essential oil roll-on recipe. Think of it like Vitamin C. Taking Vitamin C will help when you're sick with a cold or flu, but you can also take it year-round to boost your immunity even when you feel healthy! The effects of our Immunity roll-on are cumulative, so using it outside of cold and flu season will help you stay healthy when you're exposed to contagions.

Why is Frankincense oil good for immunity?

Our Immunity Roll-on essential oil blend includes Frankincense Carterii, a powerful anti-inflammatory ingredient that is known to boost immunity because it contains a high concentration of alpha-pinene. Alpha-pinene is a terpene compound that creates an antibiotic and antiviral effect when metabolized in the bloodstream, thereby strengthening the immune system against infections disease.