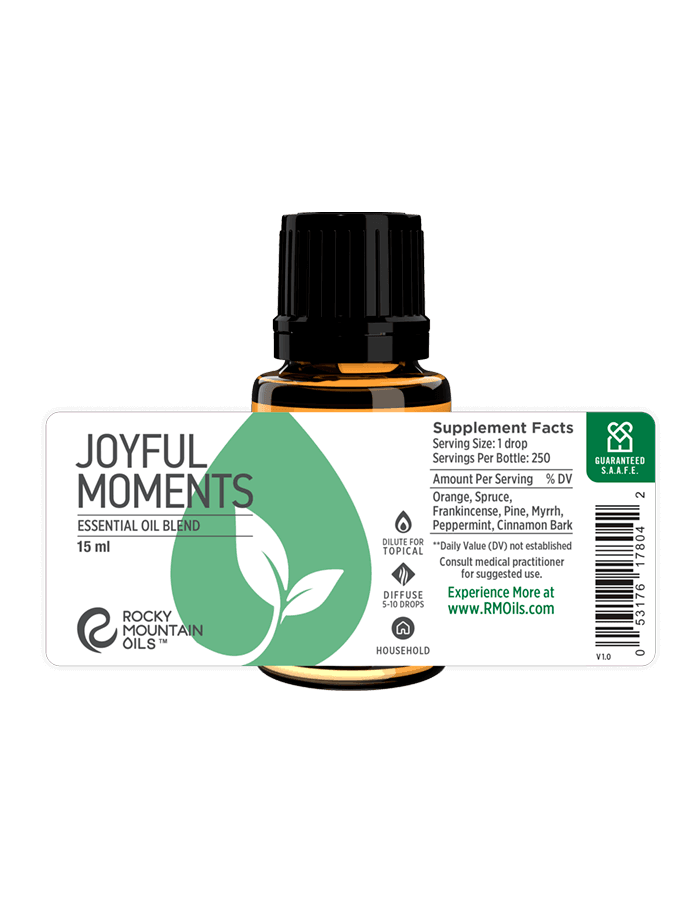 Joyful Moments Essential Oil Blend
GC/MS
TESTING
90 DAY
RETURNS
100% RECYCLED
PACKAGING
S.A.A.F.E
PROMISE
Spread more joy and positivity with our Joyful Moments Essential Oil Blend. Joyful Moments is a blend of Orange, Spruce, Frankincense Serrata, Pine, Myrrh, Peppermint, and Cinnamon Bark essential oils. It's the perfect blend for creating a cheerful attitude in your home or work space.
Joyful Moments combines these essential oils for joy to create an uplifting aroma that's bright and naturally energizing. It has a woody, citrusy top fragrance and hints of spicy sweetness. When the energy around you feels gloomy, add a few drops of this joy essential oil blend to your favorite diffuser and let the blissful scent take all your cares away.
Try diluting these essential oils for emotional healing with a carrier oil, then apply topically as a natural perfume or cologne to carry positive vibes wherever you go. This blend helps reduce stress, anxiety, depression, and fatigue. You can also use them to promote better concentration, memory, mindfulness, and feelings of stability.
With natural antibacterial properties in the oils, Joyful Moments can be used as a chemical-free air freshener than neutralizes odors or added to DIY cleaning products and sanitizers. Add it to DIY recipes for candles, soaps, bath bombs, room sprays, and more.
Dilute with Fractionated Coconut Oil, Jojoba Oil, or other carrier oil to apply topically as an uplifting and energizing massage oil.
Apply 1-2 drops in a carrier oil to the neck, upper chest, pulse points, or behind the ears to wear as a natural perfume or cologne that promotes a cheerful, optimistic mood.
Diffuse in your home or office to balance moods, dispel negative energy, promote better memory recall and deeper concentration, and reduce mental fatigue.
Use in a room spray or diffuse to eliminate odor-causing bacteria and freshen the air.
Inhale or apply topically before meditation to feel calmer, clearer, and at peace.
Use in homemade crafts like candle making, soap making, or bath bombs, for DIY gifts for all occasions.
Joyful Moments Mist Spray
Spread joy and create a happy mood with this uplifting, energizing essential oil room spray that's perfect for home, office, car, or any space.
75 drops Joyful Moments
4 ounces Distilled Water
Instructions: Add all ingredients to a 4-ounce, fine mist spray bottle. Shake well to combine, then shake again before each use. Spray liberally as often as needed. Refill the water 2-3 times before adding more oils.
Always dilute with a carrier oil and patch test prior to extensive use on the skin. To patch test, apply a very small amount of oil to one area of the skin and wait 15 minutes to confirm that irritation or allergic reaction does not occur.
Do not use while pregnant or breastfeeding. Do not use near the eyes, nose, mouth, sensitive areas, or on broken skin or abrasions. For external use only. Do not ingest.
NOTE: This blend contains Orange oil, which is known to be phototoxic and may temporarily increase your risk of sunburn. When using topically, avoid direct sunlight and tanning beds for 12 hours after application.
Safe to use on skin for kids ages 10 and up. Dilute to a .1-.5% dilution rate and patch test before using topically. Click here to learn more about using essential oils and child safety.
Safe Diffusing Tips:
Diffuse in an open, well-ventilated area.
Keep children and pets out of the direct line of mist.
Diffuse in 30-60 minute intervals with ample break periods.
Your trust and confidence matter to us. As part of our S.A.A.F.E. Promise™ to you, Rocky Mountain Oils provides verified third-party GC/MS (Gas Chromatography/Mass Spectrometry) test results from an independent lab for every essential oil product in our collection.
GC/MS tests verify the quality and purity of every Rocky Mountain Oils product, which guarantees you're using the safest and highest quality essential oils and essential oil blends on the market.
To view the GC/MS test results for your essential oil blend, click here.
Joyful Moments Essential Oil Blend FAQ
What are the best essential oils for joy?

The best essential oils for joy are any oils that make you feel lighter, happier, and more carefree. Different oils bring joy to different people. However, in our unique joy essential oil blend, we've created an uplifting aroma that combines pure Orange, Spruce, Frankincense Serrata, Pine, Myrrh, Peppermint, and Cinnamon Bark essential oils.

Can I use essential oils for emotional healing?

Yes! Using an essential oil blend for emotional healing can be a very powerful, transformative experience. Although research is ongoing, some scientific studies are starting to confirm the benefits of aromatherapy on depression, anxiety, and other forms of mental illness. Using essential oils for aromatherapy also activates the limbic system in the brain, which helps regulate our moods. Try diffusing a blend like Joyful Moments to support your emotional healing journey when you meditate, journal, or repeat affirmations, or any time you need some extra emotional support.

What are the benefits of using Joyful Moments blend?

The benefits of our Joyful Moments Blend include clearing negative energy, promoting optimism and positivity, improving concentration and memory recall, navigating stressful moments with greater ease, more natural energy, deeper levels of meditation and mindfulness, emotional stability, and more. This blend can also be used topically with a carrier oil to release tension held in the body and help soothe stiffy, achy muscles and joints.

Are essential oils for joy safe for kids and pets?

Yes, our special joy essential oil blend is safe to diffuse around children and pets. However, always diffuse in an open space with plenty of ventilation and airflow. Do not allow your little ones or your furry friends to be in the direct line of mist. Joyful Moments blend can be used topically on kids over the age of 10 when properly diluted to a .1-.5% dilution rate (learn more). Do not use topically on pets.