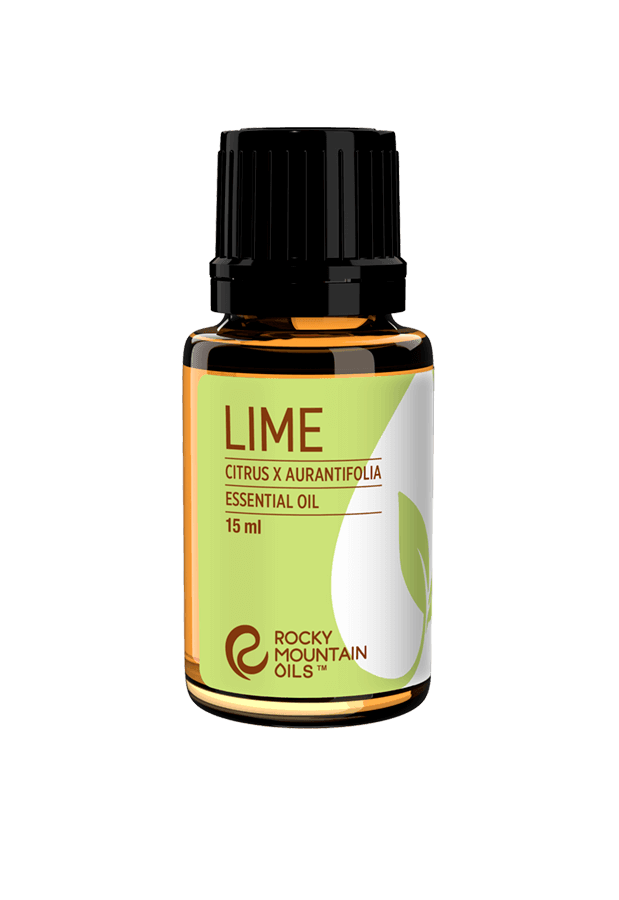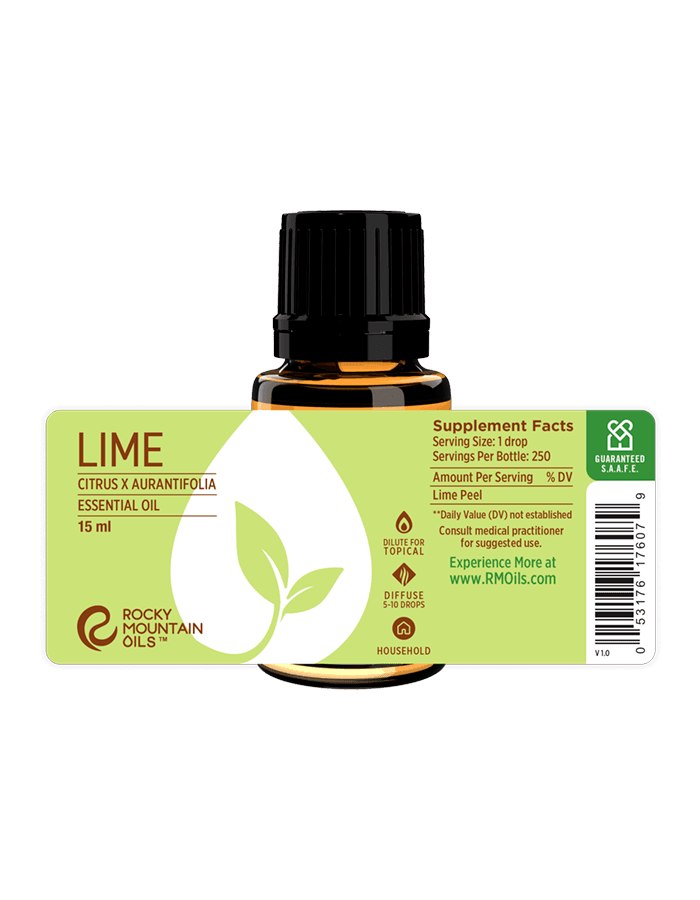 Lime Essential Oil
GC/MS
TESTING
90 DAY
RETURNS
100% RECYCLED
PACKAGING
S.A.A.F.E
PROMISE
Add more zest to your space with the bright, cheerful scent of Lime Essential Oil. Cold pressed from the peel of fresh limes, this essential oil has a citrusy aroma that's sweet, crisp, clean, and invigorating. It's perfect for DIY cleaning, skincare and haircare, aromatherapy, and more.
Lime is high in citric acid, limonene, and Vitamin C. Together, these compounds make Lime essential oil one of nature's most potent disinfecting agents. Lime essential oil breaks down dirt and grime while neutralizing bacteria, viruses, mold, fungi, and allergens. It helps leave your home squeaky-clean while infusing the air with an irresistible scent the whole family loves.
Other Lime essential oil benefits include boosting mental clarity, inspiring creativity, and reducing burnout. When you need a mid-day energy burst, try inhaling or diffusing Lime instead of reaching for that second (or third!) cup of coffee. Lime can help you focus more deeply for longer periods of time, which makes it an excellent oil for studying or working from home.
Try using Lime oil for skincare to lighten scars, reduce the appearance of fine lines and wrinkles, and help replenish your skin's natural protective barrier. You can also use Lime in haircare products to store healthy shine to dry, damaged, or over-processed hair.
---
The statements contained herein have not been evaluated by the Food and Drug Administration. Neither Rocky Mountain Oils nor its products are intended for the purpose of diagnosing, treating, curing or preventing any disease. If you are pregnant, nursing, taking medication, or have a medical condition, consult your physician before using these products.
Diffuse or inhale for a natural energy boost that also improves your mood, concentration, and memory.
Mix with vinegar and distilled water to make a DIY cleaner that sanitizes surfaces, or add to a spray bottle and spritz generously to freshen the air in your home, office, or car.
Use it to dissolve sticky residue left behind by tape, stickers, or labels.
Dilute with a carrier oil and apply to the skin as a natural anti-aging toner that nourishes and hydrates the skin.
Use with a carrier oil or add a few drops to your regular shampoo or conditioner to balance scalp pH, treat dandruff, smooth frizzy flyaways, reduce split ends, and stimulate new follicle growth.
Diffuse, inhale, or use it with a carrier oil as a chest balm to calm coughs, relieve chest congestion, and support overall respiratory health.
Lime Oil Nighttime Skin Toner
Exfoliate, tone, and brighten the skin with this gentle and soothing toner that's perfect for removing makeup and cleansing before bed.
10 drops Lime essential oil
½ cup Distilled Water
½ cup Witch Hazel
Instructions: Add ingredients to a clean spray bottle and shake well to combine. Shake again before each use. Mist onto the face (with eyes closed) or onto a clean cotton pad, then gently massage into the skin to experience Lime essential oil benefits.
Botanical Name: Citrus x aurantifolia
Country of Origin: Mexico/India*
Extraction Method: Cold Pressed
Plant Part: Citrus Peel
Aroma: Fresh, Tart, Citrusy
Consistency: Thin
Blends Well With: Bergamot, Cinnamon Bark, Pink Grapefruit, Lemon, Red Mandarin, Orange, Sandalwood
Popular Lime Essential Oil Blends: Citrus Blend, Tranquility, Sweet Oasis, Meadow Breeze, At Peace

*Some of our oils have multiple countries of origin. To confirm which country your specific bottle of oil originates from, please consult its GC/MS test by clicking here.
Always dilute prior to topical application. Avoid contact with mucous membranes, eyes, and the inside of the mouth, nose, and ears. Do not ingest. Do not use while pregnant or breastfeeding.
CAUTION: Lime oil is phototoxic. When using topically on exposed skin, avoid direct sunlight and tanning beds for 12 hours after application.
To extend the shelf life of this essential oil, always seal the cap tightly and store in a cool dark place (or refrigerator).


Kids Safety: Safe to use topically with children ages 2 and up. Dilute to a 1-2% dilution rate for topical application. Click here to learn more about essential oils and child safety.
Practice safe diffusing:
Diffuse in an open, well-ventilated area.
Keep children and pets out of the direct line of mist.
Diffuse in 30-60 minute intervals, with ample breaks in between.
At Rocky Mountain Oils, your trust and confidence matter to us. As part of our S.A.A.F.E. Promise™, we offer third-party verified GC/MS (Gas Chromatography/Mass Spectrometry) test results from an independent lab for every essential oil and blend in our line.
GC/MS tests verify the purity and quality of our essential oils, so you can be sure you're using the safest, highest-quality essential oils available today.
GC/MS Test: Click Here
For batch-specific GC/MS tests, click here.
Lime Essential Oil FAQ
What is Lime essential oil good for?

Lime essential oil has many uses for skincare, haircare, and cleaning, as well as aromatherapy. We love using Lime oil (and blends containing Lime) to freshen the air. Thanks to its antimicrobial properties, Lime eliminates odor-causing bacteria, pollutants, and allergens. Its bright, zesty scent also fills any space with uplifting energy that inspires the senses and invigorates the mind. Try diffusing Lime in the wintertime to offset seasonal depression and feel more energized on cold, dark mornings.

Can you add Lime essential oil to water?

No. Lime essential oil is for external use only and should never be consumed orally. Never use any essential oils internally. Do not add them to beverages or recipes. If you're craving lime water, simply add a slice of fresh lime fruit instead!

Does Lime oil make you sleepy?

Lime essential oil won't make you tired. However, this scent can reduce stress and anxiety, balance your emotions, and help you feel more calm and centered. When used for aromatherapy, Lime can enhance your well-being and allow you to sleep more soundly by creating a soothing, tranquil atmosphere. Try blending Lime with your favorite carrier oil and massage it into the soles of the feet at bedtime to feel more relaxed and lulled off into dreamland.

What are the spiritual benefits of Lime essential oil?

Many essential oils are infused with metaphysical benefits that can elevate your spiritual practice. Lime oil is said to open the mind, allowing you to receive greater clarity and see through illusions. It also helps you see the world through someone else's perspective, which enhances empathy and helps you feel more connected. When you meditate with Lime oil, its sweet and tangy scent can help you push through emotional blockages and balance your Heart Chakra.