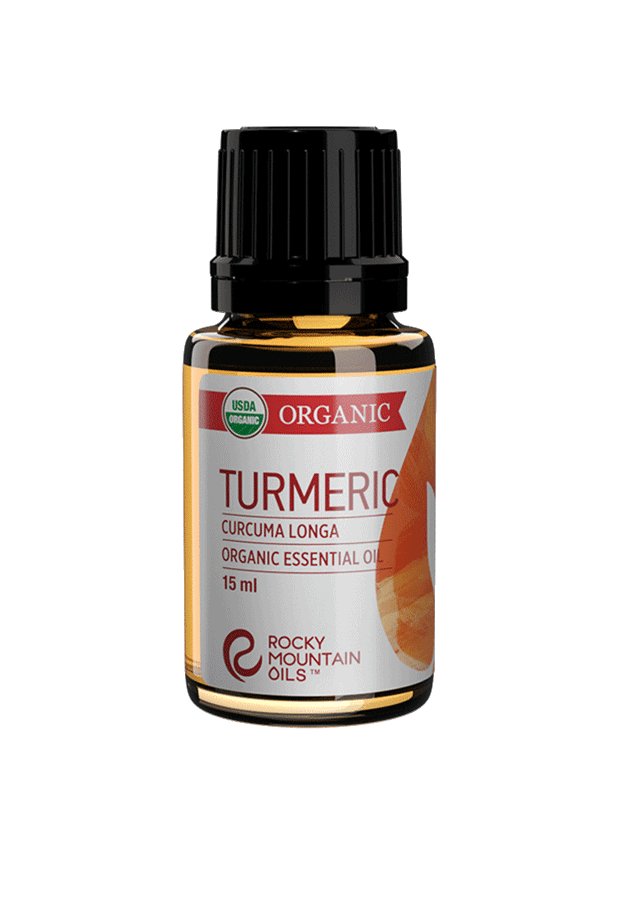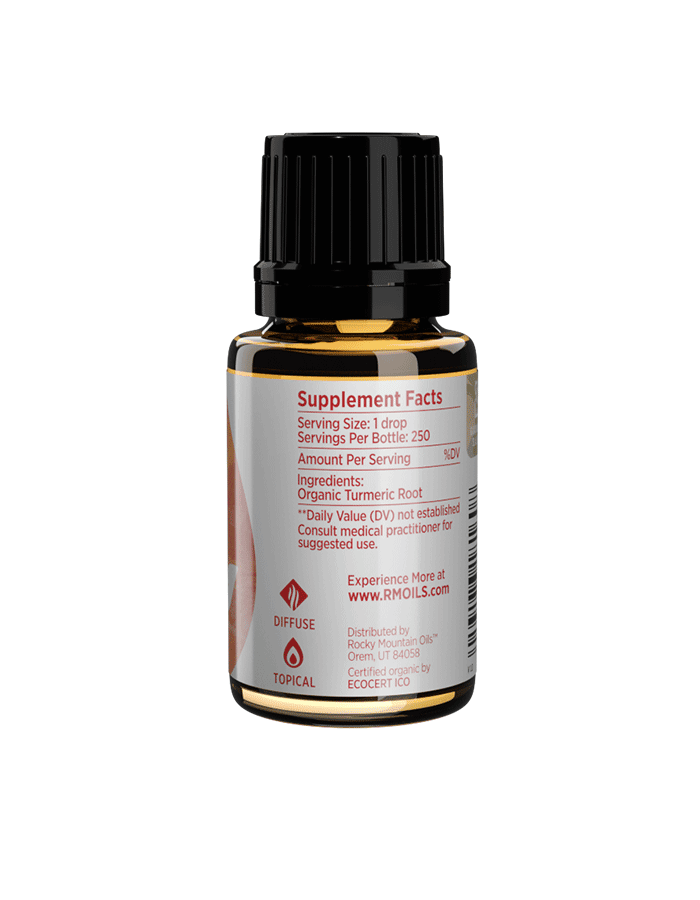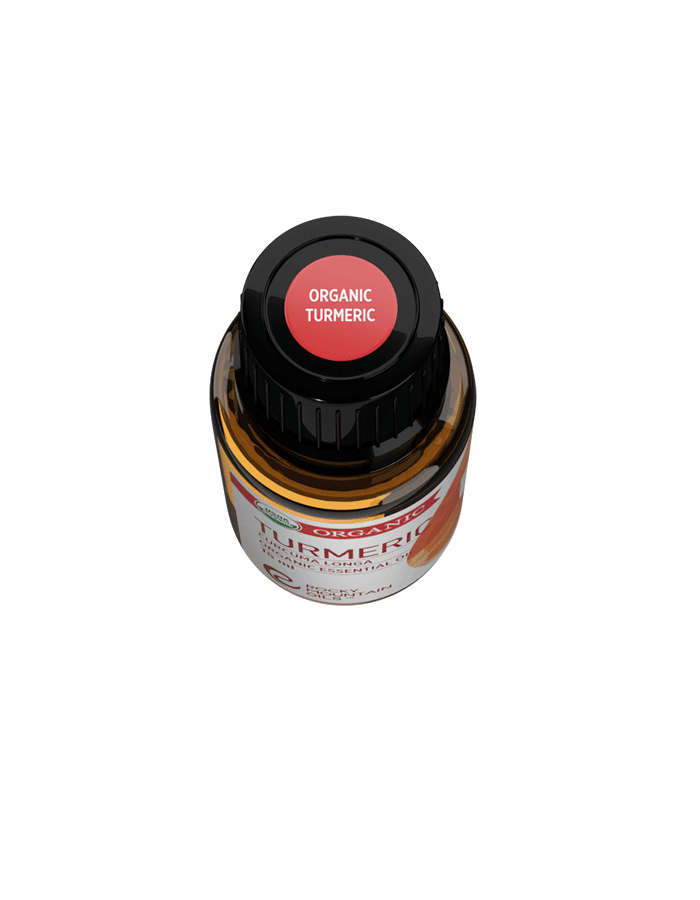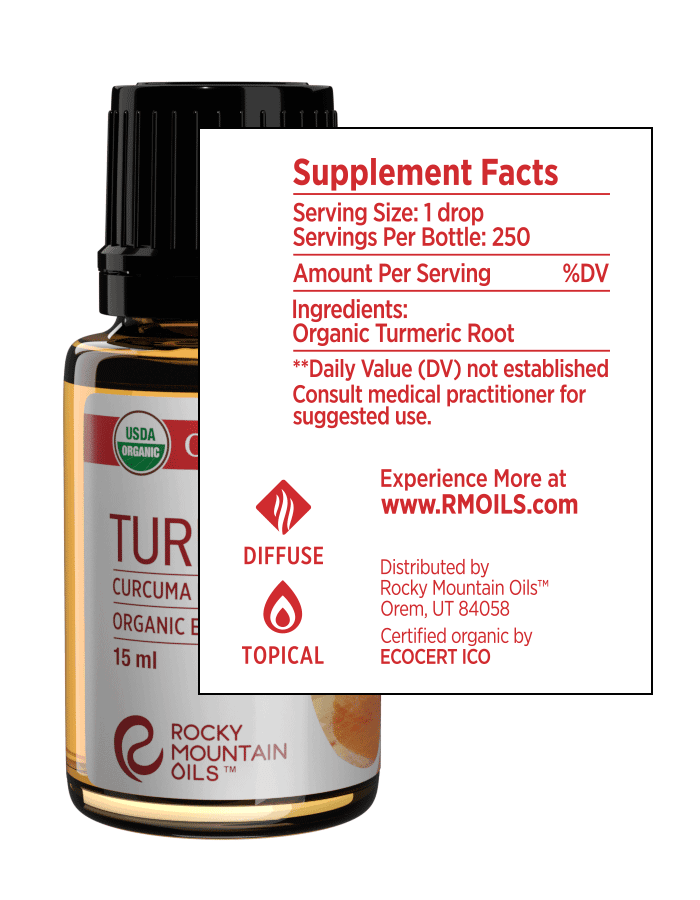 Organic Turmeric Essential Oil
GC/MS
TESTING
90 DAY
RETURNS
100% RECYCLED
PACKAGING
S.A.A.F.E
PROMISE
Support your health with the powerful anti-inflammatory benefits of Organic Turmeric Essential Oil. Steam distilled from organic turmeric roots, this essential oil is a highly concentrated source of curcumin, a bioactive ingredient that offers numerous medicinal benefits.
Thanks to curcumin, organic Turmeric essential oil reduces inflammation, promotes better digestion and cardiovascular health, and may slow aging. Some studies also indicate that the curcumin in organic Turmeric essential oil may treat or prevent cancer. When diluted with a carrier oil, you can apply organic Turmeric oil to the skin for healing benefits.
The aroma of organic Turmeric essential oil is spicy, sweet, warming, and earthy. It helps you feel grounded while relieving stress, anxiety, sadness, anger, and loneliness. It also reduces distractions and irritability. Diffusing or inhaling Turmeric can inspire a burst of energy and clarity, helping you focus and work more effectively.
Try adding organic Turmeric essential oil to skincare, haircare, or home cleaning products. This essential oil will sanitize and refresh your space, prevent mold and mildew, strengthen the immune system, and more. You can also add a few drops to a warm bath for a soothing, relaxing self-care soak.
Learn more about our USDA Certified Organic Oils
---
The statements contained herein have not been evaluated by the Food and Drug Administration. Neither Rocky Mountain Oils nor its products are intended for the purpose of diagnosing, treating, curing or preventing any disease. If you are pregnant, nursing, taking medication, or have a medical condition, consult your physician before using these products.
Always dilute prior to topical application. Avoid contact with mucous membranes, eyes, and the inside of the mouth, nose, and ears. Do not ingest. Do not use while pregnant or breastfeeding.
Kids Safety: Safe to use topically with children ages 2 years old and up. Dilute to a .5-2% dilution rate for topical application.
Tips for Safer Diffusing:
Diffuse in an open, well-ventilated area.
Keep children and pets out of the direct line of mist.
Diffuse in 30-60 minute intervals, with ample break periods for safe and effective use.
Anti-Inflammatory Massage Oil
To naturally soothe pain and inflammation, try this healing massage oil made with pure organic Turmeric essential oil.
10 drops Organic Turmeric
1 oz Carrier Oil (Sweet Almond, Jojoba, or FCO)
Instructions: Combine the oils in a clean bottle or glass jar, then place a small amount in your hands and warm between your palms. Massage into the affected area as often as needed for relief from pain, stiffness, and discomfort.
Botanical Name: Curcuma longa
Country of Origin: India
Extraction Method: Steam Distilled
Plant Part: Root
Aroma: Spicy, Earthy, Balsamic
Consistency: Thin
Blends Well With: Ginger, Clary Sage, Clove Bud, Cinnamon, Helichrysum, Juniper, Lavender, Orange
Popular Organic Turmeric Collections: Organic Essential Oil Kit, Organic Essential Oil 4-Pack
At Rocky Mountain Oils, your trust and confidence matter to us. As part of our S.A.A.F.E. Promise™, we offer third-party verified GC/MS (Gas Chromatography/Mass Spectrometry) test results from an independent lab for every essential oil and blend in our line.
GC/MS tests verify the purity and quality of our essential oils, so you can be sure you're using the safest, highest-quality essential oils available today.
GC/MS Test: Click Here
For batch-specific GC/MS tests, click here.
Your trust and confidence are very important to us. As part of our S.A.A.F.E. Promise™ to you, we provide GC/MS (Gas Chromatography / Mass Spectrometry) test results from a verified third party, independent lab for each one of our essential oil products.
GC/MS tests verify purity and quality of the oils we sell, so you can be sure you're using the highest quality oils available on the market today.
GC/MS Test: Click Here
For batch specific GC/MS test click here.
Organic Turmeric Essential Oil FAQ
Can I cook with organic Turmeric oil?

No. This is not cooking oil. Rocky Mountain Oils' organic Turmeric essential oil is for external use only and should not be ingested. Although we use the highest quality, premium organic turmeric root to make our oil, its high concentration is not recommended for ingestion or oral use. If you'd like to add the spicy flavor of turmeric to your recipes, we recommend using powdered or fresh turmeric root instead.

What are the benefits of organic Turmeric oil for skin?

If you experience rosacea, hyperpigmentation, acne, or other blemishes and discoloration, organic Turmeric oil for skin will help provide relief. Due to its powerful anti-inflammatory properties, organic Turmeric relieves redness and swelling while stimulating blood flow to heal and rejuvenate skin cells. It also fades the appearance of scars, fine lines, and wrinkles.

Does Turmeric oil help with inflammation?

Yes. Turmeric is rich in a bioactive compound called curcumin, which acts as a powerful anti-inflammatory and antioxidant. The curcumin in organic Turmeric essential oil helps promote blood flow while treating and preventing damage caused by free radicals. Many studies show that turmeric helps relieve pain, arthritis and joint stiffness, gastrointestinal issues, and other health conditions caused by chronic inflammation.

Can I use Turmeric essential oil every day?

Yes! As long as you are not allergic, organic Turmeric oil is safe for daily external use. However, we advise you to dilute it with a carrier oil (such as Fractionated Coconut Oil or Jojoba Oil) or blend it with your regular lotion or moisturizer before topical application. Pure organic Turmeric oil may cause sensitivity in some individuals.