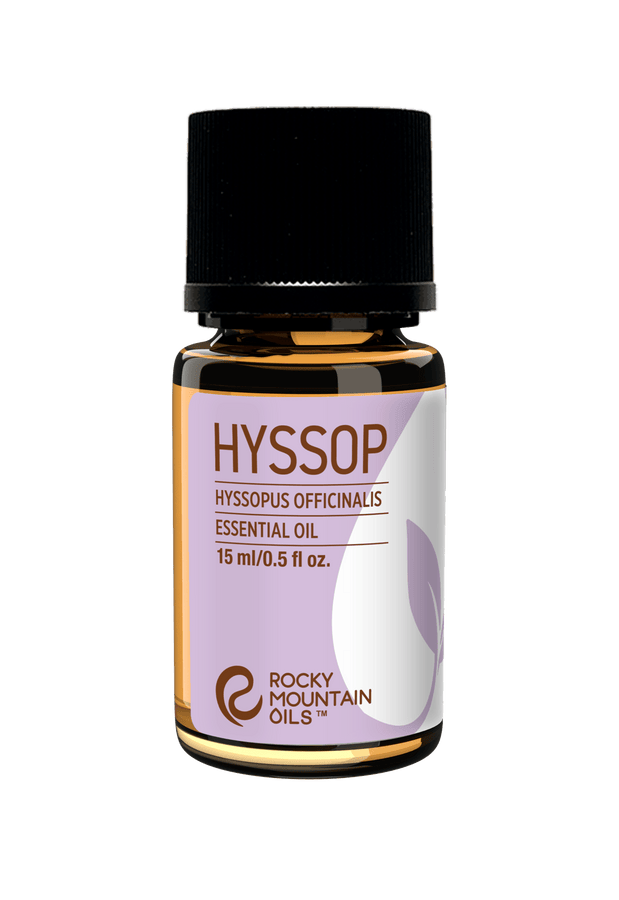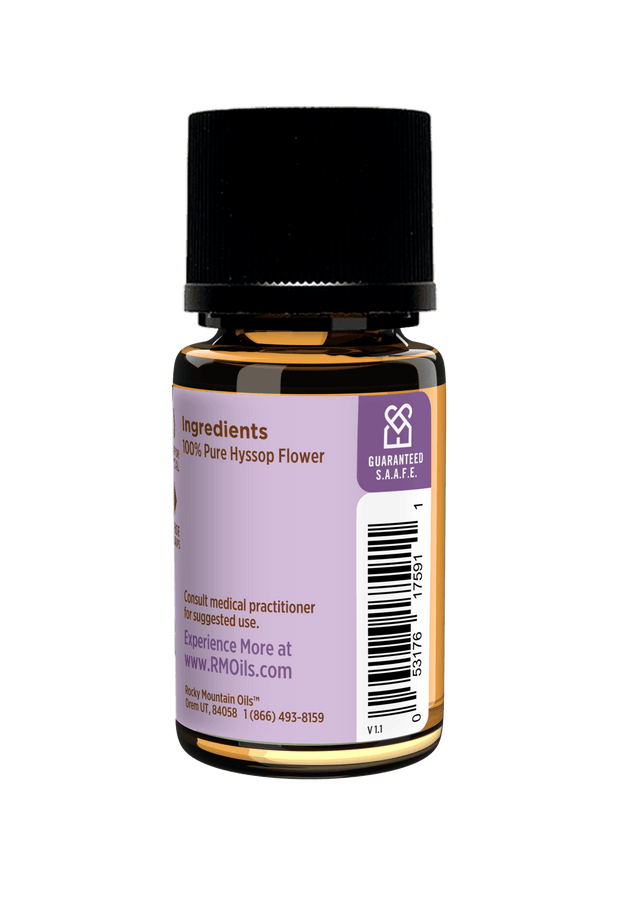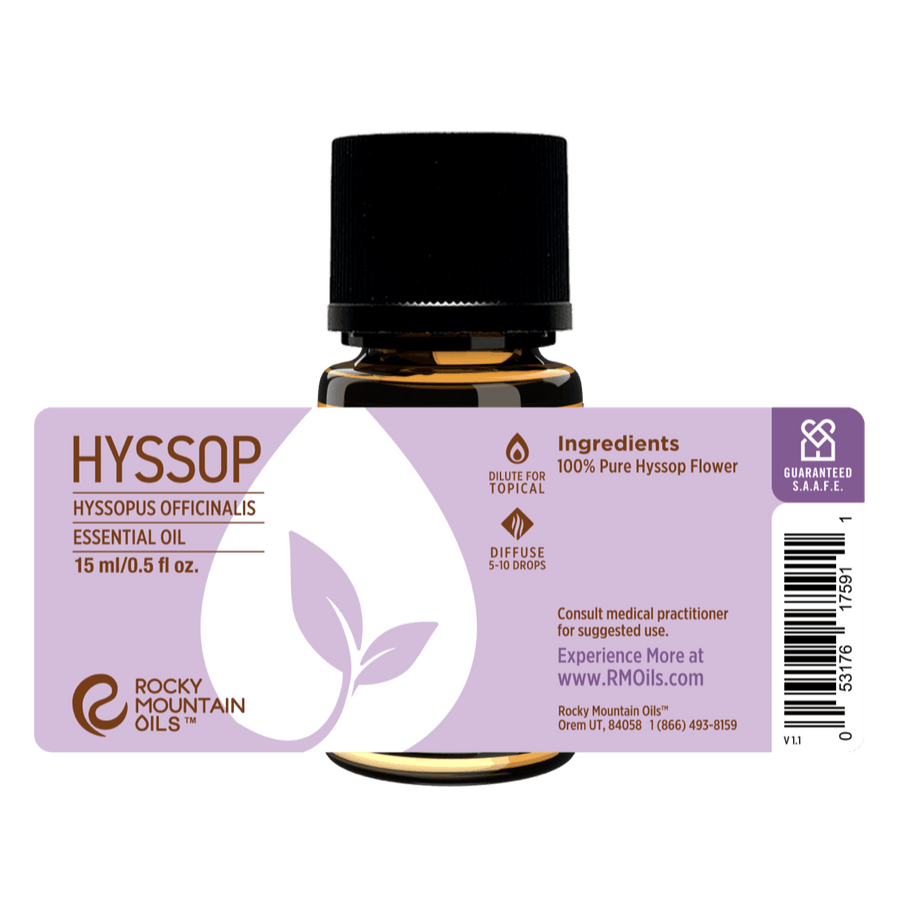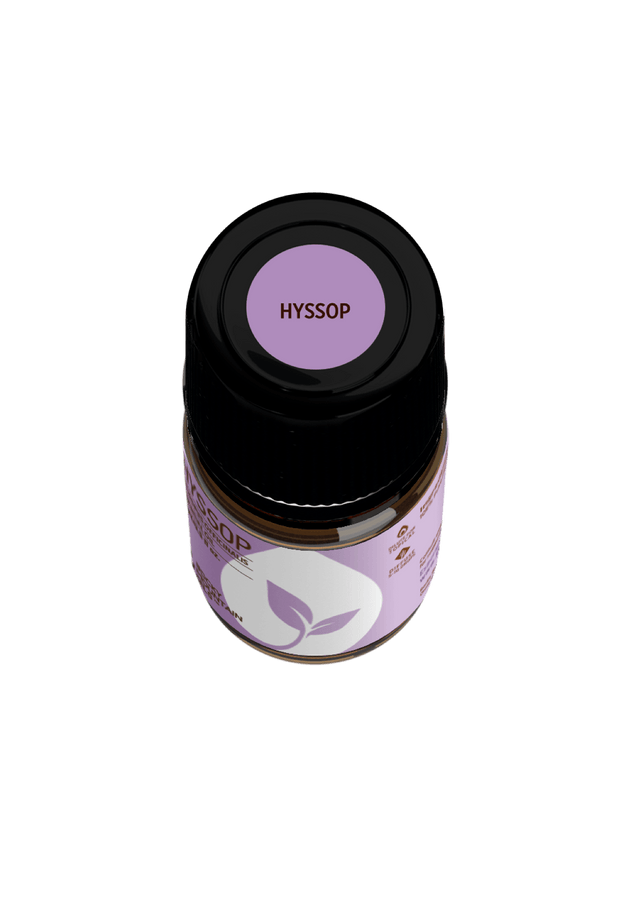 Hyssop Essential Oil - 15ml
GC/MS
TESTING
90 DAY
RETURNS
100% RECYCLED
PACKAGING
S.A.A.F.E
PROMISE
Experience balance, clarity, and the fortifying power of plants with Hyssop Essential Oil. Extracted from the leaves and flowers of the Hyssopus officinalis plant, Hyssop Oil is known for its medicinal properties as well as its tranquil effect on the mind and spirit.
Hyssop Essential Oil is often described as having a bright yet camphor-like aroma, with a woody scent that's crisp, herbaceous, and slightly sweet. Belonging to the mint family, Hyssop Oil has been used for generations in traditional healing and home remedies in the Mediterranean and the Middle East.
Hyssop Essential Oil benefits include support for better respiratory health, digestive support, haircare, skincare, and healing minor cuts and abrasions. Add to your favorite diffuser, DIY candles, or homemade natural cleaning products to cleanse and brighten any room in your home. You can also experience hyssop benefits for skin by diluting with a carrier oil. (Learn about dilution rates here.)
When used as aromatherapy, the vibrant scent of Hyssop Oil may help improve concentration, boost energy, and provide natural relief from anxiety and depression. Try adding a few drops to a warm bath to help you unwind at the end of a long day, or apply to aromatherapy jewelry to feel more grounded and uplifted wherever you go. 
Dilute with a carrier oil for topical use or add to DIY massage oils and muscle rubs.
Hyssop benefits for skin may include reducing redness, inflammation, and healing acne, eczema, and psoriasis.
Use topically on minor cuts and scrapes as a natural antibiotic salve to help prevent infection, increase healing time, and reduce scarring.
Add 2-3 drops to shampoo or conditioner to balance scalp pH and reduce excess oil. May help reduce hair loss, promote stronger follicles and thicker hair growth, and reduce dandruff.
Rub diluted Hyssop Oil onto the abdomen and chest to support the body's respiratory system and better digestion. May help promote better lung health and reduce abdominal cramping, bloating, and constipation.
Diffuse for aromatherapy benefits, yoga, and deeper meditation.
Add to DIY household cleaners to experience natural antibacterial benefits. Helps neutralize odors and kill germs naturally.
Happy Hyssop Room Spray
Experience the uplifting aroma of hyssop in your home or office with this refreshing and naturally antimicrobial room spray that neutralizes odors.
20-30 drops Hyssop Essential Oil
½ cup distilled water
½ cup white vinegar
Instructions: Combine all ingredients in a small spray bottle or mister bottle. Shake well, then spritz as needed. Shake again before each use. You can refill the water and vinegar 2-3 times before adding extra oil.
Botanical Name: Hyssopus officinalis
Country of Origin: Spain
Extraction Method: Steam Distilled
Plant Part: Leaves and Flowers
Aroma: Fresh, Herbaceous, Woody
Consistency: Oily Liquid
Blends Well With: Lemon, Rosemary, Lavender, Ginger Root, Sandalwood, Rose, Peppermint, Ylang Ylang
Popular Hyssop Essential Oil Blends: Balance, Fortify, and DNA Harmony
Keep out of reach of children. Not recommended for use during pregnancy or while breastfeeding. Always dilute in a carrier oil and patch test before topical use. (Click here to learn about dilution rates.)
Practice safe diffusing:
Diffuse in an open, well-ventilated area.
Keep children and pets out of the direct line of mist.
Diffuse for up to 10 minutes with ample break periods for safe and effective use.
Your trust and confidence matter to us. As part of our S.A.A.F.E. Promise™, Rocky Mountain Oils provides GC/MS (Gas Chromatography/Mass Spectrometry) test results from a verified, third-party, independent lab for every essential oil in our line.
GC/MS tests verify the purity and quality of our essential oils, so you can be sure you're using the safest, highest-quality products available today.
GC/MS Test: Click Here
For batch-specific GC/MS test, click here.
Hyssop Essential Oil - 15ml FAQ
What are some Hyssop Essential Oil benefits?

Hyssop Essential Oil

benefits

include skincare, haircare, increased mental clarity and balance, immune system support, digestive system support, lung health, and aromatherapy. Add to natural cleaning products for antimicrobial and antifungal benefits.

Can I use Hyssop Oil for skin?

Yes, Hyssop Oil can be used topically on the skin when properly diluted in a carrier oil.

Click here

to learn more about proper dilution rates. Hyssop Oil may help treat acne, eczema, psoriasis, as well as dry and itchy skin.

Can I use Hyssop Oil for hair?

Hyssop Oil may help control dandruff, reduce excess hair fall, and promote shinier, thicker hair. Add 2-3 drops of Hyssop Essential Oil to your shampoo or condition, or use in a deep moisturizing DIY hair mask.

What are some common spiritual uses for Hyssop Oil?

Hyssop Oil is believed to be a potent spiritual oil, used for cleansing energy and protecting against negativity. Hyssop Oil can be used alongside spiritual practices like prayer, meditation, energy healing, affirmations, and more.