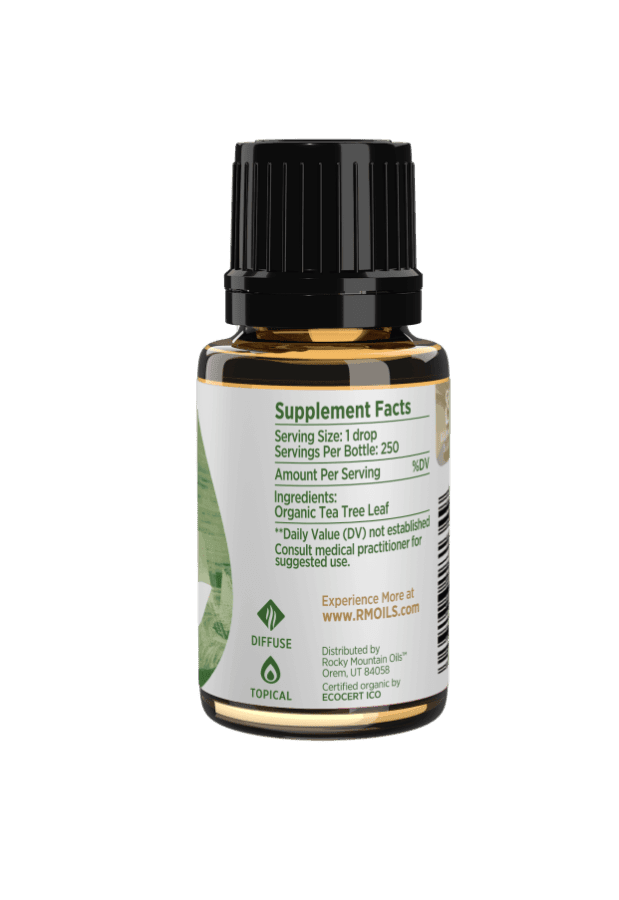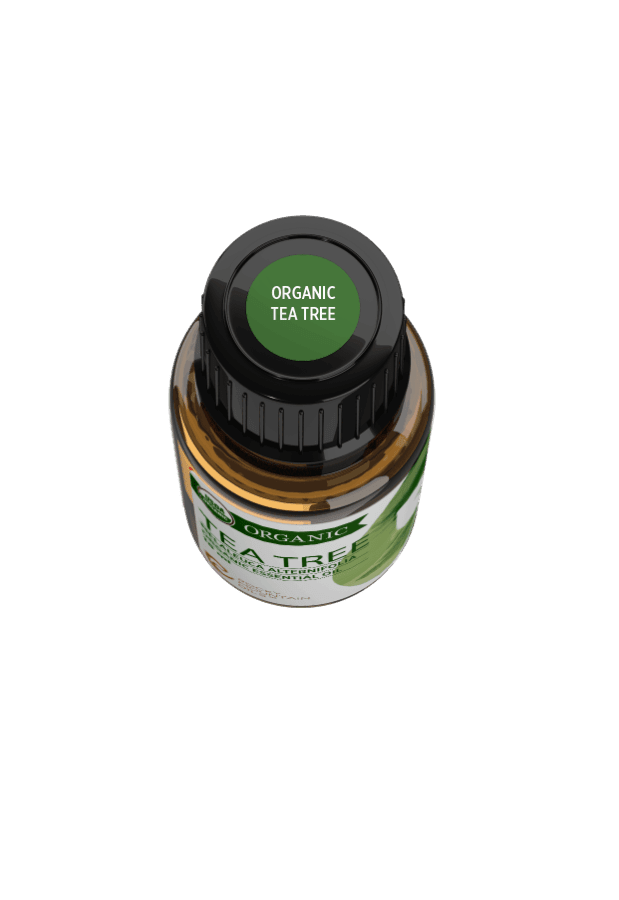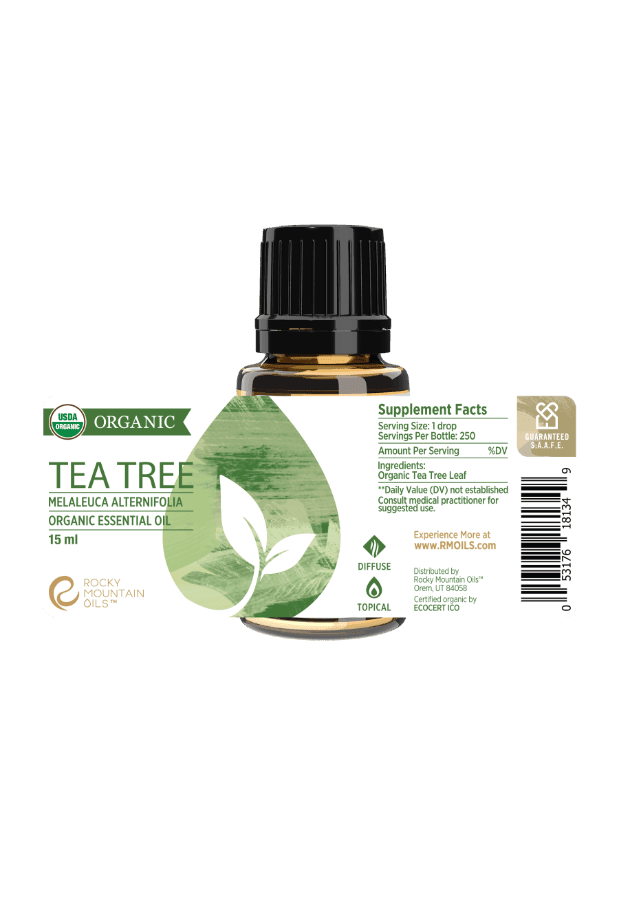 Organic Tea Tree Essential Oil
GC/MS
TESTING
90 DAY
RETURNS
100% RECYCLED
PACKAGING
S.A.A.F.E
PROMISE
Sanitize and soothe with the natural healing power of Organic Tea Tree Essential Oil. This pure, organic essential oil is a rich source of plant-based bioactive compounds, which provide antiseptic, antifungal, and anti-inflammatory benefits. It's a must-have oil for skincare, home cleaning products, first aid, and more.
Rocky Mountain Oils' Organic Tea Tree oil is steam distilled from the leaves of the Melaleuca alternifolia bush, which is native to Australia and has been used for generations in traditional medicine. It presents a bright, herbaceous aroma that smells clean and uplifting, with a top-middle fragrance note that offers a hint of cooling menthol and soothing eucalyptus. 
Organic Tea Tree essential oil is high in terpenoids, a class of natural phytochemicals that are antiviral, antibacterial, and antioxidant. Thanks to these terpenoids, organic Tea Tree helps reduce inflammation and support the immune system. It helps treat chronic pain, swelling, joint stiffness, minor wounds, and strains and sprains. Additionally, organic Tea Tree oil helps with respiratory illness and congestion.
Try diffusing this essential oil to help boost your immunity against colds, flu, and other viruses, or dilute it with a carrier oil and massage into the soles of the feet. Other organic Tea Tree essential oil benefits include repelling insects, purifying the air, and reducing anxious thoughts. 
Click here to learn more about Organic Tea Tree Oil for skin and more.
---
The statements contained herein have not been evaluated by the Food and Drug Administration. Neither Rocky Mountain Oils nor its products are intended for the purpose of diagnosing, treating, curing or preventing any disease. If you are pregnant, nursing, taking medication, or have a medical condition, consult your physician before using these products.
Dilute with a carrier oil and apply topically to heal acne, psoriasis, eczema, bug bites, fungal infections like athlete's foot and toenail fungus, sunburns, allergy rashes, and other skin irritations or minor injuries.
Diffuse to sanitize and purify the air in your space against germs, allergens, mold spores and fungi, and other environmental pollutants.
Diffuse or apply topically with a carrier oil to the upper chest to open congested airways, breathe more easily, and support respiratory health.
Dilute with a carrier oil or add a few drops to your regular shampoo or conditioner to naturally treat dandruff, control excess oil (sebum) production, heal dry or irritated scalp, repair damaged hair, and promote new hair growth.
Mix with water or white vinegar to make an all-purpose home cleaner for floors, counter tops, windows, or other surfaces.
Add a few drops to your laundry to help deep-clean and eliminate odor-causing bacteria.
Use for DIY bug sprays, hand sanitizers, soaps, candles, first aid roll-ons, and more.
Organic Tea Tree Oil Bug Spray
Don't let mosquitoes or other annoying insects ruin your outdoor fun! Try this all-natural, DEET-free bug spray using organic Tea Tree oil for skin.
5-10 drops Organic Tea Tree
4 oz. Distilled Water
Instructions: Add oil and water to a clean 4oz. spray bottle and shake well to combine. Shake again before each use. Gently spray onto exposed skin, clothes, or hair to before going outside to keep insects from biting. Spray again as often as needed. (Note: Avoid spraying into eyes, nose, mouth, or other sensitive areas.)
Botanical Name: Melaleuca alternifolia
Country of Origin: Australia
Extraction Method: Steam Distilled
Plant Part: Leaf
Aroma: Menthol, Herbal
Consistency: Thin
Blends Well With: Nutmeg, Ravintsara, Myrtle, Lavender, Lemon, Clove Bud, Basil, Eucalyptus, Frankincense, and Rosemary
Popular Organic Tea Tree Collections: Organic Essential Oil Kit
May cause irritation in its pure form. Always dilute with a carrier oil and patch test prior to extensive topical use. Do not use if pregnant or breastfeeding. Keep out of reach of children and pets.
Safe to use topically with children ages 2 and up when diluted to a .5-2% dilution rate. Click here to learn more about using essential oils for kids.
Practice Safe Diffusing:
Diffuse in an open, well-ventilated area.
Keep children and pets out of the direct line of mist.
Diffuse in 30-60 minute intervals with ample break periods.
Your trust and confidence matter to us. As part of our S.A.A.F.E. Promise™, Rocky Mountain Oils offers GC/MS (Gas Chromatography/Mass Spectrometry) test results verified by a third-party, independent lab for every essential oil and essential oil blend in our catalog.
GC/MS tests verify the purity and quality of all Rocky Mountain Oils products, so you can be sure you're using the safest, highest-quality essential oils available on the market.
GC/MS Test: Click Here
For batch-specific GC/MS tests, click here.
Organic Tea Tree Essential Oil FAQ
What does organic Tea Tree essential oil smell like?

Organic Tea Tree oil has a clean, sharp, medicinal aroma that's herbal and has a slightly cooling, menthol-like undertone. The scent is reminiscent of Eucalyptus, but gentler and less camphorous.

Can you use Tea Tree essential oils for skin?

Yes! Many people use organic Tea Tree oil for skin care, healing minor cuts and abrasions, and more. Thanks to its powerful antiseptic, antifungal, and anti-inflammatory properties, organic Tea Tree oil helps sanitize and prevent infection while healing skin. Use it for acne and blemishes, bug bites, dry skin, inflammation, swelling, rashes, and more. However, pure organic Tea Tree can be very strong, so it's important to dilute this essential oil in a carrier oil prior to topical use. Click here to learn about dilution rates.

Does organic Tea Tree Essential oil keep away bugs?

Yes! Organic Tea Tree essential oil can be used as a natural, DEET-free insect repellent to keep away pesky bugs like mosquitoes, flies, ticks, fleas, spiders, and more. Although we enjoy the clean, crisp aroma of Tea Tree, bugs can't stand it and will stay away. Try diffusing organic Tea Tree essential oil on your patio, deck, or camping site for outdoor fun without the pests. You can also use this essential oil to make DIY bug-off candles or dilute with water and spray on skin, clothes, and hair.

Is it safe to clean with organic Tea Tree oil around pets?

Organic Tea Tree essential oil may be toxic to pets if ingested. If you are using this oil in a home cleaning product, make sure to keep your dogs, cats, and other animals away from the area until the product has been wiped away, rinsed off, and completely evaporated. Do not use Tea Tree oil cleaning products on any items that your pet may chew or lick.

If diffusing, keep the diffuser away from your pet's bed, food and water bowls, litter box, crate, or other common areas and do not allow your pet near the direct line of mist. Always diffuse in an open, well-ventilated area with plenty of airflow.