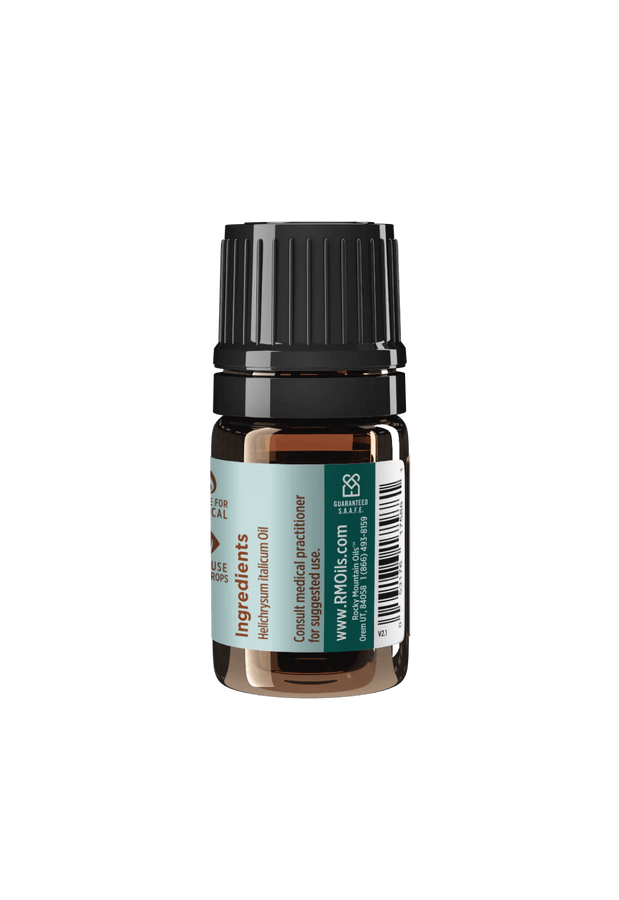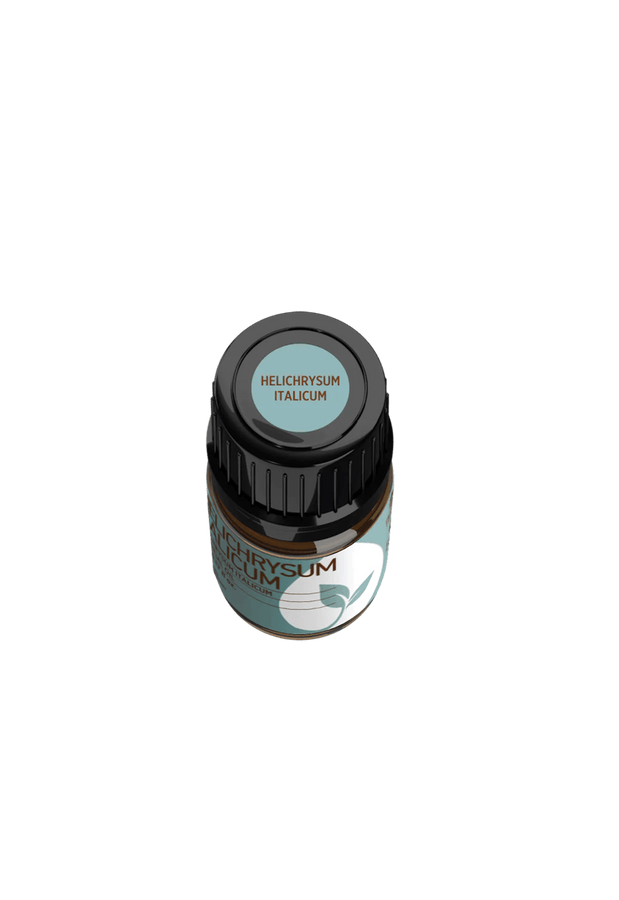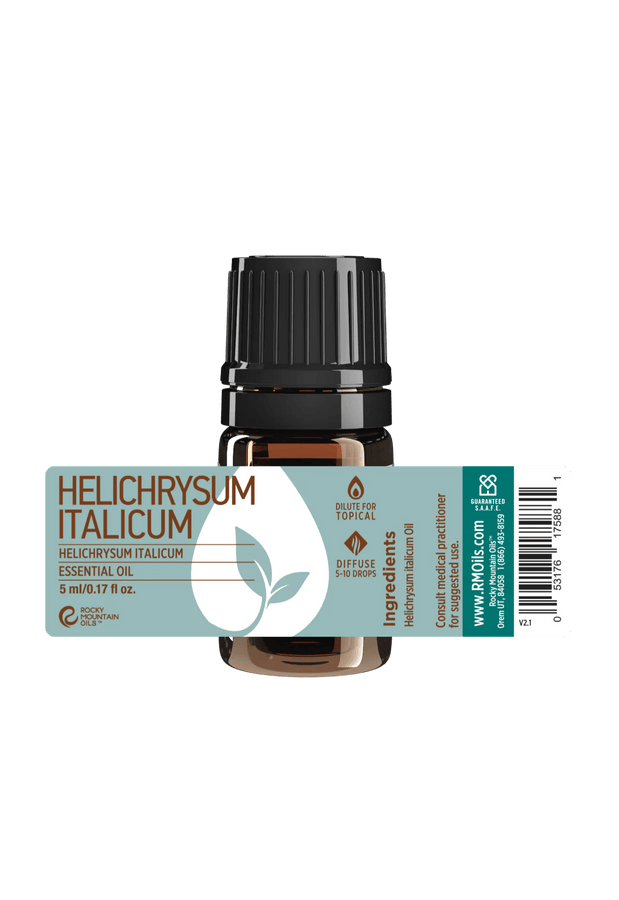 Helichrysum italicum Essential Oil - 5ml
GC/MS
TESTING
90 DAY
RETURNS
100% RECYCLED
PACKAGING
S.A.A.F.E
PROMISE
Relieve pain and calm your nerves with Helichrysum italicum Essential Oil. Also known as Immortelle, Everlasting Flower, or Curry Plant, Helichrysum italicum is steam distilled from the flowers and leaves of its namesake plant that grows in the Mediterranean. 
Helichrysum italicum presents a deep floral aroma that's herbal, earthy, and similar to black licorice. It's a rich source of terpenes, flavenoids, and analgesic compounds that promote skin healing and reduce inflammation. These unique natural benefits make Helichrysum italicum a powerful oil for home remedies and first aid.
Use it topically by diluting with a carrier oil, then massage it into the skin to reduce inflammation and relieve pain from stiff joints, sore muscles, and headaches. For skincare and beauty, apply with clean fingers or a cotton pad to tone the skin, deep-clean pores, and reduce acne. You can also combine with Lavender Essential Oil for a soothing after-sun moisturizer.
For aromatherapy, diffuse Helichrysum italicum or use in a room spray to achieve a grounding effect. This essential oil helps support the central nervous system and calms stress, tension, and anxious thoughts. It also helps purify the air in your space.
"Learn why Helichrysum italicum Essential Oil is Michael & Phoenix's favorite product"
---
The statements contained herein have not been evaluated by the Food and Drug Administration. Neither Rocky Mountain Oils nor its products are intended for the purpose of diagnosing, treating, curing or preventing any disease. If you are pregnant, nursing, taking medication, or have a medical condition, consult your physician before using these products.
Dilute with a carrier oil and use as a topical analgesic to numb pain and reduce swelling, or apply to minor wounds to prevent infection and speed up healing time.
Add 1-2 drops to your daily moisturizer to promote collagen production and skin cell rejuvenation for younger-looking skin, while also treating acne and blemishes.
Dilute with carrier oil to use as a makeup remover and toner.
Diffuse to neutralize odor-causing bacteria in the air, remove allergens and pollutants, and create a calming environment.
Rub into the soles of the feet to absorb healing compounds to balance the central nervous system, support immune function, and support the body's ownl healing abilities.
Add 1-3 drops to a warm bath for a soothing soak to reduce inflammation and release tension.
Apply to the forehead and temples (with carrier oil) to relieve migraine and headache pain.
Swell No More Balm
Get natural relief from swollen joints and inflammation with this soothing balm.
Instructions: Blend oils together in a small bowl, then warm between your hands and massage into the affected area as often as needed for soothing relief.
Botanical Name: Helichrysum italicum
Country of Origin: Croatia/Madagascar/Italy*
Extraction Method: Steam Distilled
Plant Part: Flowers and Leaves
Aroma: Herbal, Earthy
Consistency: Thin
Blends Well With: Basil, Black Cumin, Black Pepper, Cedarwood, Frankincense Serrata, Lavender, Lemon, Peppermint, Wintergreen
Popular Helichrysum italicum Blends: Nerve Support, Migraine Support, Joint Support, Revitalize
*Some of our oils have multiple countries of origin. To confirm the country of origin for your specific bottle of oil, please consult its GC/MS test here.
For external use only. Do not ingest. Always dilute in a carrier oil and patch test prior to extensive topical use. Click here to learn more about dilution rates.
Safe to use topically with children ages 7 months and older. Dilute to a .5-1% dilution rate for topical application. Click here to learn more about using essential oils for kids.
Tips for Safe Diffusing:
Diffuse in an open, well-ventilated area.
Keep children and pets out of the direct line of mist.
Diffuse in 30-60 minute intervals with ample break periods.
Your trust and confidence are very important to us. As part of our S.A.A.F.E. Promise™, Rocky Mountain Oils offers GC/MS (Gas Chromatography/Mass Spectrometry) test results verified by a third-party, independent lab for every essential oil and essential oil blend in our catalog.
GC/MS tests verify the purity and quality of all Rocky Mountain Oils products, so you can be sure you're using the safest, highest-quality essential oils available on the market.
GC/MS Test: Click Here
For batch-specific GC/MS tests, click here.
Helichrysum italicum Essential Oil - 5ml FAQ
What is the difference between Helichrysum italicum and Helichrysum essential oil?

When it comes to Helichrysum oil, the two most popular varieties are Helichrysum italicum and Helichrysum gymnocephalum. Both oils are derived from the flowers and leaves of shrubs in the Asteraceae family. However, each variety has different plant compounds that confer different Helichrysum essential oil benefits. Helichrysum italicum is more powerful as a topical analgesic for pain relief, while Helichrysum gymnocephalum offers more benefits for respiratory health and has a more menthol-like aroma.

What is Helichrysum italicum or other Helichrysum Essential Oil used for?

These essential oils are used for reducing inflammation and joint pain, soothing sore muscles, releasing tension, natural analgesic, first-aid, skincare, haircare, wound care, supporting the nervous system, and more.

How do I use Helichrysum italicum oil?

To use Helichrysum italicum essential oil, add a few drops to your favorite diffuser and allow it to fill your space with a deeply relaxing, healing aroma. For topical use, dilute with a carrier, then massage topically into any areas where you feel pain, stiffness, or inflammation. You can also rub it into the soles of the feet to support your nervous system or use as a natural skin toner and makeup remover.

Can you ingest Helichrysum italicum or other varieties of Helichrysum Essential Oil?

No. Like all essential oils, Helichrysum italicum and other Helichrysum varities are for diffusing and external use only. It should never be ingested. Like all essential oils, keep out of reach of children and pets to avoid accidental ingestion.