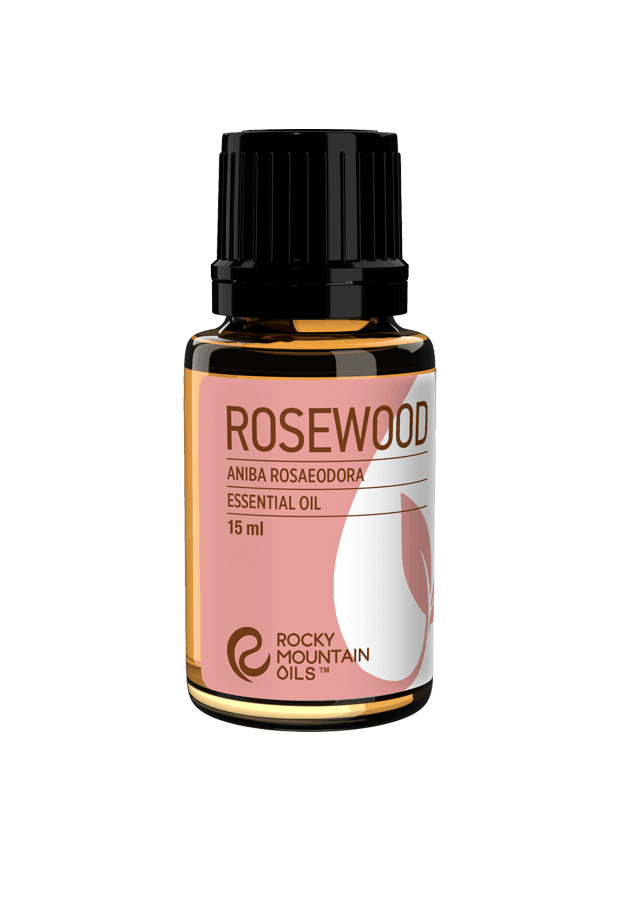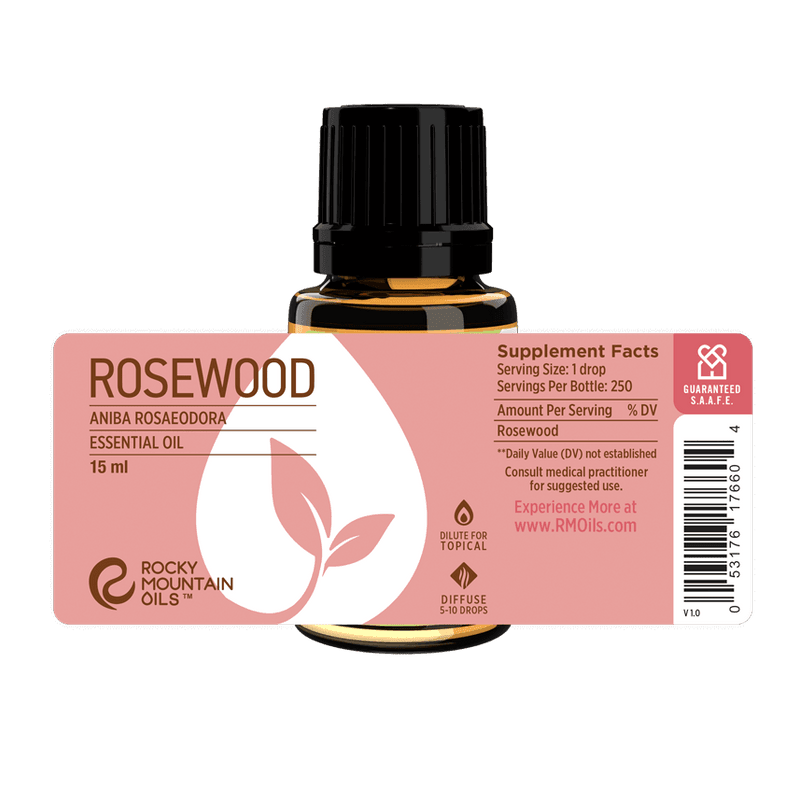 Rosewood Essential Oil
GC/MS
TESTING
90 DAY
RETURNS
100% RECYCLED
PACKAGING
S.A.A.F.E
PROMISE
Balance and heal your skin with Rosewood Essential Oil. Also known as Brazilian Rosewood Oil or Rosewood Tree Oil, it's steam distilled from the wood of the Aniba rosaeodora tree and presents with a medium-strength aroma that's woody, slightly floral, camphorous, and peppery.
This essential oil is rich in a natural compound called linalool which has powerful anti-inflammatory and antibacterial properties. Rosewood is safe for all skin types, non-comedogenic (won't clog pores), and promotes faster cellular regeneration. This makes it a perfect oil for use in skincare and beauty products.
Rosewood essential oil skin benefits include toning, brightening, hydrating, and reducing the appearance of scars, fine lines, and discoloration. Add 1-2 drops to your favorite moisturize or dilute in a carrier oil, then gently dab onto the skin for a more youthful, glowing complexion.
Other Rosewood Essential Oil benefits include aromatherapy, boosting the immune system, supporting digestion and lung health, and soothing pain or stiffness from inflammation. Diffuse or gently inhale this rich aroma to feel more relaxed and grounded, while drawing inspiration from nature to deepen meditation. It's also great for DIY deodorants, sanitizers, and other household cleaning products.
---
The statements contained herein have not been evaluated by the Food and Drug Administration. Neither Rocky Mountain Oils nor its products are intended for the purpose of diagnosing, treating, curing or preventing any disease. If you are pregnant, nursing, taking medication, or have a medical condition, consult your physician before using these products.
Use in a personal diffuser, a room spray, or simply inhale the deep, woody, slightly sweet aroma to feel calm and uplifted.
Dilute with a carrier oil and apply topically to reduce irritation, prevent infection, and help heal minor wounds and bug bites.
Add to DIY cosmetics or skincare to tone, brighten, and fade acne scars, sun spots, age spots, and other blemishes. Rosewood Essential Oil Skin benefits include balancing the skin and reduce excess sebum (oil).
Use in haircare products to control dandruff, slow hair loss, heal dry, damaged hair and split ends, and encourage new hair growth.
Blend with a carrier oil and massage into the bottoms of the feet to promote a stronger immune system, digestive system, and respiratory system.
Use as a relaxing massage oil to soothe stiff, aching muscles and release stress and anxiety.
Add to homemade deodorant, soap, candles, and cleaning products for freshness and elimination of odor-causing bacteria.
Sweet Hair Conditioner
Hydrate your hair and balance your scalp for shinier, softer, fuller locks with this all-natural hair conditioner that's safe for daily use.
Instructions: Add oils to the conditioner and shake well to combine. Shake again before each use. Apply to your hair after you shampoo, let it sit for five minutes, then rinse out.
Botanical Name: Aniba rosaeodora
Country of Origin: Brazil
Extraction Method: Steam Distilled
Plant Part: Wood
Aroma: Sweet, Floral, Woody
Consistency: Thin to Medium
Blends Well With: Bergamot, Cinnamon Bark, Jasmine, Lavender, Lemon, Orange, Peppermint, Sandalwood, Ylang Ylang
Popular Rosewood Oil Blends: Aligning, Crown Chakra, Baby Skin, Balance
Always dilute in a carrier oil and patch test prior to extensive topical use. Do not use if pregnant or breastfeeding. Keep out of reach of children and pets.
Safe to use topically with children 2 years of age and older. Dilute to a .5-2% dilution rate for topical application. Click here to learn more about using essential oils for kids.
Practice safe diffusing:
Diffuse in an open, well-ventilated area.
Keep children and pets out of the direct line of mist.
Diffuse in 30-60 minute intervals with ample break periods for safe and effective use.
Your trust and confidence are very important to us. As part of our S.A.A.F.E. Promise™, Rocky Mountain Oils offers GC/MS (Gas Chromatography/Mass Spectrometry) test results verified by a third-party, independent lab for every essential oil and essential oil blend in our catalog.
GC/MS tests verify the purity and quality of all Rocky Mountain Oils products, so you can be sure you're using the safest, highest-quality essential oils available on the market.
GC/MS Test: Click Here
For batch-specific GC/MS tests, click here.
Rosewood Essential Oil FAQ
What is Rosewood Essential Oil used for?

Rosewood Oil is used for aromatherapy, skincare and cosmetics, haircare, wound care, strengthening the immune system, promoting better digestion, supporting lung health, and more.

What does Rosewood Oil smell like?

The aroma of Rosewood Oil is rich and deep. It is woody, camphorous, sweet, and slightly floral with a note of pepper. This essential oil blends well with Bergamot, Cinnamon Bark, Jasmine, Lavender, Lemon, Orange, Peppermint, Sandalwood, and Ylang Ylang.

What are some Rosewood Essential Oil benefits for hair?

Rosewood benefits for hair include controlling excess oil, reducing dryness and irritation of the scalp, treating dandruff, slowing hair loss, and promoting new hair growth. It can also be used to repair damaged hair, smooth frizzy flyaways, and prevent split ends.

What are some Rosewood Oil benefits for skin?

Rosewood Oil benefits for skin come from its natural anti-inflammatory compounds, which also supports healing and generate new cells. It's also safe for all skin types and won't clog pores. Use it for toning, brightening, fading scars, reducing the appearance of fine lines and wrinkles, treating acne, healing blemishes, and more.

Where can you get Rosewood Oil that's legal and sustainable?

Rosewood is a protected species. Unfortunately, some companies have procured Rosewood illegally or in a manner that is unsustainable. However, Rocky Mountain Oils works closely with our suppliers to ensure our Brazilian Rosewood Oil is legally sourced and harvested sustainably, with proper certifications in place. We suggest that you use these treasured oils conservatively and with respect. Click here to learn more.