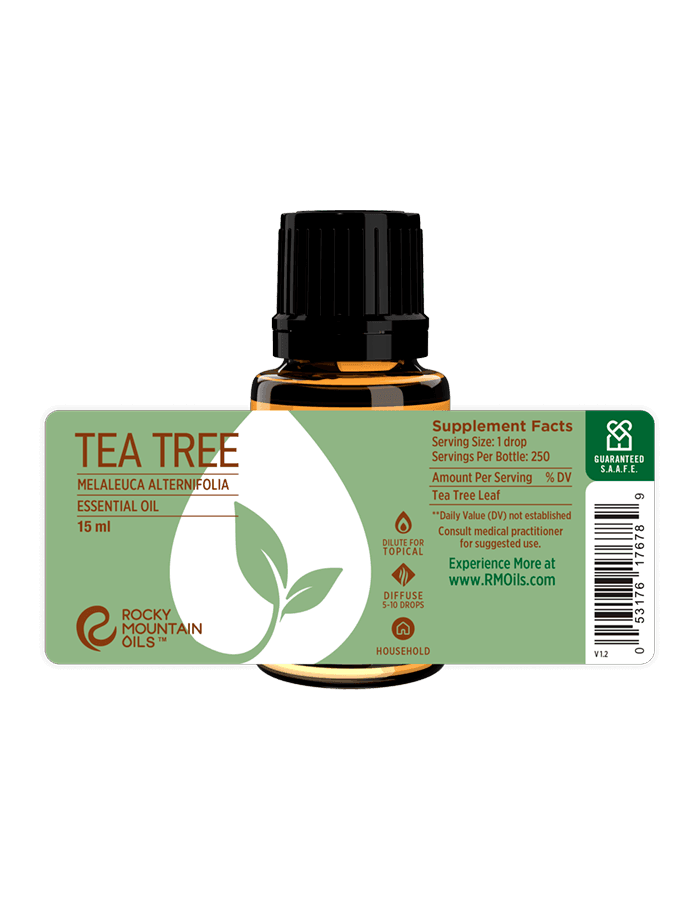 Tea Tree Essential Oil - 15ml
GC/MS
TESTING
90 DAY
RETURNS
100% RECYCLED
PACKAGING
S.A.A.F.E
PROMISE
Soothe, sanitize, and support your health with Tea Tree Essential Oil. This pure essential oil is rich in powerful anti-inflammatory compounds and possesses antiseptic properties, which makes it an excellent choice for first aid, skincare, cleaning products, and aromatherapy.
Steam distilled from the leaves of the Melaleuca alternifolia that's native to Australia, Tea Tree presents a crisp, clean, herbaceous aroma with a bright top-middle fragrance note and a hint of cooling menthol. Thanks to its intrinsic medicinal properties, there's a wide range of Tea Tree essential oil uses to meet many needs.
Tea Tree contains natural phytochemicals called terpenoids, which are antiviral, antibacterial, and antifungal. It eases body aches and stiff joints, promotes faster recovery time and wound healing, and provides relief from upper respiratory symptoms like congestion. Try diffusing this essential oil to boost your immune system.
For topical use, dilute with a carrier oil and dab on pulse points, massage into the bottoms of the feet, or apply directly to the skin. Other Tea Tree essential oil benefits include repelling insects, purifying the air, and reducing anxious thoughts.
The statements contained herein have not been evaluated by the Food and Drug Administration. Neither Rocky Mountain Oils® nor its products are intended for the purpose of diagnosing, treating, curing, or preventing any disease. If you are pregnant, nursing, taking medication, or have a medical condition, consult your physician before using these products.
Diffuse to promote relaxation, purify the air in your home or office, and support respiratory health. Inhaling Tea Tree essential oil can help clear congested airways and promote better breathing.
Dilute and topically apply 1-3 drops to the skin to heal acne, psoriasis, eczema, bug bites, and prevent infections in small wounds.
Add 1-2 drops to your regular shampoo or conditioner to balance scalp pH, reduce dandruff, and promote new hair growth by stimulating follicles and increasing blood flow to the roots of your hair.
Dilute with a carrier oil and use to treat fungal infections like Athlete's Foot and toenail fungus.
Mix with water or white vinegar and use as a natural cleaning solution for surfaces and laundry, or add to a roll-on or small spray bottle to make a DIY hand sanitizer.
Tea Tree Foot Soak
Soothe your tired, aching feet while supporting your immune system and reducing inflammation with this natural foot soak that offers Tea Tree essential oil benefits.
5-10 drops Tea Tree Essential Oil
Foot bowl or basin
Warm water
Instructions: Add oil and water, then soak your feet for 10-15 minutes to relax your muscles and help treat and prevent fungal infections.
Botanical Name: Melaleuca alternifolia
Country of Origin: Australia/South Africa*
Extraction Method: Cold Pressed
Plant Part: Leaf
Aroma: Menthol, Herbal
Consistency: Thin
Blends Well With: Nutmeg, Ravintsara, Myrtle, Lavender, Lemon, Clove Bud, Basil, Eucalyptus, Frankincense, and Rosemary
Popular Tea Tree Blends: First Aid, Purify
*Some of our essential oils have multiple countries of origin. To determine the origin of your bottle of essential oil, click here for batch-specific GC/MS test.
May cause irritation in its pure form. Always dilute with a carrier oil and patch test prior to extensive topical use. Do not use if pregnant or breastfeeding. Keep out of reach of children and pets.
Safe to use topically with children ages 2 and up when diluted to a .5-2% dilution rate. Click here to learn more about using essential oils for kids.
Safe Diffusing Tips:
Diffuse in an open, well-ventilated area.
Keep children and pets out of the direct line of mist.
Diffuse in 30-60 minute intervals with ample break periods.
Your trust and confidence matter to us. As part of our S.A.A.F.E. Promise™, Rocky Mountain Oils offers GC/MS (Gas Chromatography/Mass Spectrometry) test results verified by a third-party, independent lab for every essential oil and essential oil blend in our catalog.
GC/MS tests verify the purity and quality of all Rocky Mountain Oils products, so you can be sure you're using the safest, highest-quality essential oils available on the market.
GC/MS Test: Click Here
For batch-specific GC/MS tests, click here.
Tea Tree Essential Oil - 15ml FAQ
What does Tea Tree essential oil smell like?

While some may think Tea Tree oil would smell like green or black tea, this essential oil is derived from a completely different plant! Tea Tree oil has a sharp, clean scent that's herbaceous and slightly menthol-like. It is similar to Eucalyptus but milder and less woody.

What does Tea Tree essential oil do?

Thanks to its powerful antiseptic properties, Tea Tree is a versatile essential oil that helps with a wide variety of natural healing. It's great for cleaning and preventing infections in minor cuts, burns, and abrasions, and is also used in skincare, haircare, home cleaning products, and more.

Is Tea Tree essential oil good for hair?

Yes, Tea Tree is highly effective in treating scalp conditions like dandruff, itchy scalp, and fungal infections. It can also help to unclog hair follicles, which can improve the health of the scalp and promote hair growth. Try using it in a natural hair mask for deep conditioning to help nourish and repair dry, brittle hair.

Is it safe to clean with Tea Tree oil around pets?

If you are using a cleaning product with Tea Tree oil, make sure to keep your pets away from the area until all oils have been wiped away, rinsed off, or evaporated. Do not allow your dog or cat to ingest Tea Tree oil. If your pet licks a surface or chews an object that has been recently exposed to this essential oil, monitor them closely for signs of physical distress and consult your veterinarian if needed.