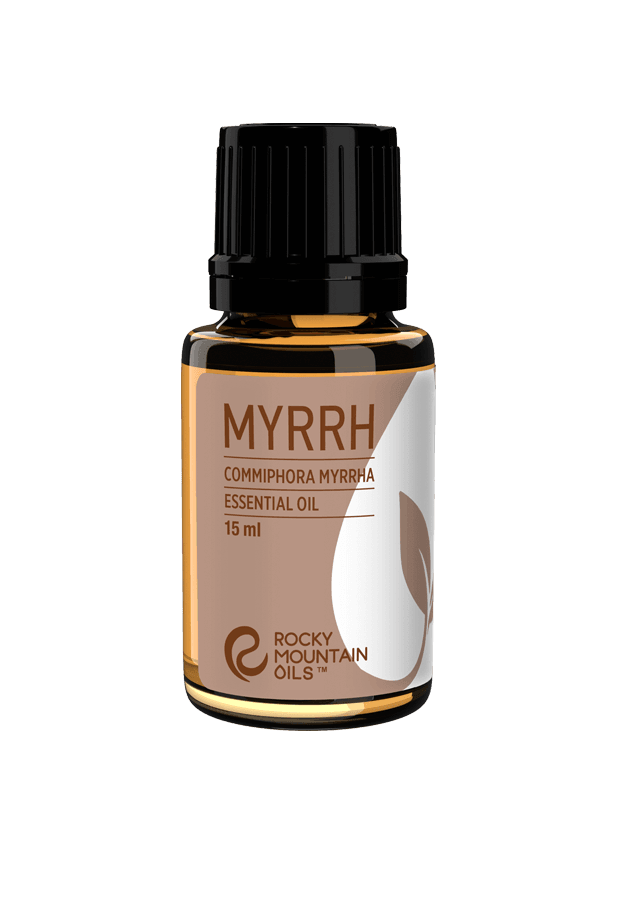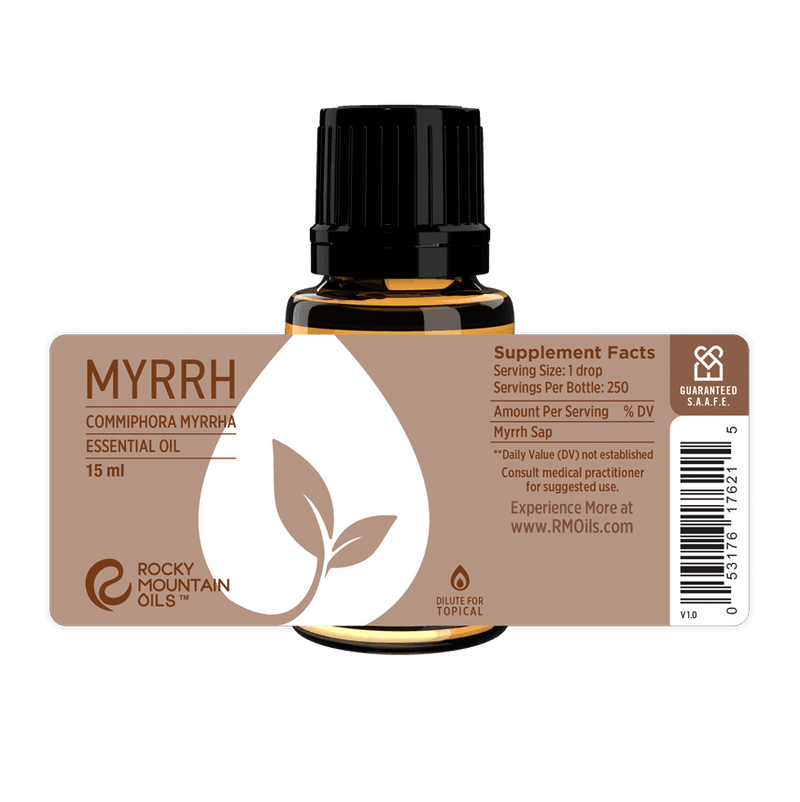 Myrrh Essential Oil
GC/MS
TESTING
90 DAY
RETURNS
100% RECYCLED
PACKAGING
S.A.A.F.E
PROMISE
Relax your body and soothe your soul with Myrrh Essential Oil. Also known as African Myrrh, Herabol Myrrh, Somali Myrrhor, or Common Myrrh, this essential oil has a rich history in traditional medicine and spiritual practices. Its aroma is woody, earthy, warm, and slightly balsamic.
Myrrh essential oil offers a range of advantages, including its anti-inflammatory, antimicrobial, and antifungal characteristics. Incorporating Myrrh into your routine can aid in the restoration of muscles, the promotion of nerve health, and the mitigation of oxidative stress triggered by free radicals. Additionally, the captivating aroma of this essential oil not only has the ability to soothe the mind and alleviate feelings of depression but also raises questions like "What does myrrh smell like?" due to its intriguing fragrance.
Other Myrrh essential oil uses include DIY haircare, skincare, and natural beauty. When applied topically with a carrier oil, Myrrh reduces the appearance of fine lines and wrinkles while toning and brightening skin. For haircare, it helps de-tangle, repairs damage caused by over-washing or chemical treatments, and stimulates new hair growth.
Try using Myrrh oil for aromatherapy to inspire creativity, passion, and spirituality. This essential oil is great for yoga, meditation, prayer, sound baths, and energy healing. It's also an excellent aroma to ground and uplift when you need relief from the stress of daily life.
Myrrh Essential Oil is part of Rocky Mountain Oils Skin Care and Mood collections.
---
The statements contained herein have not been evaluated by the Food and Drug Administration. Neither Rocky Mountain Oils nor its products are intended for the purpose of diagnosing, treating, curing or preventing any disease. If you are pregnant, nursing, taking medication, or have a medical condition, consult your physician before using these products.
Diffuse to promote emotional balance, reduce stress and anxiety, and purify the air against harmful bacteria, allergens, and other environmental pollutants.
Dilute with a carrier oil, or add a few drops to your regular shampoo or conditioner, then apply to the scalp to control dandruff and promote thicker, shinier, healthier hair.
Use to reduce inflammation of the skin and heal minor wounds, cuts, burns, bug bites, and abrasions. Also great for DIY skincare products.
Diffuse or apply topically as a soothing chest balm to support respiratory health, calm coughing, and clear congestion.
Add a few drops to a warm bath to soak away sore muscles and relieve tension held in the body. Helps relieve digestive issues like cramps and bloating.
Use to deepen your meditation practice, create a spiritual atmosphere, and enhance yoga and energy work.
Myrrh Immune Boosting Diffuser Blend
This soothing blend of Myrrh essential oil uses Frankincense and Lemon to enhance its immunity-boosting properties and help purify the air in your space against germs that cause infection.
3 drops Myrrh
3 drops Frankincense Serrata
3 drops Lemon
Instructions: Add all oils to your favorite essential oil diffuser, then diffuse for 30-60 minutes to freshen and deodorize the air and help boost immunity.
Botanical Name: Commiphora myrrha
Country of Origin: Somalia
Extraction Method: Steam Distilled
Plant Part: Resin
Aroma: Woodsy, Earthy
Consistency: Medium to Thick
Blends Well With: Cedarwood, Cucumber Seed, Frankincense Serrata, Lavender, Neroli, Rose, Sandalwood, Ylang Ylang
Popular Myrrh Blends: The Secret, Lymph Support, Joyful Moments, Skin Tone, DNA Harmony
Always dilute prior to topical application. Avoid contact with mucous membranes, eyes, and the inside of the mouth, nose, and ears. Do not ingest. Do not use while pregnant or breastfeeding.
Kids Safety: Safe to use topically with children ages 7 months and up. Dilute to a .5-1% dilution rate for topical application.
Tips for Safer Diffusing:
Diffuse in an open, well-ventilated area.
Keep children and pets out of the direct line of mist.
Diffuse in 30-60 minute intervals, with ample break periods for safe and effective use.
At Rocky Mountain Oils, your trust and confidence matter to us. As part of our S.A.A.F.E. Promise™, we offer third-party verified GC/MS (Gas Chromatography/Mass Spectrometry) test results from an independent lab for every essential oil and blend in our line.
GC/MS tests verify the purity and quality of our essential oils, so you can be sure you're using the safest, highest-quality essential oils available today.
GC/MS Test: Click Here
For batch-specific GC/MS tests, click here.
Myrrh Essential Oil FAQ
What does Myrrh smell like?

Myrrh has an earthy, woody, camphorous aroma that is similar to Frankincense, but richer and more herbal. It has hints of black licorice, spruce, and citrus. Inhaling the scent of Myrrh evokes a feeling of calm serenity and calls to mind a quiet, natural space like a secluded forest.

Are there Myrrh essential oil skin benefits?

Myrrh essential oil benefits include healing properties for the skin. It promotes cellular regeneration and boosts collagen production for smoother, firmer, more youthful skin, while reducing inflammation to soothe irritation. Try diluting Myrrh with a carrier oil, then apply topically as a hydrating toner that deep cleans, fades scars, reduces discoloration and wrinkles, and more.

Is Myrrh oil good for sleep?

Yes! Myrrh essential oil has a deeply relaxing aroma that helps release tension in the body and quiet the mind. When diffused or used as a topical massage oil before bedtime, Myrrh can help you fall asleep faster and sleep more deeply. It also reduces tossing and turning, reduces the likelihood that you'll wake up in the middle of the night, and may promote lucid dreaming.

What are the spiritual benefits of Myrrh oil?

Myrrh essential oil benefits the spirit by clearing negative energy, strengthening the aura, and enhancing intuition and wisdom. Meditating with Myrrh essential oil can help you connect more deeply with your innermost self and see the world from a higher perspective. Myrrh also helps balance your chakras, aligns your energy meridians, and promotes emotional healing.