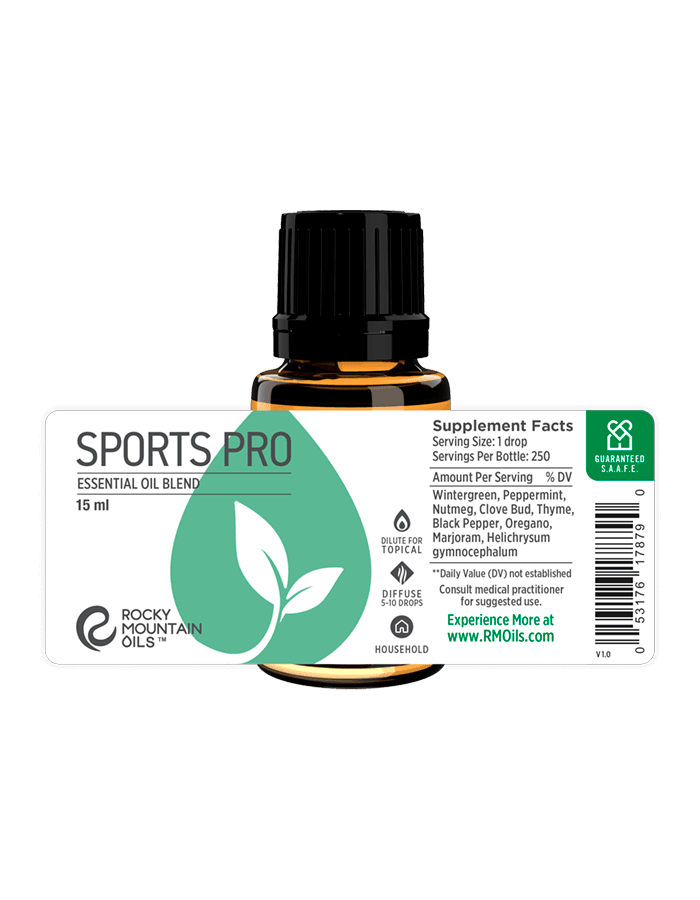 Sports Pro Essential Oil
GC/MS
TESTING
90 DAY
RETURNS
100% RECYCLED
PACKAGING
S.A.A.F.E
PROMISE
Enhance your performance and boost your recovery time with this Sports Pro Essential Oil Blend. Sports Pro is a special formula designed for an active lifestyle, featuring some of the best essential oils for sore muscles after a workout: Wintergreen, Peppermint, Nutmeg, Clove Bud, Thyme, Black Pepper, Oregano, Marjoram, and Helichrysum gymnocephalum essential oils.
Sports Pro has a strong, minty-fresh aroma that's slightly spicy. It also offers a hint of cooling menthol from Peppermint and Wintergreen, which pairs with the warming quality of Clove Bud to create a natural analgesic effect. This tingling, soothing sensation is reminiscent of over-the-counter muscle rub liniments, but without harsh chemicals or artificial ingredients.
Whether you're a serious athlete or a casual fitness fan, Sports Pro offers some of the best essential oil for exercise and muscle pain. Dilute this blend with a carrier oil to use as an aromatic massage cream that helps reduce inflammation after an intense workout, playing sports, or performing physical labor. You can also use it as a pre-workout oil to limber up.
Try diffusing this blend in your home gym or use in a person aroma inhaler to enhance focus, or use it for meditation to visualize better performance and strengthen your mind-body connection. Sports Pro also helps relieve pain from old sports injuries, stiff joints, knee pain, and other discomforts.
Dilute with a carrier oil, then massage into sore muscles after working out, playing sports, or physical labor to help with recovery.
Use topically before exercising to help you loosen up and enhance your flexibility and range of motion.
Apply to any areas of stiffness, soreness, pain, or discomfort, including old sports injuries.
Diffuse in your workout space to boost mental focus, enhance your stamina, and help you focus on your form. Diffusing this blend also purifies bad odors.
Great for movement-based meditations like Ashtanga Yoga, Qigong, or ecstatic dance.
Add 3-5 drops to a warm bath for a soothing post-workout soak.
Sports Pro Muscle Soak
When you're feeling sore after a workout or playing spots, try this relaxing muscle soak to release tension in the body and promote faster recovery time.
20-25 drops Sports Pro
1 cup Epsom salt
Instructions: Add Epsom salt and oil drops to a Ziploc or sealable silicone bag. Close the bag and shake to combine. Run a warm bath, then dissolve salt into the water and soak for 20-30 minutes.
Always dilute these essential oils for muscle pain with a carrier oil and patch test prior to extensive use on the skin. To patch test, apply a very small amount of oil to one area of the skin and wait 15 minutes to confirm that irritation or allergic reaction does not occur.
Do not use it while pregnant or breastfeeding. Do not use near the eyes, nose, mouth, sensitive areas, or on broken skin or abrasions. For external use only. Do not ingest.
CAUTION: This blend contains "hot" oils which may cause irritation in sensitive individuals. Use extra carrier oil if necessary. Do not use with heating pads.
Safe to use on skin for kids ages 10 and up. Dilute to a .1-.5% dilution rate and patch test before using topically. Click here to learn more about using essential oils and child safety.
Safe Diffusing Tips:
Diffuse in an open, well-ventilated area.
Keep children and pets out of the direct line of mist.
Diffuse in 30-60 minute intervals with ample break periods.
Your trust and confidence matter to us. As part of our S.A.A.F.E. Promise™ to you, Rocky Mountain Oils provides verified third-party GC/MS (Gas Chromatography/Mass Spectrometry) test results from an independent lab for every essential oil product in our collection.
GC/MS tests verify the quality and purity of every Rocky Mountain Oils product, which guarantees you're using the safest and highest quality essential oils and essential oil blends on the market.
To view the GC/MS test results for your essential oil blend, click here.
Sports Pro Essential Oil FAQ
What are the best essential oils for muscle pain?

Is it safe to use essential oils for sore muscles?

Yes, essential oils are safe for sore muscles. In fact, they offer a safer, natural alternative to most over-the-counter muscle creams and liniments, which contain artificial ingredients and harsh chemicals. Click here to learn more about the benefits of using essential oils for sore muscles and working out.

How do I use essential oils for working out?

To use our Sports Pro blend of essential oils for working out, dilute with a carrier oil and apply to the skin before, after, or during your workout. The anti-inflammatory and analgesic properties of this blend will reduce pain and discomfort while allowing your body to recover faster. You can also meditate with essential oils and visualize your body performing athletic activity to boost your performance.

Will essential oils for muscle pain prevent injury?

Unfortunately, injury is a common risk of working out and playing sports. However, using essential oils may be able to help prevent certain types of injuries. A blend of essential oils for muscle pain such as Sports Pro can be used before you work out to help you feel more limber, which can enhance your range of motion and help reduce risk. The aroma of essential oils can also help you be more mindful of your form, allowing you to make corrections before injury occurs.