Elf on the Shelf Ideas Using Essential Oils
It's that time of year, the Elf on the Shelf has arrived to report back to Santa...while causing a little mischief along the way!
Create magical memories for your kids that will last a lifetime with these scented essential oil Elf on the Shelf ideas to get anyone into the Christmas spirit.
Every day feels like Christmas once that little red Elf arrives! The kids wake up searching high and low for Elf and what they have gotten themselves into this time. There's nothing like getting woken up every morning by those little voices of pure joy and the kids can't wait another minute for you to get out of bed so they can show you what the Elf did this time. There's no better feeling than getting to see that Christmas surprise beam from their little faces every day.
But each day can also feel a bit like the movie Groundhog Day, the amount of planning, creativity, and remembering to move him is no easy task. You may even skip a day on accident and have to quickly think of a reason why the Elf didn't move or if your dog or toddler snatches the Elf, seeing the look on your little ones' hurt face with concern that the Elf is now too sick to go back to the North Pole. But fear not!
We have put together some easy DIY Elf on the Shelf ideas including a Magic Elf Spray that you can use to elevate the experience by adding the scents of Christmas that will leave lasting scented memories.
But first…
If you are new to Elf on the Shelf, it's a lot for Santa to keep track of all the children, so he sends down his little army of elves to watch over the kids to record if they are naughty and nice. Each night, while the children are nestled in their beds, the elves travel back to the North Pole to report to Santa. Each child has to give their Elf a fun name, and if you are stumped on what to name them, we used yourelfname.com to get ours. I told my son that we had to go to the database to see what name our Elf was given, you just type in the child's name, and they assign you one of their 96K elf names. The Elf we are using is named Garland Frostberry. Your Elf will come with a book that explains the story of the elves and also the rules...yes, there are rules!
Rule #1: DO NOT TOUCH THE ELF!!! If the Elf is touched, they lose their magic and can't fly back to the north pole. This means a few things, you get a break, you have to care for the elf, or you can use our Magic Elf Spray below to give the Elf back his magic.
Rule #2: Elves can't talk, but they can listen.
Rule #3: Each night, they will report back to Santa and can deliver letters
Rule #4: Be kind to EVERYONE!
Now that you kno
Elf Essential Oil Bubble Bath
What you'll need:
After a long trip, the Elf needs to freshen up. Just set your Elf in the bathroom sink and pour a bag of cotton balls and arrange them evenly. Add a few of your kid's bath toys for fun. I added a couple of small Christmas bulbs to give it something a little extra. Add your favorite essential oils sporadically around the cotton balls. I used our Candy Cane holiday blend since it has Peppermint and Lavender, the perfect wintertime bath blend. Your kids will wake up to brush their teeth and be greeted with a different type of minty morning.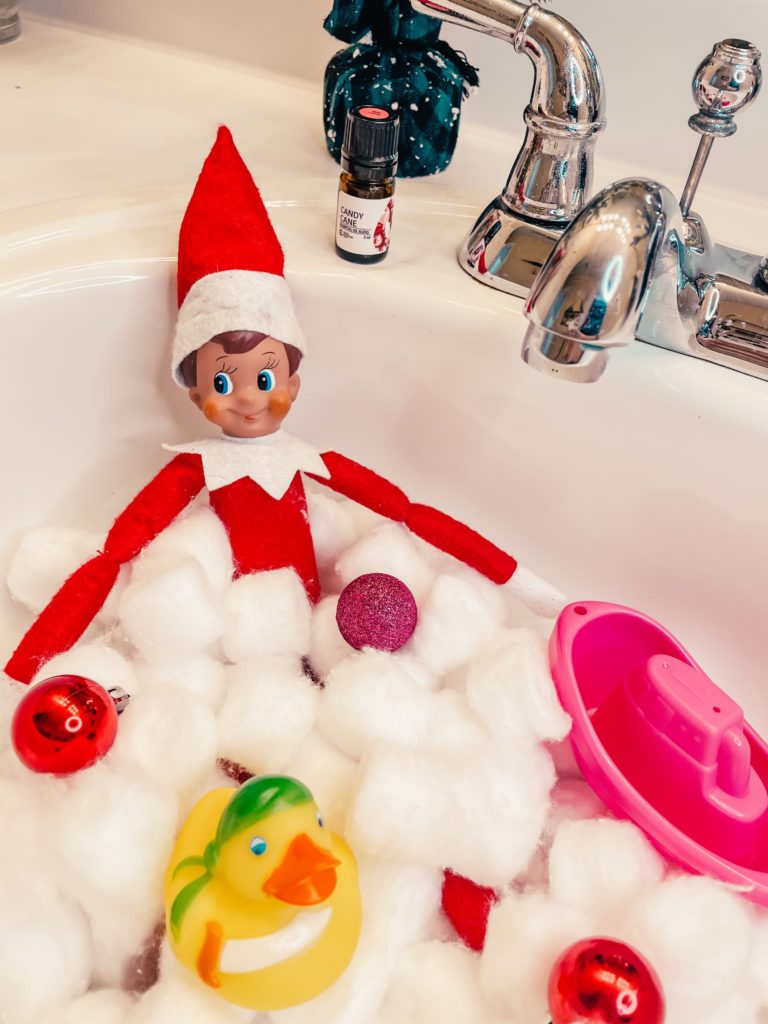 Christmas S'mores Galore
What you'll need:
The Elf sure does get hungry after all the traveling he does every night. Create a cozy roasting marshmallow over the fire with your home diffuser. I filled my diffuser with 4 drops of Toasted Coconut to give that warm and toasty scent, 4 drops of Peppermint Mocha for that chocolaty goodness & 2 drops of Ginger Snap to add the cookie crumbles. Use a small wire(I used an ornament hook) to clasp the arms together and put the stick between his hands. Turn on and watch the roasting begin.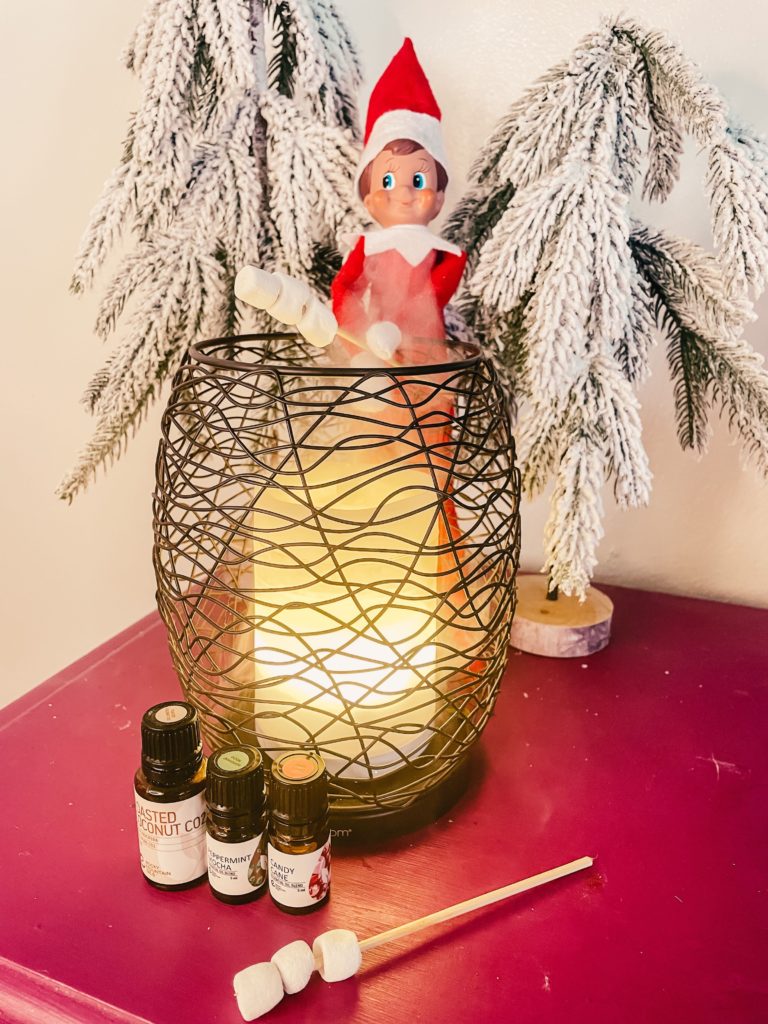 Elf Farted in a Jar
What you'll need:
Large Jar
Paper and markers
Breathable Fabric
Candy Cane & Ginger Snap Essential Oils (Substitute: Peppermint, Ginger & Balsam of Peru/Vanilla)
Now that the Elf has filled up his belly, he has a smelly situation! This cute idea will have your little one laughing for hours! Take a large jar, put some toilet paper at the bottom, and place the Elf inside. Lay a piece of fabric over the top and seal with a lid or ribbon. Drop a few drops of these fun oils and have your little one take a sniff! If you want to be stinky, just use some of their least favorite oils.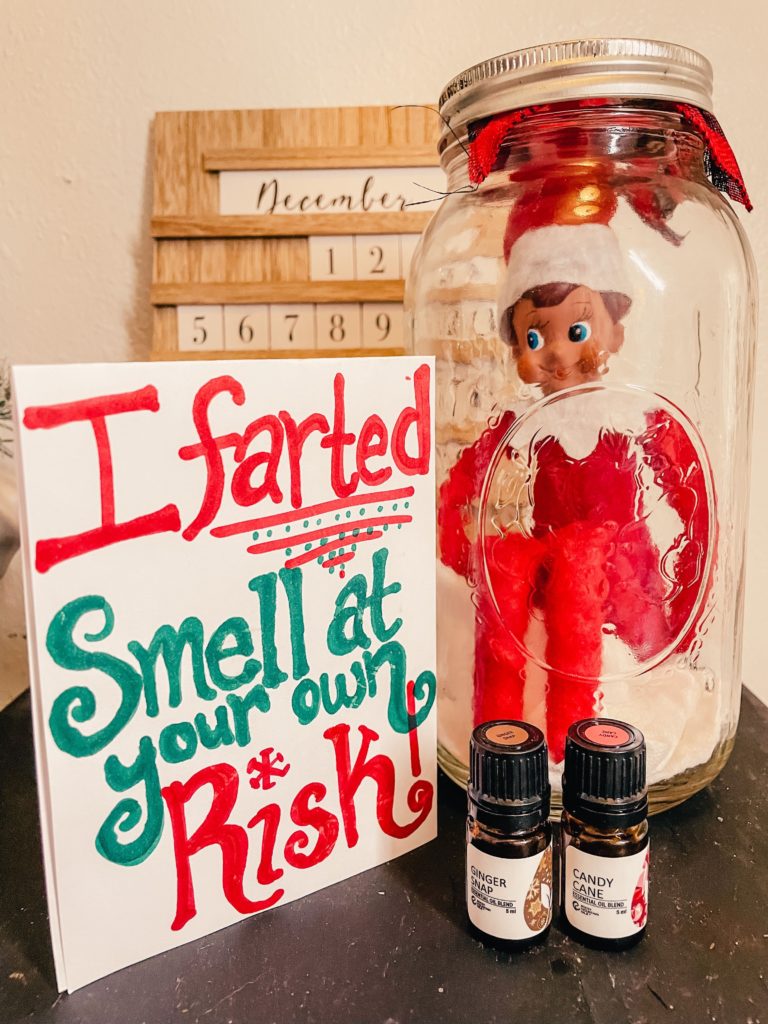 Elf Had an Accident
What You'll Need:
Christmas Puff Balls
Christmas Tree Decoration
Peppermint Mocha, Candy Cane & Pine Essential Oil (Substitutes: Peppermint)
After all that farting, an accident was bound to happen. Use a wire to keep the Elf's hands to his mouth; I used ornament wire. Position the Elf sitting up and place decorative Christmas puff balls around him. Place a drop of essential oil on each ball and remind your kids that even Elves have potty accidents every now and then. You can also place a few decorations around the Elf; I chose a small glitter tree and put Pine oil on the bristles and the trunk.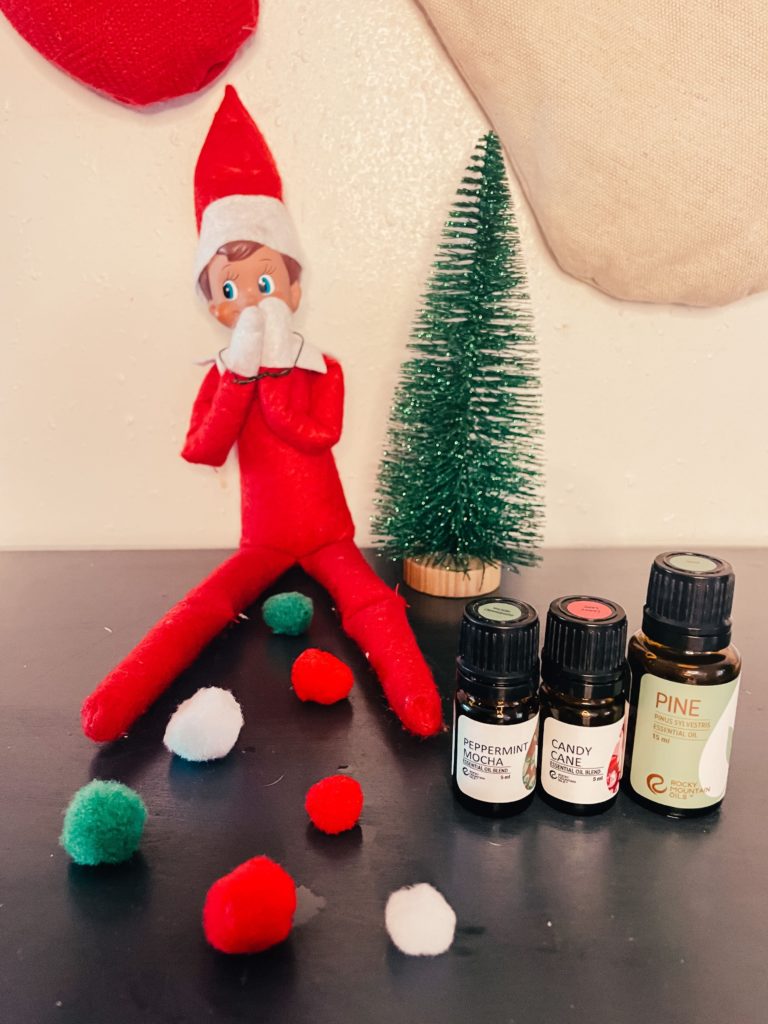 OH NO!!! Someone touched the ELF!!!
Someone or something broke Rule #1. You now have three choices; the elf stays put for the night and you get a break, the elf is now sick in bed or there's the Magic Elf Spray we've been raving about!
The Elf has the Flu
What You'll Need:
Now that someone has touched the Elf he has lost his magic, aka his immunity. Now he must stay in bed and rest but not without a bit of help to get him back to good health. Get the Elf all nice and cozy in bed and place the above essential oils around the Elf to ensure he gets well soon. Take a few sheets of toilet paper, fold in half until it is about a ½" tall, and roll. Place a few drops of Flu Time or Immune Strength(which has a great holiday scent) on the fabric and tissue to create a warm & minty scent. It's great to let your little ones know essential oils will not only help us when we are sick but our Elf as well!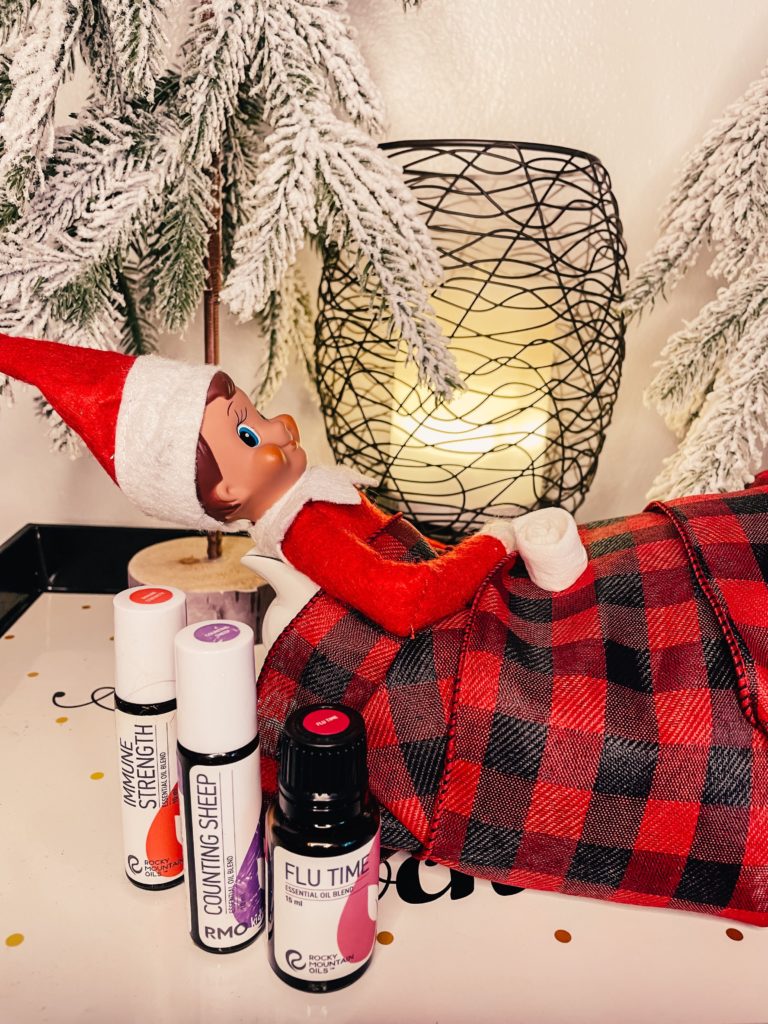 The Magic Elf Spray
What You'll Need:
Small Spray Bottle
Distilled Water
Santa knows that the little ones just can't help themselves with getting their hands on the Elf. That is why we now have this secret Magic Elf Spray. This spray is only to be used in extreme emergency situations and will only work for little paws or little hands. Just put 10 drops of Candy Cane, 15 drops of Ginger Snap & 5 drops of Pine, fill with water and shake! This also makes a great room spray and can add witch hazel if you want to change it to a disinfectant spray. This spray will keep the kids from stressing when there is an accidental mishandling of the Elf.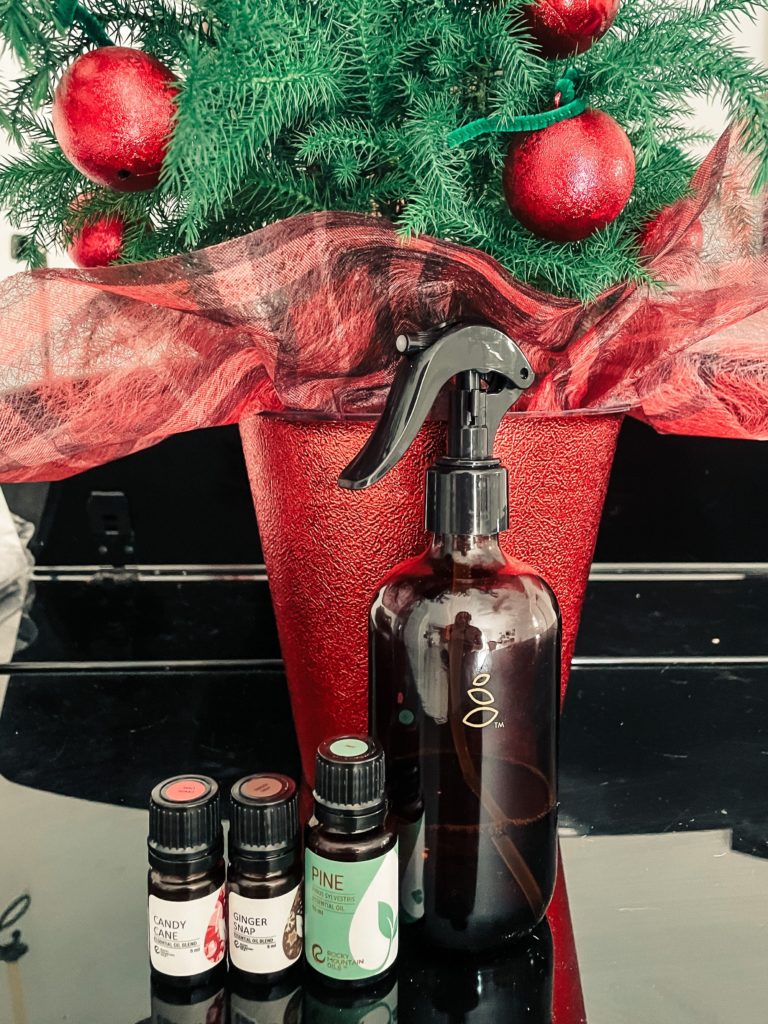 Now that you're all set with the next few days of Elf shenanigans, we'd love to see how yours came out and other ways that you incorporated essential oils with your Elf set ups. Tag us in your Instagram or Facebook posts @rockymountainoils. We may even feature you on our social stories!